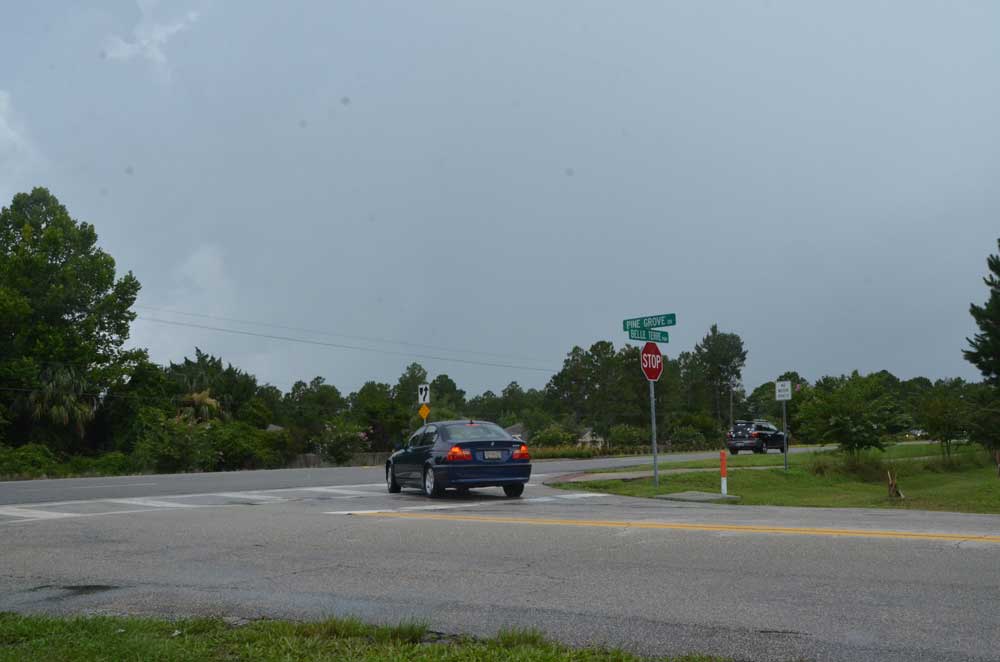 Last Updated: Saturday, 5:30 p.m.
Five people were injured, at least three seriously, in a t-bone crash at the intersection of Pine Grove Drive and Belle Terre Parkway in Palm Coast minutes after 3 p.m. today.
Three of the victims are said to be juveniles. The crash snarled traffic on Belle Terre's northbound lanes. Northbound traffic was diverted at Rymfire Drive.




The cause of the crash is not known at the moment. The crash involved two sedans–they appeared to be a Chevrolet and a Nissan–resulting in the entrapment of one of the occupants. The occupant was eventually extracted.
Flagler County Fire Flight, the emergency helicopter, transported one of the patients to a hospital in Jacksonville, according to its flight path. Two patients were transported by ground to Halifax hospital in Daytona Beach.
Belle Terre's southbound lanes also had to be closed temporarily to allow the helicopter to land.
In early evening, the Matanzas High School athletics' Twitter page posted the following, suggesting that the victims include Flagler Palm Coast High School athletes: "Girls basketball for tonight has been cancelled. Our thoughts are with the FPC Bulldogs right now."
Around 8:30 p.m., FPC's Girls Basketball Facebook page posted the following: "The Lady Bulldogs ask for your prayers and positive thoughts tonight as 3 of our girls were in a horrible accident this afternoon. The girls are being treated for injuries, there will be a long healing process but we will do that together as well. These girls are strong but the pain they are in goes deeper than a wound. Thank you for all who have called, messaged, and checked on them. When one hurts we all hurt, and together we will overcome this. Basketball is just a game this puts that in perspective. Enjoy every second and moment bc you never know when that can change."
At 1 p.m. Saturday, the Facebook page updated as follows: "player one is doing well as she was released home last night she is just banged up A second player is now home recovering as she was discharged this morning, she did have to get staples in her head She is weak and in some pain but doing well The third player has a successful surgery this morning placing a metal rod and 4 screws in her femur but thankfully she has strong bones and may be able to begin PT tomorrow Our other girls not involved are still worried about their friends and a little shaken by the whole incident We are so grateful for the amount of support from other teams, players, teachers, students, and community members Your prayers are being felt by our young ladies and their families. Thank you all for your love and support. This is what community is about and we are grateful to be a part of one which is so loving and supportive."




The Pine Grove-Belle Terre Parkway intersection has been deadly, claiming four lives in four separate crashes since 2014, most recently last March, when a 51-year-old woman was killed in a t-bone crash. One of the crashes involved a victim on a motorcycle. All the crashes followed similar patterns: either a vehicle pulled out of Pine Grove, violating the stop sign there, or a southbound vehicle on Belle Terre attempted a left turn onto Pine Grove, crossing the northbound lanes of Belle Terre, and in both sequences resulting in t-bone or head-on crashes.
Today's crash drew responses from the Flagler County Sheriff's Office, the Palm Coast Fire Department and Flagler County Fire Rescue. The incident was being investigated by the Sheriff's Office.