John Tipton would easily win a Palm Coast City Council seat, Jack Howell would defeat a prodigal Jon Netts, Carl Jones would beat both incumbent Janet McDonald and past-incumbent John Fischer for a school board seat, and Rick Scott would take Flagler in his Senate race against incumbent Bill Nelson.
That's according to the straw poll the Flagler County Chamber of Commerce conducted at a well-attended candidate hobnob this evening at the Palm Coast Community Center, an event that drew almost every candidate for local office. The poll was based on the votes of upwards of 200 participants who lined up for much of the two-hour event to vote on tablets set up in actual voting booths, just as they would in a regular election–with Elections Supervisor Kaiti Lenhart handing out log-in numbers for each voter.
The poll is not scientific of course, and it is based on votes by generally partisan participants, including the candidates themselves and their supporters. Still, when the Chamber ran a straw poll just ahead of the 2016 primary, 15 of the 16 winners in the poll went on to win the primary (not counting candidates running in judicial seats) and the 16th race required a run-off. The 2016 poll also was often surprisingly accurate in measuring the small or large margins of victory–a small margin between Rick Staly and John Lamb in the sheriff's race, a big margin for Milissa Holland in a four-way race for Palm Coast mayor, and so on. In other words, based on that short history, the Chamber poll has a solid track record. (About the same number of people participated in the 2016 and 2018 polls even though this is an off-year with far fewer candidates running.)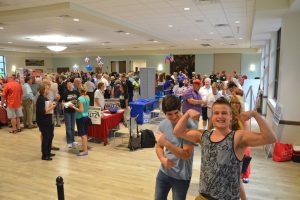 The surprises this evening included Jack Howell, the retired Marine who lost a local sheriff's race last decade, beating former Palm Coast mayor and council member Jon Netts, 55-45. Netts is attempting a comeback as a council member after being term-limited out of the  mayor's seat. If the election were held today, newcomer John Tipton would handily win the three-way race for the other council seat, beating Eddie Branquinho 56-34, which would mean the race would be decided in August and not need a run-off in November. The third candidate, Corinne Hermle–the mystery candidate of the season: she's not appearing in forums and was a no-show this evening–would get under 10 percent of the vote in that race.
If incumbent and School Board Chairman Trevor Tucker's 67 percent showing against Paul Anderson was not surprising, Carl Jones beating both incumbent Janet McDonald and John Fischer, who'd held the seat before McDonald, appeared to be so. But not really: Jones took the evenings Democratic vote, Fischer and McDonald, both Republicans, split the Republican vote, as was expected (they both have loyal followings). But the result strongly suggests that the primary race will be between Fischer and McDonald for second place: whoever gets second place and takes Jones to a runoff would then potentially have a strong advantage in November, given the county's large plurality of Republican registrations. (School board and Palm Coast elections are ostensibly non-partisan, but partisanship still plays an outsize role in the contests, as this evening's results indicate.)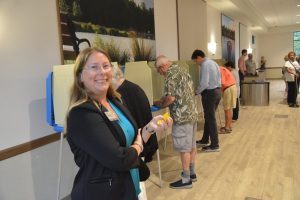 In the two county commission races, the incumbents have it, easily: Greg Hansen would defeat Abby Romaine with 61 percent of the vote, Nate McLaughlin would defeat Joe Mullins with 67 percent of the vote. Romaine just began her campaign and hasn't started spending money, but Mullins began it soon after the new year and has been spending heavily, but still not making a convincing dent in McLaughlin's support, judging from this evening's support.
In the race for the Seventh Judicial Circuit Group 15 seat, Sebrina Slack, who is again attempting to win a judgeship, was first with 51 percent of the vote, followed by Linda Gaustad (32 percent) and Ryan Will (16 percent).
In the race for the House seat that includes all of Flagler, Republican Paul Renner would defeat Adam Morley 59-41.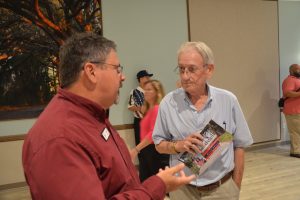 The poll also gauged statewide races, but those are far less accurate beyond gauging sentiment in Flagler proper, since even a portion of a county in south Florida could negate results in Flagler. And the poll tabulated votes as if Republicans and Democrats were all in the same contest as opposed to running in separate primaries. In other words this is what an open primary's results would look like.
Matt Caldwell, the Republican, is the favorite in a seven-way race for Commissioner of Agriculture, with 38 percent of the vote, and Roy Walker, a Democrat, running a distant second with 18 percent. The GOP's Jimmy Patronis is Flagler's choice for Chief Financial Officer, the GOP's Ashley Moody is the choice for Attorney General, Ron DeSantis–the current congressman representing the district that includes Flagler–would win in the race for governor. Putnam and DeSantis accounted for 54 percent of the straw poll's votes, with the next four candidates, all Democrats, taking just 28 percent combined.
The race for the 6th Congressional District gives Michael Waltz a clear lead among Republicans, with Fred Costello second and John Ward a very distant last. But the Democratic results were jolting, with Steven Sevigny edging out Nancy Soderberg, if by less than a point, with John Upchurch third. Soderberg was not at this evening's hobnob. Sevigny and Upchurch, who have attended more Flagler events recently, were: presence makes a difference, especially in close races.
The full results are below.

2018 Chamber Straw Poll Results