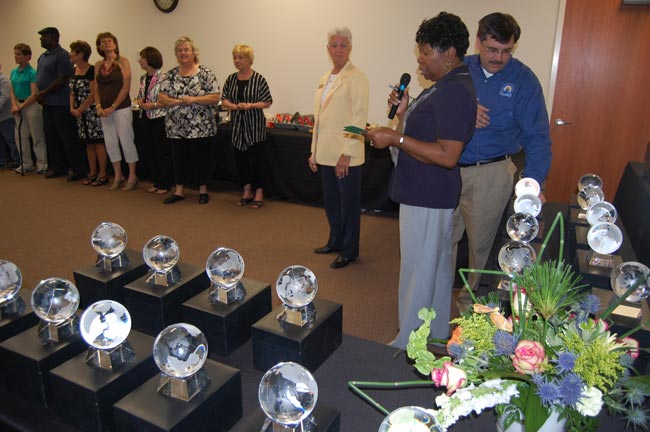 It was a driveway encounter: Michele Crosby was picking up her newspaper in her driveway of her Woodhaven home six years ago. So was Harriett Holiday, across the street. The two had never met. But they knew of each other from the time they'd worked in education in Tallahassee, and had been repeatedly told to meet up.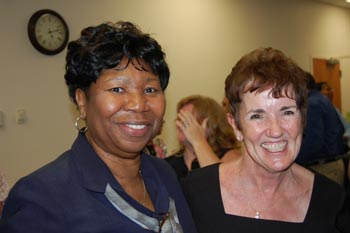 In June 2004 Holiday was the principal at Indian Trails Middle School. Crosby was an assistant principal at Ormond Middle School. Crosby introduced herself, the two talked, enthusiastically at that, Holiday said she was looking for an assistant principal. Two weeks later, Crosby was the assistant principal at Indian Trails, where she soon became principal when Holiday became the district's director of human resources. "That was the best selection that ever could have happened at Indian Trails," Holiday said. "She's done a magnificent job."
She's also done: Tuesday afternoon, Crosby was among the 36 school district employees recognized one final time for their service before their retirement. The combined years of experience they take with them, out of the district: 745.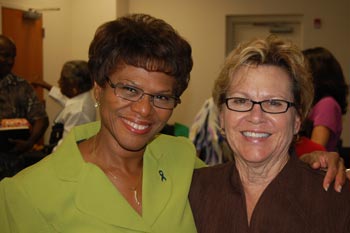 "I look down this row, and many of you had my own children," Janet Valentine, the district's superintendent, told the group, many of whom she's worked with over the years. "I feel like I should be standing up here with you. But I just wanted to take a moment to thank you for all the hard work you've done, and I know we'll be seeing you guys in the schools giving of your talents to some of our kids in the future."
Holiday called for a moment of silence to recognize two teachers who died during the school year–Thomas Hickey, who died on Nov. 9 of cancer, and Kendra Newman, a teacher at Belle Terre Elementary who died Sunday from an illness. "To me, she was always a teacher of the year," Stewart Maxcy, principal at Wadsworth Elementary, said two hours after the ceremony, when he recognized Newman's service and what she meant to her school before the school board. Maxcy described Newman as a teacher who, despite battling her illness for the last couple of years and having to make numerous trips to the hospital, was immediately back in her classroom the moment she'd be discharged.
The send-off ceremony of hors-d'oeuvres, gifts, brief speeches and numerous hugs took place in the meeting chambers of the Government Services Building, where the school district has its offices.
Flagler County Schools: Those Who retired in 2010
| Name | Title | Total Years of Service (in Flagler and Elsewhere) |
| --- | --- | --- |
| Joseph Astuto | Transportation Supervisor | 17 |
| Mary Beale | English Teacher, FPC | 37 |
| Margaret Bean | Teacher at Old Kings | 26 |
| George Bradley | Maintenance Worker | 13 |
| Ashley Camp | Social Studies Teacher, Belle Terre | 28 |
| Ruth Carpanzano | Food Service Worker, Belle Terre | 7 |
| Monica Ciesla | Elementary Teacher, Wadsworth | 32 |
| Susan Coe | Executive Secretary, Risk Management | 25 |
| Michele Crosby | Principal, Indian Trails | 40 |
| Lida DiFrancesco | Elementary Teacher, Old Kings | 30 |
| Bernadette Dubreuil | Food Service Worker | 14 |
| Rebecca Dunn | School Secretary, Old Kings | 30 |
| Carmeline Fasciaba-Gross | Speech Teacher, Matanzas | 8 |
| Joan Galt | Media Specialist, Belle Terre | 28 |
| Ada Harvey | Science Teacher, FPC | 20 |
| Thomas Hickey (*) | Teacher, Indian Trails | 32 |
| Barbara Hodges | Community Education Teacher, Adult Education | 6 |
| Tina Hoffman | ESE Teacher, Bunnell Elementary | 7 |
| Gerald Honigman | Science Teacher, Indian Trails | 24 |
| Beverly Jacobs | ESE Teacher, Belle Terre | 26 |
| Hanneke Jevons | Art Teacher, FPC | 38 |
| Leland Kennedy | Social Studies Teacher, Buddy Taylor | 12 |
| Paula Lanigan | Elementary Teacher, Bunnell Elementary | 19 |
| David Lawler | Maintenance Worker | 6 |
| Myra Middleton | Director, Exceptional Student Education | 37 |
| Linda Millican | Elementary Teacher, Wadsworth | 31 |
| Carol O'Malley | Guidance Clerk, Rymfire Elementary | 1 |
| Charles Pinkston | Bus Driver, Transportation | 3 |
| Kathy Sabbatino | Registrar, Belle Terre | 6 |
| Richard Shelley | ESE Teacher, Matanzas | 2 |
| Everett St. Francis | English Teacher, FPC | 41 |
| Bonnie Tink | Elementary Teacher, Wadsworth | 41 |
| Maria Torres | Food Service Worker, Belle Terre | 10 |
| Della Sue White | Secretary, Pathways | 15 |
| Frederick Willis | Social Studies Teacher, FPC | 42 |
| Douglas Wilson | Maintenance Worker, Maintenance | 13 |
(*) Deceased.

Source: Flagler County Schools