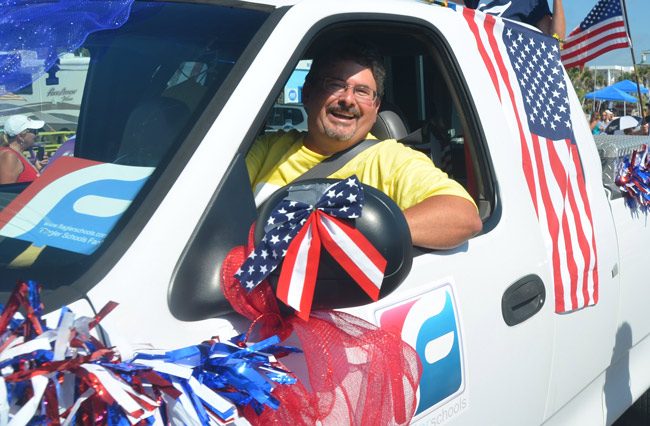 Andy Dance, first elected to the Flagler County School Board in 2008 in the only tough election race of his career, was re-elected today to a fourth term, drawing no opposition by the time the qualifying window closed at noon. Dance also drew no opposition in 2010.
Dance is the only candidate in any of the local races to be elected without opposition. There are contested races for two other school board seats, two seats on the county commission and two seats on the Palm Coast council.
In the latest indication of Democrats' waning power, no Democrat is running in a partisan race locally. The county commission races feature four Republicans and two independents. School board and Palm Coast races are ostensibly non-partisan. Several Democrats are running in those races, their affiliation less of a liability in non-partisan races in a county where Republicans now have a 33,000-25,000 advantage over Democrats in party registrations.
That means two races will be decided in the August primary: the Trevor Tucker-Paul Anderson race for school board, and the Jon Netts-Jack Howell race for Palm Coast council. The council race between Jose Eduardo Branquinho, Corinne Hermle and John Tipton, and the school board race between Janet McDonald, John Fischer and Carl Jones may be decided in August only if the winner clears the 50 percent threshold in votes, making a runoff unnecessary. The two county commission races will go to November regardless because after the Republican primary the winner will still each face an independent.
The only late surprises of the qualifying week were declarations by Dennis McDonald and Abby Romaine to contest the county commission seat held by Greg Hansen since he was appointed to it in January 2017. Joe Mullins is challenging Nate McLaughlin in the Republican primary. The winner will face Jane Gentile-Youd.
Local races that cross county lines include the biennial race for state House, again featuring incumbent Republican Paul Renner and Democrat Adam Morley. There is no senate race. The congressional race for the 6th District, which includes all of Flagler and parts of St. Johns and Volusia, is drawing particular interest. Three Democrats and three Republicans are vying to replace Ron DeSantis, the Republican who's running for governor.
They will all, with Dance's exception, be campaigning, appearing at forums, civic events and parades until the Aug. 28 primary.
Dance is of course relieved not to have to slog through it. In his first race in 2008 he was edged out in the primary by Lucy Davis by nine votes out of 12,700 cast. Since it was a three-way race, there was a run-off, which Dance won more decisively, taking 58 percent of the vote. That was actually a special election for the seat–to complete the term of a board member Jim Guines, who had resigned. So Dance had to run again two years later, but was unopposed. He drew opposition in 2014–Maria Barbosa, whom he beat by 20 points. Barbosa ran two years later in a different district and won, so Dance and Barbosa are now colleagues.
"I'm not sure the general pub understands the amount of work that goes into campaigning," Dance said. "It doesn't seem like a lot of time the next few months, but it's like running a marathon–proper campaigning, being in places, being available, it's a lot of work." Not having to campaign, he said, "will allow me to continue my work doing what I do within the district and not as much on the campaign trail." But he intends to be at a lot of events anyway.
Dance has made his mark through the years as an uncontroversial, largely centrist, analytical board member with signature successes: he led the district's successful campaign for a half-penny sales tax in 2012, revenue from which has powered the county's push for technology and the "one-to-one" initiative, placing a laptop of an iPad in the hands of every student. He's also been the district's lead cheerleader and fund-raiser for its Future Problem Solvers across many schools.
The sales tax is coming up for renewal in 2022, which would be the next time Dance would have to run–assuming he legally can: there's a ballot initiative this November that could result in term limits for school board members. If it gets the 60 percent majority needed to pass, it would apply to Dance, Tucker and McDonald in 2022 (assuming Tucker and McDonald win this year) and to Colleen Conklin in 2020. For the record, Dance says he's not opposed to term limits, but he is opposed to the constitutional amendment proposal as written, because it stacks several issues into one amendment, among them a loosening of the rules of charter-school oversight. He is opposed to that loosening.
Dance says he will be focused on developing a strategy for the 2022 sales tax vote well ahead of time, and expects the sales tax proposal to be a bit different than it was in 2012: this time, it may have to include a capital funding component since state capital dollars have declined so much, and local capital needs have accumulated. "Part of my focus will be on pulling together a committee in plenty of time to look at our past accomplishments, what we've been able to do with our half penny, the progress we've made, and laying out a new strategy for the continuance of the half-penny," Dance said.
For now, he has no immediate plans of celebrating the victory beyond perhaps combining some celebration with a delayed celebration of Father's Day this weekend–delayed because last weekend parts of the family couldn't all get together. The centerpiece of the celebration? Catching "Jurassic World."


2018 Election Candidates, Flagler County
Races

Candidates

County Commission District 2
Greg Hansen, Incumbent (Rep)
Abby Romaine (Rep)
Dennis McDonald (NPA)
County Commission District 4
Nate McLaughlin, Incumbent (Rep)
Joe Mullins (Rep)
Jane Gentile-Youd (NPA)
School Board District 1
Andy Dance, Incumbent
Unopposed
School Board District 2
Janet McDonald, Incumbent
John Fischer
Carl Jones
School Board District 4
Trevor Tucker, Incumbent
Paul Anderson
Palm Coast City Council Seat 2
Jack Howell
Jon Netts
Palm Coast City Council Seat 4
Jose Eduardo Branquinho
Corinne Marie Hermle
John Tipton
Florida House District 24
Paul Renner, Incumbent (Rep)
Adam Morley (Dem)
Congressional District 6, Democratic Primary
Stephen Sevigny
Nancy Soderberg
John Upchurch
Congressional District 6, GOP Primary
Fred Costello
Michael Waltz
John Ward