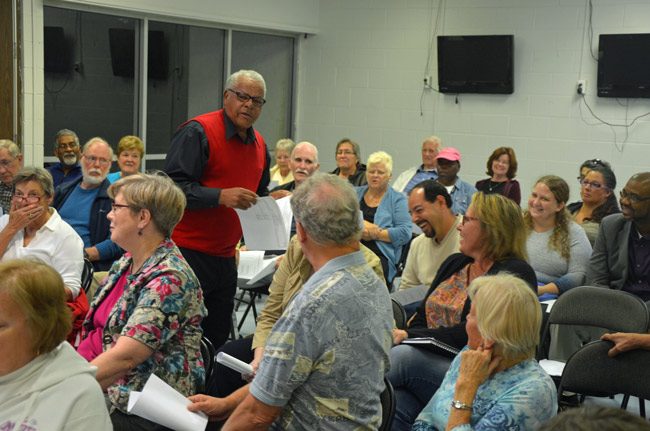 Two weeks after suffering their worst-ever electoral defeat in the county—a defeat that left them without a voice on the county commission, the Palm Coast City Council or in any of the county's constitutional offices—some 60 Flagler County Democrats gathered for what turned into an autopsy on themselves.
It did not go well.
They did not lack for energy, frustration, anger, or calls for action. But a 90-minute meeting revealed a profound lack of leadership, ideas, grounding, and sense of priorities: one of the suggestions for action, quickly panned, was to send thank-you notes to Hillary Clinton. Other points of discussion got people talking about standard-issue Democratic concerns that illustrated an astounding disconnect with the catastrophic loss for being irrelevant to the party's local survival: fracking, capital punishment, climate change, gay marriage, the minimum wage and other so-called "common-purpose activism" issues.
The Wednesday evening meeting of the relatively newly formed All Flagler Democratic Club at the Palm Coast Community Center portended an equally profound lack of a future for the local party: it has not a single named prospect to field in the 2018 local elections, when seven seats will be up on three major government boards.
The party's disconnect—and its dysfunction—was underscored as some in the audience pressed for a focus exclusively on what went wrong, how to fix it, and what to do next to win, while others, including the club's interim leadership, talked process and thank-you cards. The divide clanged with more alarm than organization.
"We as Democrats just got our tails handed to us in this election, and we got our tails handed to us in this election because we don't know how to win," Mike Cocchiola, a middle-aged man whose patience had finally run out almost an hour into the meeting, said in a booming voice. "And here we are talking about fracking. Why aren't we talking about what we have to do to win, OK? If we're going to sit here or stand here and look backwards at all the things we did instead of looking at the things we didn't do to win, we're going to lose again. It's time for Democrats in this area, this room here, to get tough. To get mad and stay mad. To find a way to win. We ought not to be talking about fracking. We have to talk about what it's going to take to win the next election, starting now."
"We are working tirelessly to figure out what the hell went wrong in Flagler County," Sheila Zinkerman, the club's acting president, said in a smaller voice from her head table.
"Well, we ought to talk about it here," Cocchiola said.
"It's not on our agenda today," Zinkerman said.
"That should be the only agenda," he retorted.
Another participant was more blunt: "We're headed to a pretty big shit-show," Kendall Clark said.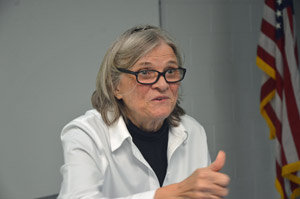 The meeting's "standard order of business" done with, Zinkerman had no choice but to let the discussion turn to an autopsy, particularly as Democratic Executive Committee chief Ralph Lightfoot had framed it with his own analysis of what had gone wrong. But that analysis, too, seemed discordant with the results.
"People think we're tremendously outnumbered here, and that's just not the case," Lightfoot said. Evidence suggests otherwise.
Aside from stocking precincts with captains, an initiative Lightfoot himself had said in an interview months ago was being done, the party appears to have no strategy on how to reverse the largest registration deficit it's faced in the county, with Republicans continually adding to a now-6,300-voter lead that just six years ago was a Democratic lead of 1,000 voters. The lead was lost in April 2012. At this rate, Democrats risk having minority-party status in Flagler, behind Republicans and independent. The gap between Democrats and Republicans is larger than it is between independents and Democrats.
Lightfoot, Zinkerman and Diana LeBrun, who's in charge of building the club's membership, all said that Democrats did not lose because of what the local party did on their behalf.
"On Nov. 8 we suffered a tremendous loss not only nationally but locally," LeBrun said. "I can say it was not because we were not involved. We phone-banked, we door-knocked, we did everything we should have done."
---
A gaping divide between those who want to win and those still speaking the language of lost causes.
---
Again, that's not what the evidence showed, at least not to the extent that Democrats did all they should have done: In this election cycle, long-time Democrats Barbara Revels and George Hanns lost their re-election bids for the county commission, two-time Democratic Sheriff Jim Manfre lost, Democrats Adam Morley and Curtis Ceballos lost their respective races for the state House and Senate, Democrat Doug Courtney lost his nth bid for office, this time for clerk of court, three Democrats who ran for Palm Coast City Council all lost, Jason DeLorenzo, who left the council to run for the county commission, lost, Myra Middleton Valentine, running for a school board seat, lost, and Democrats didn't bother fielding a single candidate for Supervisor of Elections, Tax Collector or Property Appraiser. Donald Trump won the county with the largest margin of any Republican presidential candidate since Ronald Reagan in 1984. (At Flagler polling sites during early voting and on Election Day, Republican volunteers were positioned to hand out voters crib sheets of who to vote for, with every Republican candidate named, and none of the Democrats. The Democrats barely had volunteers, and no opposing crib sheets.)
There's no question that the Republican-Trump sweep played a role in getting Republicans elected, but it was neither a disproportionate role nor the result of anything like an inevitable landslide—not in an election in which the Democratic presidential candidate still managed to poll at least 2 million votes more than Trump. Rather, analysts have been attributing Clinton's loss in large part to a combination of factors that had little to do with Trump or Republicans, or even with Clinton's flaws, and everything to do with Democratic presumptions: taking a base for granted, lacking a message to get excited about, and assuming that the much-vaunted get-out-the-vote machinery that even Lightfoot touted Wednesday evening would help its candidates prevail.
"We labored for many, many months, canvassing, phone-calling, we had rallies," Zinkerman said. "We were on the streets a lot along with the [Democratic Executive Committee] and their coordinated campaign," stuffing 4,500 bags and door-hangers with local candidates' campaign materials. Zinkerman brandished one of the bags with a smile, a gesture more wan than triumphal.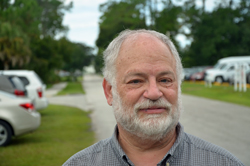 Someone in the audience spoke of the flood of fake news that distorted the facts, though that, too, has been an exaggerated scapegoat that masks every election's version of the same distortions, which campaigns either successfully counter or fail to detect and counter in time: Barack Obama successfully countered the whisper campaign about his alleged Muslim or African birth, Bill Clinton successfully fought off numerous "bimbo eruptions" (in the immortal words of Betsey Wright, Bill Clinton's deputy campaign chairman in 1992). On the other hand, John Kerry in 2004 was unsuccessful against the utterly false but successful Swiftboat campaign designed to discredit his valorous service in Vietnam, just as Michael Dukakis, in a 1988 campaign almost as bitter and distasteful as the last one, was incapable of countering the first Bush campaign's racist innuendoes or its portrayal –as effective as it was inaccurate—of Dukakis as a sissy. The fake-news phenomenon was real and toxic, but not insurmountable. Rather, Democrats had no response for it, once again letting assumptions or presumptions–that truth would win out on its own–supplant strategy.
So when an organizer pleaded at the All Flagler Democratic Club for all to "educate, organize and mobilize," the exhortation sounded more like another slogan than anything resembling the necessary kind of strategy many of those in attendance had come to hear.
Himself frustrated from the criticism he was hearing from some of the people in the audience, Lightfood snapped: "If you knew how to win the election, why didn't you tell me six months ago?"
But aside from stating the obvious—"we need to increase voter registration and we need to increase turnout"–he had no new ideas or solutions so much as a repeated diagnosis of what went wrong: "The last election was something nobody saw coming, especially in this county," Lightfoot said.
Too many young people are registering as independents he said. "That's the population we have to go after." How? He didn't say.
A lawyer attending the meeting pointed out accurately that there was not a single millennial in the audience, which had the near-exact demographics, if not quite the skin tones, of a tea party meeting: most were on Medicare. He also questioned why the group hadn't solicited the local Democratic millennials, who have their own club.
"What do we do going forward? We can quit and do nothing," Lightfoot said. "Or we can fight back." How? He didn't say, other than urging people to "get involved."
That's what many of those in attendance wanted to do Wednesday, but many felt bottled-up by the lack of direction, to the point that some later grumbled about creating a separate, more aggressive organization aimed more narrowly at fulfilling the Cocchiola approach. Ironically, that's how the now-defunct Ronald Reagan Republican Assemblies of Flagler County, the radical group that fielded many candidates and helped elect two of them in 2014, had come into existence—as a frustrated reaction against the established local Republican structure.
In a one-party county, the only fight left for Republicans is in-fighting, a luxury Democrats cannot necessarily afford if they are to find candidates willing to run, let alone win a single seat in the next few elections.
By the time the meeting broke up, that prospect looked even dimmer than when the club convened. Merrill Shapiro, the founder of the All Flagler Democratic Club—and FlaglerLive's board chairman—had after all created it as an offshoot to what was in the past perceived as an ineffective Democratic Executive Committee. Shapiro's creation appeared to be heading for the very same fate it was designed to counter.