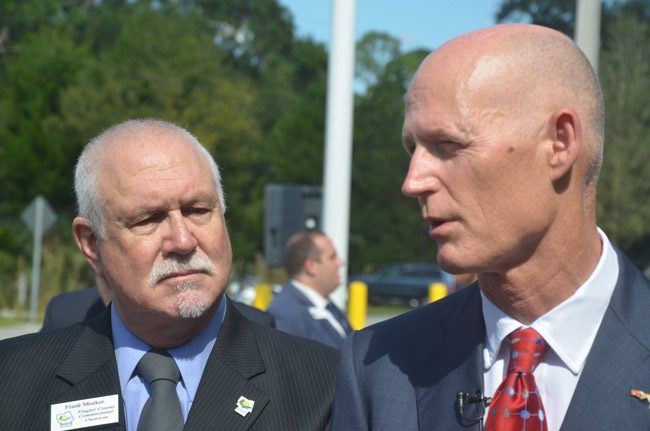 It has been 107 day since Flagler County Commissioner Frank Meeker died. Soon after his death, local maneuvering began and Gov. Rick Scott's office took applications: Scott would make the appointment to fill the seat for the remainder of Meeker's term, through November 2018.
This morning in Flagler Beach, Scott gave no indications as to when he would make the appointment, or whether he has himself looked over the 10 applications.
"We're working on it," Scott said. "We have a whole process to go through to review it." Scott was in town for the third time in a month, this time to dedicate the re-opening of State Road A1A, a portion of which had been shredded and closed to traffic after Hurricane Matthew. He had ordered the Department of Transportation to expedite its reconstruction.
In a brief interview after his gaggle with reporters, Scott only described Meeker as "a good guy," and that in his replacement he was looking for "somebody who cares about the community like Frank did"—which did not narrow down the field much from the governor's rhetorical hedge.
The applicants so far–all men, all Republicans–are as follows:
David Alfin, Palm Coast Realtor.
Marc Bellapianta, Realtor.
Kenny Eubanks, ex-utility spokesman, ex-Putnam County Commissioner.
Ed Fuller, retired security business owner and consultant.
Greg Hansen, U.S. Navy, retired.
Howard Holley, retired Xerox executive, marketing company CEO.
Larry Jones, retired Orange County government senior administrator (unrelated to Larry Jones, the sheriff's candidate in Flagler).
Patrick Kelly, CFO of a web-based communications company.
Jon Netts, Palm Coast mayor (until Nov. 15).
Ross Whitaker Jr., Realtor.
The complete applications, as of the end of October, are here and here. The governor's office is still accepting applications here.
The appointment is intensely political: the governor doesn't want to just fill a seat with a Republican, but with one who, those familiar with the process say, has not lost before, and one who is capable of holding the seat in the 2018 election.
It's not the sort of appointment to which applicants are shy about certain credentials as they try to gain the governor's attention: Kenny Eubanks, the former Putnam County commissioner and PR man for a utility, includes "Conservative Republican" among his application's personal characteristics. Only one of the 10 was at this morning's dedication—Alfin, though Alfin was there as the partner in a business, the Island Grille restaurant, that had been severely hurt by the road's closure. He was there to applaud the reopening alongside one of his partners, and did not use the occasion to lobby the governor.
There are several reasons why the governor may not have wanted to announce the appointment yet, two of them out of his control: Hurricane Hermine and Hurricane Matthew, both of which intervened since July, drawing much of the governor's attention. He may also have decided to wait out the election, because three seats on the Flagler County Commission are up, and all three may turn over: he may not have wanted an appointee to get used to two sets of different faces. Or, if he has Netts in mind, he may not have wanted to pluck him out of his mayoral seat in Palm Coast before that term ends on Nov. 15.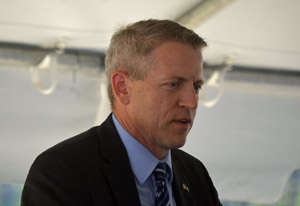 Rep. Paul Renner, whose district includes all of Flagler County, said he would at some point be willing to nudge the governor toward a decision if necessary.
"I do expect that they are working on it and they will come to a resolution in short order," Renner, who was at the re-dedication, said. "And if at some point it's appropriate for me to encourage that, I will do so. But I think it will happen here in the short term."
"I felt the last several weeks he would probably wait until the elections had passed," Renner said. "Obviously he had to deal with a pretty significant storm all across the state, so his team had their energies divided a little bit. But I think probably the end of November, early part of December would be kind of what I would expect to see. But I do know they're beginning that process and doing it in a way that's deliberate and thoughtful to try to get the very best appointment that they can make."