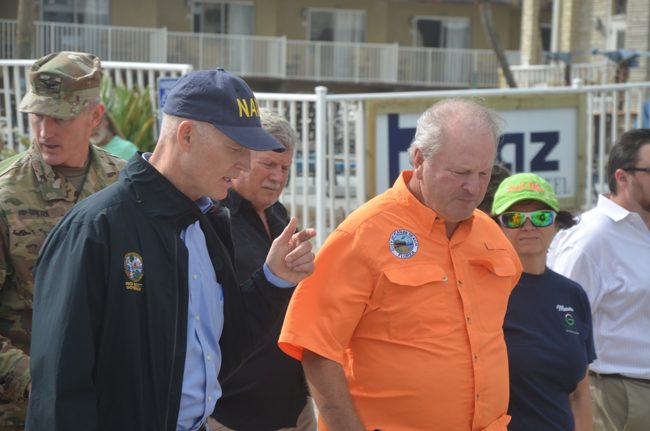 State Road A1A in Flagler Beach reopened to traffic this morning, with Gov. Rick Scott cutting–in words rather than in deed–the invisible ribbon less than a month after Hurricane Matthew shredded a 1.3-mile stretch of the road. The destruction closed the road from South 12th Street south, putting putting the future of several businesses–hotels, motels, restaurants, mom-and-pop stores–in jeopardy.
But the remarkably swift emergency repairs to the road on a state government emergency contract to Halifax Paving turned what could have been a death knell to many businesses into a setback, now overcome.
Two men had more to do with today's accelerated re-opening of State Road A1A in Flagler Beach than anyone else: Flagler Beach City Manager Larry Newsom, who quietly and efficiently put a career's worth of contacts he'd built up in his Panhandle days to work for the city he's managed for less than a year. And Scott, who took on A1A as a pet project, ordering the state Department of Transportation to make it a priority. DOT took the directive so seriously that it tacked on a $1 million bonus to the $4 million contract–taxpayer dollars, all–as an incentive for Halifax Paving to finish the project 30 days early.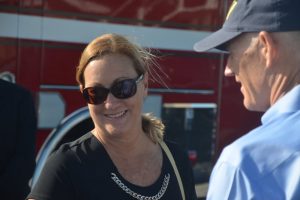 Newsom was not at today's re-opening. Characteristically, he had willingly shrugged off the photo-ops with the governor because he had meetings with the Federal Emergency Management Agency lined up in order to secure re-funds for the city. That left Scott (and every other local official who could squeeze into the frame) before the TV cameras this morning.
"I asked DOT if they could do it quickly, if they could expedite it," Scott said. "We started off thinking it would be 45 days, they did it in 18 days, so congratulations to everybody that made that happen. Now this is nor the permanent fix, this is the intermediate fix, but we're going to do everything we can to make sure there's a permanent fix. We're doing this because we want people to get back to their lives, back to normal."
There's still work to do, but it essentially did: the two-lane road cuts a somewhat new path a bit more to the west, devouring some of the right of way. It's bumpy, narrow, charmingly ragged and hemmed in by a barrier that runs along the length of what used to be the dunes, now replaced by a mass of boulders dumped in a slope over the past two weeks, but its ribbon of fresh asphalt and bright yellow lines makes it feel like a new country road, giving that part of town a retro look Flagler Beach always thrives on.
"We were looking at 45 days, which would have been an extraordinary accomplishment," Rep. Paul Renner, whose district includes all of Flagler County, said. "But in the span of three weeks, after a very severe storm and pretty substantial damage to the road, we're back up and operating, and why is that important? Because people who have jobs, these businesses along the beach depend on this road being open, and our county depends on people coming back to Flagler County and enjoying this fantastic beach of ours. That can now happen."
It was Scott's third trip to Flagler County since Oct. 10, two of them to Flagler Beach.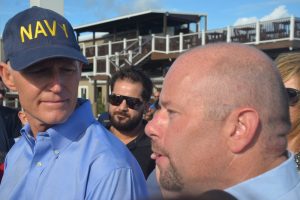 City leaders have been elated by the attention as it has paid dividends so readily and visibly. "We the residents, the business owners, the entire city of Flagler Beach want to thank you for doing what you did," Flagler Beach Mayor Linda Provencher told the governor. "We're a small community, you could have overlooked us, but thank you for the emergency order. Thanks to all the workers who made it happen, who worked day and night even when people got a new way to go down onto the beach. They kept everybody safe. We cannot thank you enough for opening our road. It is the main artery of our town, now people can get to their homes and don't have to be on the back streets and businesses can be open and their customers can get to them."
"It's part of the history of the state, this roadway is, right?" Scott added.
"The beauty of that road opening and functioning is that we have the time we need to work with the permitting agencies to be able to do seawalls, to do dunes, to get the permanent solution" in place, Secretary of Transportation Jim Boxold said, standing next to Scott. The pronouncements by state officials were meant exclusively as captions to a sunny photo-op, but between the lines it nevertheless revealed in small measure the thinking behind the transportation department's long-term plans: when Boxolt mentioned seawalls, he was unwittingly underscoring an ongoing tug of war between his agency, which favors sea walls, and Flagler Beach, Flagler County and the U.S. Corps of Engineers, all of whom are adamantly opposed to sea walls as a permanent solution.
For now, the reopening of the road is to businesses on the south end of Flagler Beach like the cure to a life-threatening blood clot.
"It's huge," Flagler Chamber of Commerce President Rebecca DeLorenzo, who was at the re-opening, said. "We were lucky that most of our businesses had access from Central [Avenue], but that created a hardship for all of our residents." It also significantly diminished the businesses' exposure to the drive-by traffic they depend on, and the ease of parking that makes a difference between a quick stop and a shrug. "Just to have that frontage exposure on A1A, it's amazing that they were able to get it done in 18 days. We're thrilled."
Joe Rizzo, co-owner of the Island Grille, one of the restaurants in the briefly dead zone on A1A, was standing by DeLorenzo. "Really and truly," Rizzo said, "the opportunity that the impact that could have come from this that didn't because of these people working and getting this done the way they did, it saved lives. It saved people's livelihoods, and it's going to make a difference in the way Flagler Beach moves forward, just in life. So the fact that they did what they did as soon as they did–you cannot commend them enough. It's going to make everybody survive. It's going to allow people to continue to pay rent, it's going to allow people to continue to work in Flagler Beach."
David Alfin, the Realtor and a partner in the Island Grille group, noted that the Flagler County Education Foundation, the school district's non-profit arm, is holding its annual fund-raising gala at the Island Grille Friday evening. "which kind of coincides with the reopening of A1A, so we're not only back in business but we're moving ahead as well," Alfin said.
John Lulgjuraj, co-owner of Oceanside Beach Bar and Grille, credited Newsom, the city;'s fire chief and state readiness to get the road completed quickly as he spoke of the work's impact on his restaurant, at the tail end of what had been the closed-off section of A1A. "No one has any idea how tremendous this is," Lulgjuraj said. "Now we can get back to open, my 85 employees can come back to work, and thank God all the other restaurants now with A1A being back open, I mean, I want to melt now because all businesses are back."