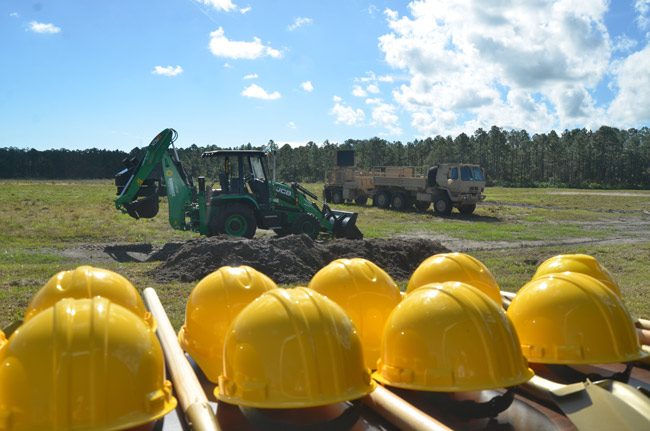 The National Guard started talking about needing to get its 1-265th Air Defense Artillery Battalion out of a Daytona Beach and into a newer facility in 2000. Flagler County started lobbying to host the facility not much after that. That was three generals ago, starting with Maj. Gen. Douglas Burnett. On Friday, county, city, Guard and federal officials gathered at the south end of the Flagler County Airport and finally, ceremonially broke ground on what by the end of 2017 will be a $22 million, 76,708 square foot Army Readiness Center, home to some 30 or 40 full-time members of the Guard and up to 350 revolving, part-time personnel putting in reservist, weekend duty from all over the state.
"You couldn't ask for a better company to com to town," Barbara Revels, who chairs the county commission and has been closely involved in economic development efforts, said. "These are people you want to be your neighbors, your friends and the workmen in your community, so it's like one of the biggest hits we could have, and we're so thrilled to have you here."
It will actually be the airport's second National Guard facility: for two years the Guard has been leasing a 19,100 square foot building that the county built in 2004 for Embry-Riddle Aeronautic University, at the north end of the airport. That's a different operation. The Guard, which signed a 10-year lease and invested $450,000 there, intends to stay there even after the new building is up, County Administrator Craig Coffey said, with a unit or two now stationed at the north end moving to the new building. The current operation employs 10 or 12 people.
The new Flagler Palm Coast Army Readiness Center replaces the downtown Daytona Beach armory, which was built in 1964 and became a difficult place for the Guard to work in, being surrounded by a yacht club. The airport building will open in 12 to 18 months. It'll be an air defense artillery battalion headquarters, with four units–the headquarters unit, a support unit and a line unit among them. Militarily, the unit will be stationing the Avenger at the airport, an air-defense artillery missile, which will be maintained, stationed and stored at the airport, though actual missile training would take place at Camp Blanding in Clay County.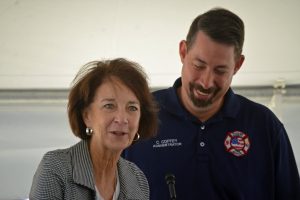 "We put together a vision, we wanted to be in Flagler County," Burnett said, "small community support for our National Guard is better than anybody on the planet. They come together as a group. You know, the National Guard is hometown defense, hometown America, and so we came to Flagler County, we expected what we got."
"I've been working it for about 15 or 16 years," said Lt. Col. Mark Widener, an environmental program manager with the Guard. "As far as the process of bringing the military construction from the point of programming to the point of contracting for actually construction, which is a long process that starts out about 15 or 16 years ago when we determined what our requirement is." Then it's up to Congress to approve the project, which of course it did.
What made Flagler County and the airport spot idea were "two things," Widener said. "Land. Flagler was able to give us land that was buildable, very conveniently located to things like I-95 for deployability, and also just a highly motivated team here in Flagler that wanted to bring the National Guard to their county, and into their community."
---
"We had a very negative kind of hurricane come through and now we're kind of having a positive hurricane come through with the Army National Guard here."
---
Widener acknowledged the occasional tensions along the way, between Palm Coast government and county government, which put the Guard in the two government's line of fire over water conflicts. Those conflicts–who would deliver water to the Guard facility, under what conditions–took five years to resolve, after the water war had Palm Coast threatening annexation of the county airport then holding a water agreement hostage to scrivener scruples. Widener smiled knowingly when asked about those issues. "I assume that's all been worked out. I'm a soldier, not a politician. There were issues. From what I understand the county and the city, they're working those issues out. They're a lot smarter at that than me. But all the support for us has been great."
But today county and city clapped along to the same tune, with Mayor Jon Netts and City Manager Jim Landon clapping along, though only county officials–Coffey and Revels–sat on the makeshift dais, alongside Rep. Paul Renner and U.S. Rep. Ron DeSantis, who'd dropped in for the occasion, and Adjutant General of Florida Maj. Gen. Michael Calhoun, the third general to be involved in the project.
DeSantis, who's running for re-election, in his brief remarks to the 40-odd people assembled under a tent in front of the 34-acre site, couldn't resist an electoral pitch about his efforts to grant veteran status to retired members of the Guard, and a polemical dig at "significant reductions that people are proposing" regarding the Guard. (There are only minor reductions for the Army on the table, and a House proposal would actually increase the ranks in 2017.)
Of course it wasn't DeSantis but Rep. John Mica who was mostly instrumental in landing the center for Flagler when he was Flagler's representative, before redistricting. "So we want to say thanks to Congressman Mica," Burnett said, noting the economic benefit of the move.
"It's not a lot of jobs, but good, local jobs," Burnett said. Most Guard members are paid relatively low wages: an active-duty private makes less than $18,000 a year, a sergeant between $24,000 and $36,000 a year, officers make higher wages. Part-time Guard members are paid for their weekend drills.
"The facility itself is around $22, $23 million to build, and then of course the influx of all those soldiers coming here on a regular basis is pretty tremendous," Widener said. He cautioned though that the location of the Guard in Flagler won't vault the county ahead of others in emergencies, should it need the Guard's response. "Flagler won't get special treatment," Widener said. "The national Guard being here, we're part of the community, we take our taskings when we have a state active duty for emergencies, from Tallahassee, the emergency center there gives us those tasks. But we are organized here, and our response can be very quick if we get tasked for missions right here in Flagler County."
Emmett Titshaw, the second general involved in the project (2010-2015), recalled the intricacies of making the transfer from Daytona to Flagler work, given the numerous local governments and agencies involved. "It took us a while, but we're here," he said. He noted that the unit that will be coming to Flagler has had its share of deployments–three since 2000, but in Washington, D.C., where it provided air defenses, "protection of the president and Congress," Titshaw said.
"This unit just redeployed from Afghanistan in March," Calhoun noted. "And as most of you know our Army and Readiness centers are the hub of our operations. They're our training facilities and our projection platforms. Soldiers of the 1-265th were among 3,500 soldiers and airmen that were activated last week in support of Hurricane Matthew response operations."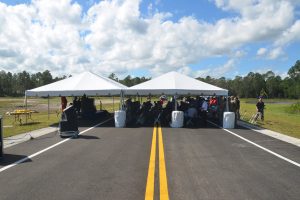 The Guard's building will be the second major development along the airport's new south-end road. Flagler County's Mosquito Control District building will open further east in December. A private company, Aveo Engineering, was to have built its own major facility along the road as well, and had its own groundbreaking (attended by Gov. Rick Scott) three years ago, touting the promise of 300 jobs. But Aveo reneged on its airport promise. For county government, it was the only stain on an otherwise remarkable economic recovery for the airport, which has become the county's most successful hub of economic activity. It was notable that in his acknowledgements of the effective forces behind the scenes, County Administrator pointed to his deputy, Sally Sherman, and Airport Director Roy Sieger (who's been a one-man economic development department), rather than the county's own, official–and costly–economic development department.
"For me this is kind of the end of a journey that started over nine years ago. When I first came there was kind of a handshake deal going in. At that time were were dealing with Maj. Gen. Burnett, and then we moved on to Maj. Gen. Titshaw, and now we have Maj. Gen. Calhoun," Coffey said. "This is great to have these kinds of resources here, and it was really great this weekend to enjoy your presence with us during this disaster. So I feel like we had a very negative kind of hurricane come through and now we're kind of having a positive hurricane come through with the Army National Guard here. I couldn't ask for a better group to come through."