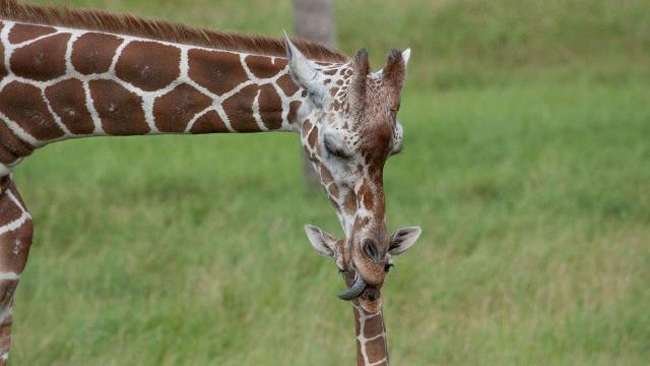 After a valiant effort by staff to revive her, the Jacksonville Zoo and Gardens announces Tuesday the humane euthanasia of Zawadi, the giraffe who collapsed on Monday in front of visitors, falling over on her side.
" The last few days have been hard for us all, as we have lost two animals that are dear to our hearts: Zawadi and Darasa," the zoo announced on its Facebook page.
Zawadi came to Jacksonville from Brookfield Zoo in Chicago, Illinois, on May 4, 1996.
Both Zawadi and staff made attempts to get her to her feet, but the effort proved too great for the stability of her health. She has no serious medical history that would have  led keepers or medical staff to believe something like this would happen suddenly. The Zoo has performed an initial necropsy which has no conclusive evidence of any infection or disease. Zawadi was the Zoo's oldest giraffe at 19  and has given birth to eight calves during her time at Jacksonville Zoo and Gardens.  Her youngest calf, Lester, born in February has already fit right in with the rest of the herd and will be given special attention by keepers to ensure his diet and health is maintained properly without his mother.
"Zawadi was a favorite among Zoo staff, especially her keepers," said Corey Neatrour, supervisor of mammals at Jacksonville Zoo and Gardens. "While very difficult to lose her, it was moving to see so many departments work tirelessly throughout the day to provide her the best possible care and attempt to get her to her feet. She will be greatly missed."
On Saturday morning, the zoo also lost Darasa, the mom of its newest Zebra foal. "She was treated the previous day for possible colic, but was discovered the next morning before additional treatment could be administered," a letter to zoo followers said on Facebook. "The initial necropsy did confirm a severe twisting of her intestines. We are optimistic for the health of the foal as she has been growing strong and adjusting well to her surroundings. She will receive additional attention and nurturing during this time from our keepers.
To stanch criticism of the giraffe being euthanized, the zoo further explained: "The decision to euthanize a sick or compromised animal is never easy. Each case is evaluated based upon its own circumstances. Zawadi was down for many hours. She could not support her own neck and head. She wasn't able to stand, sit up, or right herself. It was very sad to say goodbye, but providing a severely compromised animal with a humane exit is an important obligation and we take this responsibility very seriously."
"Anyone who has had to euthanize an animal will understand how had it is. They are a big part of our lives and it is heartbreaking. I thank you for doing what was best for the animals," Marti Van Cleef commented.
"Losing an animal is always difficult for our staff especially after the team worked so hard and so long to save Zawadi, said Dan Maloney, Deputy Director of Conservation and Education. "We take some comfort from the fact that her passing was peaceful, and her care-givers were there with her to cradle and stroke her head during her transition."
Almost 200 notes of condolence were quickly recorded on the zoo's Facebook page