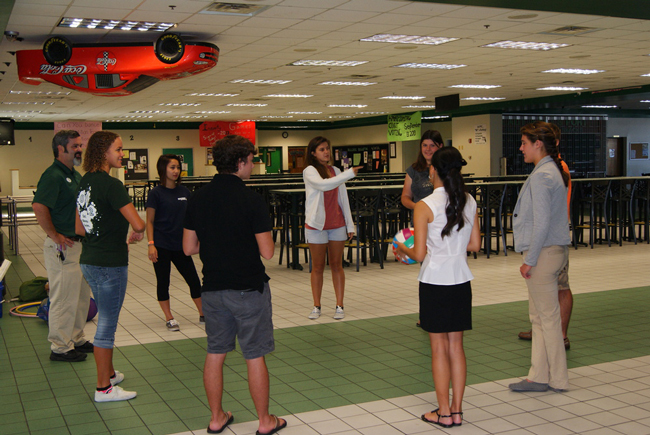 The Flagler County Chamber of Commerce is looking for future leaders of Flagler County to join the organization's Youth Leadership Program next fall.
Modeled after Leadership Flagler, now in its 22nd year of developing future community leaders, Youth Leadership Flagler provides participating students with a unique perspective and valuable insight about Flagler County for community improvement purposes. Program topics will include leadership, business history, economic development, government operations, environmental responsibility, tourism and arts, and culture and leisure.
According to Chamber President Rebecca DeLorenzo, the reception to the youth program, which graduates its first class this April, has been positive.
"The number of students that applied for the first Youth Leadership class far exceeded the number of spaces we had available," she said (some 25 students applied). "After a difficult selection process, we chose ten bright and talented candidates to participate in the program. We have hosted four sessions so far and couldn't be happier with the participation and enthusiasm we've seen from this class."
Whether home-schooled or attending public, private, virtual or charter schools, current 10th graders may apply by March 14, 2014, for the program. Those selected will be participating in Youth Leadership Flagler starting with the 2014-15 school year.
Applications can be picked up at the Chamber, in the guidance offices of Flagler Palm Coast High School and Matanzas High School or online here (or below). Ten students will be selected participate in the one-day-a-month program, which will begin in September 2014 and end in April 2015.
Youth Leadership Flagler is designed to offer a positive extracurricular experience for students who want to learn more about the community and become stewards of positive change. Youth Leadership Flagler would not be possible without the support of local sponsors, including Ameris Bank, John Birney, Craig-Flagler Palms Funeral Home, Gail Wadsworth, Landcare Management, Inc., Preferred Management Services, WNZF, Daytona State College, Florida Hospital Flagler, Intracoastal Bank, Johnson Orthodontics, Mitchell Noel, the Palm Coast Observer and SERVPRO of Flagler County.
For more information, call the Chamber at 386/437.0106.