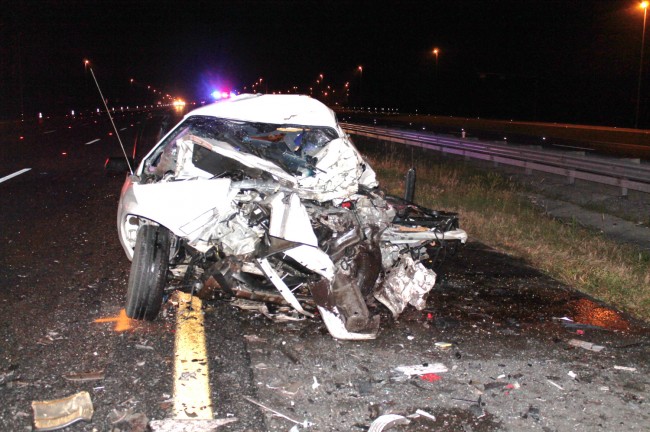 Ernest Lee Holmes was 91 years old. He had no idea where he was going. At close to midnight Friday, he drove his 1993 Buick Century onto I-75, apparently from Exit 451—doing the wrong way. He drove south in the northbound lanes.
Peter J. Linek, 55, of Ormond Beach, was driving north in his 2013 Ford Expedition. So was Robert J. Bolt, 67, of Niles, Mich, who was driving with his wife Wanda, 70. So was Laura Baugmart, 35, of South Bend, Ind., who had five passengers in her car, four of them ranging in age from 3 to 8. Alvis Gaston, 62, of Locust Grove, Ga. was also driving north, at the wheel of a Greyhound bus. He had 42 passengers aboard.
Around 11:44 p.m., the uneventful drive in the dark of that isolated segment of central-north Florida in Hamilton County, just south of the border with Georgia, went to hell.
Holmes's Buick collided head-on with Linek's Ford, killing both men and reducing their cars to a mash of metal. The three other cars just behind Linek subsequently all collided in secondary crashes as the first two cars were still coming to a rest.
When it was over, 13 passengers aboard the Greyhound bus had been taken to local hospitals with minor injuries. The bus began its route in Tampa, making stops in Lakeland, Orlando and Gainesville, before the crash. It was on its way to Atlanta.
None of the other drivers or their passengers were injured, according to a Florida Highway Patrol report.
Linek was an oral surgeon with a practice in Port Orange.
It is unknown at this time if alcohol is a contributing factor for Holmes or Linek. Alcohol is not suspected to be a contributing factor for the other drivers, all of whom consented to a voluntary blood draw at the scene. The fact that they were asked for blood is not in itself an indication of suspicion: it is routine for the highway patrol to draw blood of all drivers involved in crashes resulting in fatalities or critical injuries, even when the cause of the crash appears clear, as in the case of Holmes driving the wrong way on the Interstate.
It is at least the third wrong-way crash on a Florida Interstate. On Feb. 8, Daniel Lee Morris, 28, of Tampa, the driver of an SUV driving the wrong way on I-275 in Tampa was killed when he plowed into a car carrying four University of South Florida students. All four were killed. (They were Jobin Joy Kuriakose, 21, of Orlando, Ankeet Harshad Patel, 22, and Dammie Yesudhas, 21, of Melbourne, and Imtiyaz Ilias, 20, of Fort Myers.) Two weeks later, just three miles north of the same spot, Chase Kaleb Leveille was killed when he drove the wrong way—going north in the southbound lanes—and struck a truck driven by  Jason D. Lullen, 47, of Wesley Chapel. Lullen was driving with Joe N. Smith, 65, of Tampa. Neither was seriously hurt.