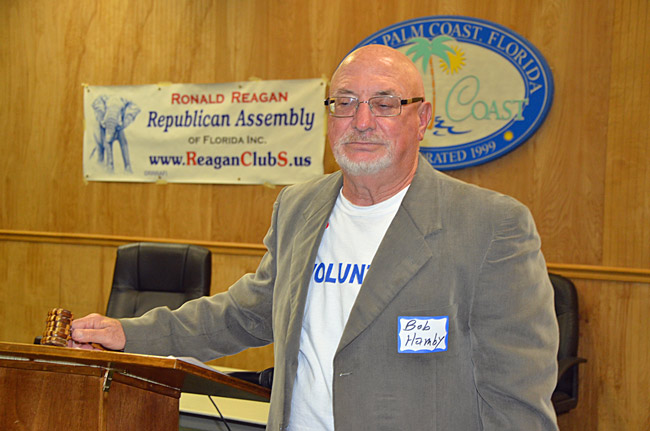 When the qualifying period for local political races closes Friday, three key races—two for the Flagler County Commission and the clerk of court race—will most likely be contested only by Republicans in the Aug. 14 primary. Dan Parham, who chairs the local Democratic Executive Committee, said today he can't find anyone willing to run for those seats.
Normally, that would mean that all registered voters, including Democrats and Independents, would get to vote in those races featuring only Republicans, because the primary decides the winner.
That's the law. It's been the law since 64 percent of Florida voters approved a constitutional amendment in 1998 to open Florida's primary system, when members of only one party are contesting an election. "If all candidates for an office have the same party affiliation," the amendment reads, "and the winner will have no opposition in the general election, all qualified electors, regardless of party affiliation, may vote in the primary elections for that office."
But there was a loophole in the amendment. Republicans and Democrats quickly took advantage of it: by fielding a write-in candidate, they would create a contested general-election scenario again, and therefore be able to close the primary.
The Write-In "Sham"
That's what, for the first time since 1998, is happening in Flagler County in those three races: People nobody's ever heard of, who have no chance of winning or the intention to win, have qualified as write-ins: Paulette Dunkel in the clerk of court race between Republican incumbent Gail Wadsworth and Republican Ken Mazzie; Daniel Bozza Sr. in the county commission race between incumbent Alan Peterson and Charlie Ericksen; and Carole Ruffalo in the county commission race between Republicans Frank Meeker and Dennis McDonald. George Cominsky, another Reagan group member, had filed as a write-in against Democrat Barbara Revels, the county commissioner, but he died within days of filing. Revels is unopposed.
Republicans, Democrats qualifying for any of those races would have either had to gather more than 600 petitions or pay nearly $3,000. The write-in candidates didn't have to pay anything. Nor gather signatures. All they had to do was declare their intention to be a write-in. They're not even candidates in the primary: They're not allowed to run in the primary. They can only run in the general election. But their name won't appear on the ballot. There'll be an empty line. It'll be up to voters to decide whether to write-in that name.
It's a sham, and the Florida Senate described it in precisely those terms in 1999, when it considered a bill—Senate Bill 710—to close the loophole. "During consideration of SB 710 by the Senate Ethics and Elections Committee," a committee report on the issue related in September 1999, "the members of the committee expressed serious concerns that any person or group could field a 'sham' write-in candidate for the purpose of closing the primary election to party voters only. The Senate members felt that this would thwart the will of the voters who favored the amendment to the Constitution."
But the Florida House blocked closing the loophole—because House members then and now have been taking advantage of it to win elections. It's not just a Republican thing. Democrats have used the loophole, too, as did Sen. Audrey Gibson last year in a special election that included a sliver of Flagler County. But it's never been used in elections for local office in Flagler County.
Until the emergence of the local Ronald Reagan Republican Assemblies of Florida.
The Ronald Reagan Republicans
The Ronald Reagan assemblies are a hard-right group that locally includes many members of the tea party, and that has been leading militant insurgencies against establishment Republicans: the Ronald Reagan club is behind the ongoing lawsuit against the Flagler County Republican Executive Committee. It is behind the lawsuit against John Pollinger, the Republican candidate for sheriff.
And it has fielded write-in candidates in five local races, as well as actual candidates: Wadsworth, who's always been savvy with her political allegiances, is a member (she was also the president of the Flagler County Republican Club until she resigned the position during her run for re-election). Dennis McDonald is a member. Charlie Ericksen is a member.
The Ronald Reagan write-ins are part of a strategy to ensure that in the two county commission races and the clerk of court race, the more moderate or establishment candidates can no longer rely on the votes of Democrats and Independents.
McDonald (whose wife, Janet, is a write-in in the sheriff's race, though that race features contested primaries with Democrats and Republicans) defended the write-in strategy in an interview earlier this week, while he was at the supervisor of elections' office. McDonald's point was two-fold: Republican primaries should remain primaries for Republicans exclusively. And if Democrats have a complaint, they should have fielded candidates instead. McDonald did not pretend that any of the write-ins had a chance, speaking candidly about the purpose of the strategy.
Wadsworth took a different approach. "I met her Saturday," she said of write-in Paulette Dunkel. "I consider her and other write-ins, though other candidates may not share my feelings, an opponent, and when I learned that she had written in, I started raising money in hopes that I would win the primary to continue to the general election." Wadsworth added: "I was asked to ask her to step down, and how does one candidate ask another candidate to step down? That would be like asking me to ask my primary opponent to step down."
Not exactly, considering the qualifying hurdles her opponents and other candidates whose names will appear on the ballot had to go through.
Ericksen, who's challenging Alan Peterson, repeatedly attempted to deflect the question of the fairness of the write-in the process on the fact that it's admissible as law. "It seems that at times for particular people it isn't fair," he said, when pressed, suggesting that if it's unfair, the Legislature should change the system. Ericksen said he did not know that fellow-Reagan club member Daniel Bozza was filing as a write-in in his race until after the fact.
"It's Un-American"
Naturally, the candidates or their supporters being targeted by write-in strategies are livid. Alan Peterson is pointing out the scheme on his campaign literature. Donna Heiss, whose husband, Ken Mazzie, is the clerk of court candidate challenging Wadsworth, was as candid as McDonald, from the opposite perspective. "I'm mad, I can tell you I am a registered Republican and I am mad the Democrats and the Independents are being denied their say in these three races that will be decided August 14. It's un-American," Heiss said.
"Yes, my husband is running for a position, but it's my take that people shouldn't be denied a vote no matter if you're a Democrat or an Independent in a deciding race. Everyone is equal." She added: "I do see this as malice. I see this as election manipulation, in my opinion, I see this as a group of people trying to control the county politics, I see this as this group really denying 40,000 people the opportunity to have a say. That's totally unacceptable, it's un-American, it's not fair."
Mazzie had become a member of the local tea party and the Ronald Reagan club, but Heiss said he was submitting a letter of resignation to the Ronald Reagan club "because of unethical practices on their part."
Bob Hamby, who heads the Ronald Reagan club, did not return a call before this article was posted. But he addressed the issue in a comment on FlaglerLive early this morning, in a thread that brought much of the issue to light. "We are not disenfranchising any voters, the Flagler County Democrat Party disenfranchised voters by having no candidates," he wrote.
Democrats' Options
Parham, the Democratic Executive Committee chairman–who wasn't even aware of the Reagan group's existence–doesn't buy it. "I can't go along with that," he said, referring to the Ronald Reagan group's rationale. "The only way that the Dems and Independents are locked out is because they're doing a write-in vote. Whether Democrats can find someone to run or not, everyone would still be able to vote if they did not take this action, so they're doing something affirmative to lock everyone else out. So they want to make a big issue out of it and that makes them feel better, but let's call it what it is, these Reagan Republicans are doings something that's closing out the elections for those races."
Peterson said he wasn't sure how the scheme will affect his race, though Dennis McDonald suggested an answer: when justifying the write-in approach, McDonald used last year's race for Palm Coast mayor between Ericksen and Jon Netts. That race, too, featured only two Republicans, and was decided in a primary, with no write-ins. Netts won, McDonald said, because Democrats and Independents voted for him. That's McDonald hopes will be avoided in his and other races where write-ins have been fielded.
That's why Peterson said he "very definitely" wishes the primary was open to all voters.
But registered Democrats and Independents are not entirely without options: they can still change their party affiliation to Republican, and do so until July 16, vote in the Republican primary then switch their registration back before the general election. Many voters do just that. Most don't. And many don't want to, because there are also three local races featuring Democratic primaries (for sheriff, for the Florida House, and for a Congressional seat).
The primaries will be effectively closed, and if history is any guide—judging from almost every Florida race featuring write-ins over the past decade—the Republican winning the primary will then go on to win the general election with at least 99 percent of the vote, against write-ins whose names few will ever know and fewer still will vote for, assuming those write-in candidates stay in the race. Most don't, because they don't want to bother with the paperwork.