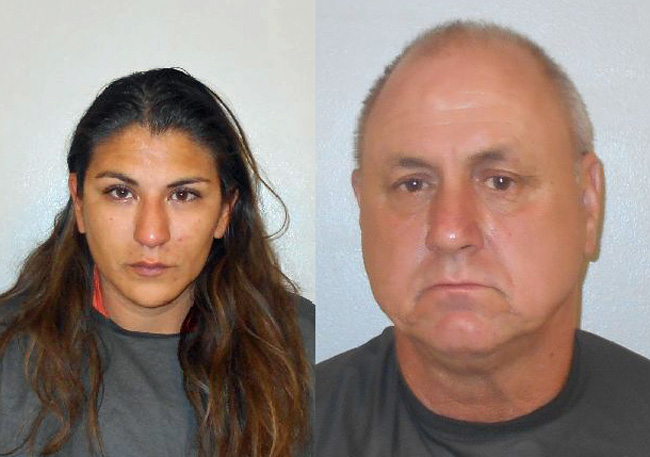 From what 29-year-old Jolynn Martin told Bunnell police officers, she got into a violent confrontation with 22-year-old Breanna Bates because she didn't like the way Bates disciplines her own daughter. But it was Martin who ended up in jail after being accused of landing a punch on Bates's daughter as she and Bates were arguing.
Martin's boyfriend, Adam Swank, was also injured: blood was dripping from his forehead when cops showed up, and as Bates and Swank filled out their written statements to police, their bloodied hands left red marks on the paper.
Martin, like Bates and Swank a resident at the same address on Elm Avenue in Bunnell, was booked at the Flagler County jail on charges of battery, domestic violence battery and child abuse. She remained at the jail Monday morning on $2,500 bond.
Swank told police that Martin had become upset with him because he was outside the apartment, playing with the 2 year old. As the couple argued, Bates picked up her child and tried to walk away from the situation. As she did so, according to Swank and what was related in the police report, Martin "became enraged and decided to confront Breanna [Bates] for an unknown reason."
The two women then began arguing as Bates was still holding the 2 year old. The argument turned physical. Martin then allegedly punched Bates in the face. Swank told cops he then attempted to intervene by stepping between the two of them, but Martin then allegedly began punching him in the face. Swank pushed Martin to get away from her, and the two went back and forth. Bates, the report states, confirmed Swank's account, adding that as Martin was allegedly attacking her, Bates's daughter was punched in the face.
Cops observed minor redness on Bates's face and on the child, "a small red mark on her left cheek and some minor redness."
When a cop asked Martin what had happened, she replied: "I don't like the way she disciplines her child." But when asked what happened during the confrontation, Martin said: "I'm not telling you." (A suspect is not required to answer questions at a crime scene.) The report notes that Martin had bloodshot eyes and smelled of alcohol. She was booked at the jail without further incidents.

A Confrontation, a Mysterious Gunshot and an Arrest
Martin Wright wanted nothing to do with Kenneth "Danny" Hayes and James "Donnie" Hays.
Both Hays have a criminal history. Donnie Hays was twice booked at the county jail on domestic battery charges in the last six years, and Danny Hayes reduced charges of burglary and battery, 10 years ago, to a pre-trial intervention. But so does Wright, 54, and a longer one: he's faced charges of attempted aggravated assault in 2006 (he pleaded no contest), aggravated battery and attempted aggravated assault in 2003 (the charges were dropped), assault in 2002 (charge dropped), and two separate charges of battery in 2001(charges dropped both times).
The evening of Sept. 11, Donnie and Danny Hayes drove up to Wright's house on Cherry Lane and said they were there to pick up Angela Rodriguez, 30. The two Hays men had earlier dropped off Rodriguez, who had told Wright, according to a police report, that "they were drinking and smoking crack all day and that she was afraid of them." She would later tell cops that the men had driven recklessly and at speeds in excess of 100 mph.
Wright told the men to get off of his property. Danny Hays then approached Wright "in an aggressive manner and spit chewing tobacco" on Wright's face, the report states. Wright allegedly struck Hays in the head with a T-ball baseball that he was holding. There had been a report to 911 that a gun had been brandished. But Wright denied doing so.
Rodriguez told cops that after the Hays men had dropped her off, she called them and told them she did not want them to come back to pick her up, but they said they were coming back anyway. Wright then got on the phone with them and told them not to come back or get on his property. Rodriguez told cops she did not witness the ensuing confrontation.
A cop spoke to the Hays men on Mahogany Blvd. They told a different story—that after they'd dropped off Rodriguez, she called them and asked that they pick her up again. When they got to Wright's house, Wright was allegedly hiding behind shrubbery. They say he jumped out and struck Danny on the left side of his head with the bat. Wright, according to the men, "then went back into his residence and came outside with a pump action shotgun and fired approximately three (3) rounds into the air. At this time they got back in their vehicle, left the scene and called 911."
The report notes that a cop was with Donnie Hays, Danny lost consciousness and fell out of his chair. A cop had observed a bump on his head earlier. He was taken to Florida Hospital Flagler.
One neighbor told cops that he heard what sounded like one gunshot from a shotgun. Rodriguez, too, confirmed that she'd heard one gunshot. Asked again about the gun, Wright insisted to cops that he did not brandish a firearm. But he refused to submit to a gunshot residue test without first speaking with his lawyer.
"At this time," his arrest report states, "due to Martin withholding information in reference to this incident and being determined to be the primary aggressor he was arrested for aggravated battery with a deadly weapon." He was subsequently released on $1,000 bond. No firearm charges had been added as of Monday.