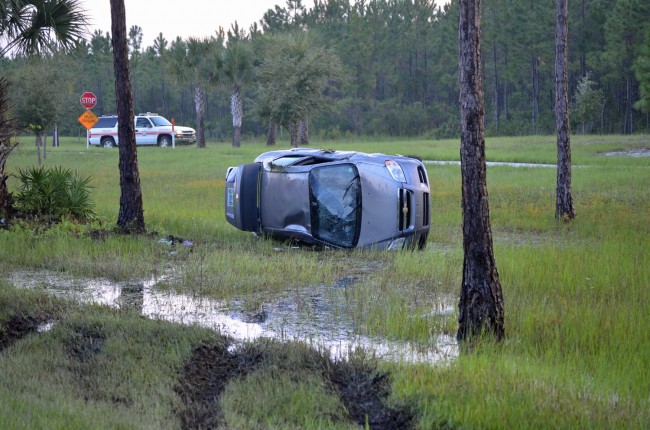 A man driving a four-door Chevrolet with two occupants on U.S. 1, just before 7 p.m. Thursday, lost control and sent the car flipping in a grassy field, barely avoiding two trees that could have damaged the vehicle and its occupants far more severely.
Soon after the car came to a rest in the waterlogged grass, however, the driver, Rocky Marino, 19, of 3602 West San Pedro Street in Tampa, fled the scene on foot. A Flagler County Sheriff's spokeswoman and a Florida Highway Patrol investigator later said Marino had several warrants out on him. Neither official had details on the nature of the warrants.
Marino didn't get far, nor was there a long chase. Within about 15 minutes of the original wreck, less than half a mile south of the wreck scene, Marino was in handcuffs and on a gurney, being transported to Florida Hospital Flagler before being taken to the Flagler County jail, where he was booked just before 11 p.m.
The wreck took place along the southbound lanes about a mile and a half north of the U.S. 1 weigh station. According to preliminary observations by an FHP investigator, based on tire marks on the outside lane, the car appeared to have begun to swerve on the highway and may have over-corrected, sending it flipping off the road. It had been raining shortly before the wreck.
The two other occupants of the car–a woman and a teen-age girl, though that's not confirmed–were taken to Florida Hospital Flagler with non-life-threatening injuries. They were both walking at the scene.
U.S. 1 South was reduced to one lane for less than an hour as the scene was investigated and Roger's Towing towed the vehicle.
During the investigation, a man alone in a vehicle was observed driving through the emergency scene with his hands on top of the steering wheel, his hands fiddling with a smart-phone (sic.), his eyes glued on it, rather than on the road. He was seemingly oblivious to the scene around him. The emergency scene was lined with six Palm Coast Fire Police officers, two Flagler County Sheriff's deputies, and the Florida Highway Patrol investigator, all of them near the emergency cones set out. EMTs had just left the scene. Further down, the Roger's Towing wrecker was getting ready to back his truck toward the wrecked vehicle.
First responders, cops and other emergency services personnel are often injured or killed at roadside by inattentive drivers.