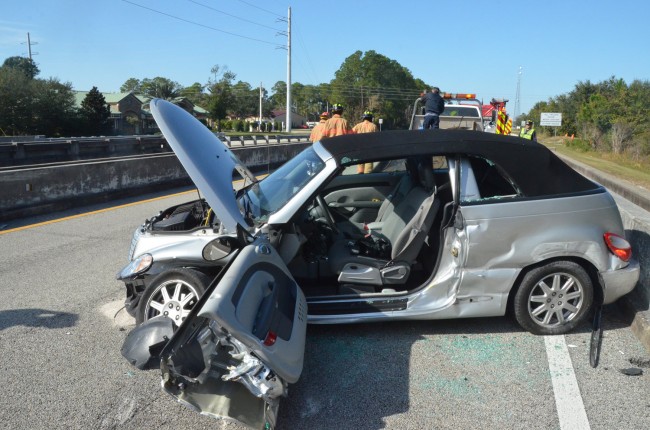 Rachelle Horne, a 40-year-old Palm Coast woman on her way to work at Belk's, was injured Saturday afternoon when she lost control of her PT Cruiser on U.S. 1 shortly after 1 p.m. The two northbound lanes were reduced to one until 2:02 p.m., when the road opened to normal traffic again.
Horne was reaching for her ringing cell phone immediately before the accident, a Florida Highway Patrol report states.
Horne was driving north when, a few hundred feet after the U.S. 1 intersection with Palm Coast Parkway, she struck a guardrail on the left (or west) side of the road, then was catapulted to the other side and struck the guardrail on the east side of the road before coming to a stop, perpendicular with the highway, on a concrete bridge over a small waterway.
Horne was briefly out of consciousness and slumped over her steering wheel, according to witnesses calling authorities about the scene, but was then aware and able to talk, if quite a bit distraught. She was unaccompanied in the car. Her husband arrived at the scene shortly after the wreck, and told a Florida Highway Patrol investigator that she did not suffer any medical conditions. The investigator had not determined the cause of the wreck, and said the woman was "maybe distracted."
Horne had to be extricated from the vehicle. The extrication took more than 20 minutes, and was completed at 1:34 p.m. Fire Flight, the county's emergency helicopter, was on stand-by during the extrication, but was not required. The woman was transported by ground to Florida Hospital Flagler, with non-life-threatening injuries.
Flagler County Fire Rescue, the Palm Coast Fire Department and the Palm Coast Fire Police responded to the call, as did Saxon's wreckers, who removed the vehicle. The identity of the victim will be released when it is made available.