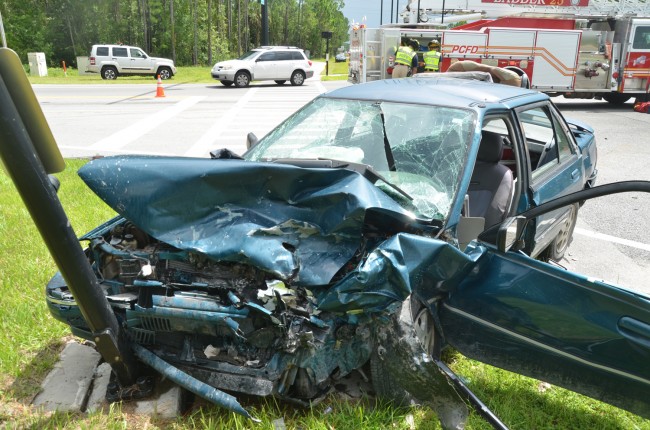 A child had to be evacuated on a trauma alert and two adults–each driver of the two cars involved–were taken to Florida Hospital Flagler with less serious injuries after a 2:30 p.m. wreck at the intersection of U.S. 1 and Royal Palms Parkway in Palm Coast.
The identities of the injured is not yet available.
According to the Flagler County Sheriff's Office, which is investigating the wreck, a Green Mercury Tracer was traveling north on U.S. 1. A man was at the wheel, a young teen was in the passenger seat. A Ford Focus driven by a woman was driving west on Royal Palms and attempting to make a turn onto U.S. 1. The two vehicles collided.
The Mercury was impacted twice: from the collision, taking the blow on the front driver's side, then again by a warning pole at the northeast corner of Royal Palms and U.S. 1. The Ford Focus, most heavily damaged on its front-passenger side, ended up roughly between the north and southbound lanes of U.S. 1. Both vehicles' front windshields were smashed.
The youth would have been evacuated by air to Halifax hospital, but went by ground instead because of unstable weather: a storm was gathering.
Royal Palms westbound was shut down at Rymfire Drive. U.S. 1 north was shut down at Royal Palms. The wreck was cleared by 3:30 p.m. All lanes reopened at 3:33 p.m.
Flagler County Fire Rescue and Palm Coast Fire Department units responded to the scene, including Flagler County's Capt. Ron Bolser and Palm Coast Fire Chief Mike Beadle, along with units of the Flagler County Sheriff's Office.