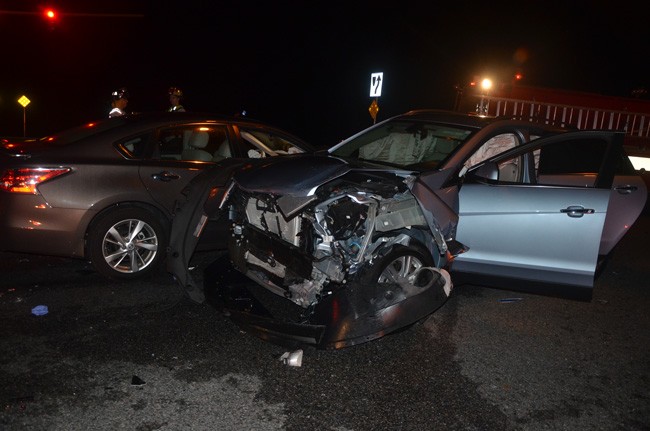 Seven people were injured, among them a 6-year-old girl, and six of them taken to Florida Hospital Flagler following a three-car wreck at the intersection of State Road 100 and Colbert Lane in Flagler Beach just before 7 p.m. this evening.
All seven people are Palm Coast residents. None faced life-threatening injuries. Both westbound lanes of SR100 were closed to traffic from the area of the Publix shopping center, to near the intersection with I-95.
According to authorities at the scene, Maria Robinson, 37, was at the wheel of a blue Cadillac, driving east on SR100. She was trying to make a left onto Colbert Lane. As a witness–and an ex-law enforcement officer–described it to police, traffic lights in both directions of SR 100 were green. Robinson, the witness told police, tried to make the turn just ahead of oncoming traffic. She didn't make it.
Yuriy Cheban, 53, was driving a black Audi west, in the outside lane of the two-lane highway. Robinson's Cadillac t-boned Cheban's car on his driver side, catapulting the Audi toward a light pole. Cheban tried to maneuver the car to avoid striking the light pole and ended up in the ditch on the north side of the road.
Saul Hoffman, 76, was driving a brown Nissan, with three passengers–two women and another man, all about the same age. He had been traveling west on SR100, 20 feet behind the black Audi, on the inside lane. He had little time to react, and crashed into the rear passenger side of the Cadillac, causing the two cars to sandwich each other, one facing west, the other facing east, roughly in the center of the road's westbound lanes.
Cheban complained of a hip injury but declined medical attention at the scene, and was walking and speaking with police and others who had joined him after the wreck.
The 6-year-old girl in Robinson's Cadillac was complaining of shoulder pain when she was taken to the hospital. Robinson was transported with a neck brace. The injuries to the four people in the brown Nissan are unknown at this time.
A Flagler County Sheriff's deputy was first on scene, immediately followed by the Flagler Beach Fire Department (Lt. Stephen Cox was in command) and Flagler County Fire Rescue. Flagler Beach's Engine 11 and Rescue 11 responded, as did Flagler County Fire Rescue's Engine 92, Battalion 93, Rescue 92 and Rescue 21. All three rescues were needed for transport. The sheriff's office turned over the investigation to the Florida Highway Patrol. The Palm Coast Fire Police regulated traffic in the area. The scene was still actively being investigated at close to 9 p.m., but wreckers had been summoned.
More images will post shortly.