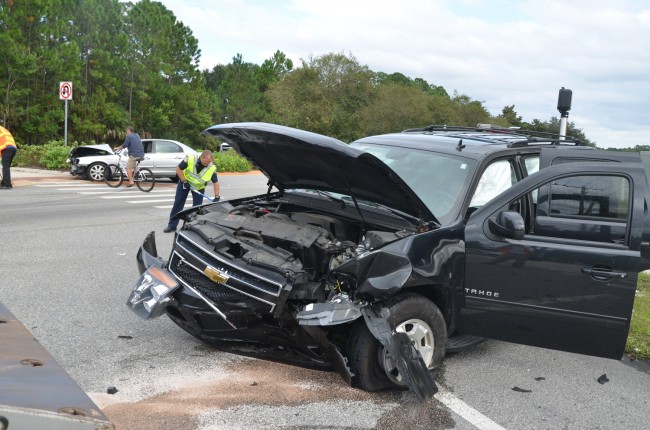 For the second time in six hours on Flagler's roads, a vehicle wreck resulted in devastating damage to cars, but no injuries to the people driving them.
At 4:15 p.m., a Tahoe SUV and a compact Kia collided at the intersection of Belle Terre Parkway and Pine Lakes Parkway South, opposite Mother Seton Catholic church, forcing Belle Terre to be shut down from that point south and traffic to be diverted onto Pine Lakes.
The two drivers of the vehicles, whose number is not determined at the moment, escaped injuries.
According to a sheriff's commander at the scene, the Tahoe was driving south on the inside lane of Belle Terre, the Kia Optima was driving north. The Kia attempted to make a left onto Pine Lakes. The two vehicles collided almost head-on. "Both cars are totaled, both cars' air bags deployed," the commander said.
The wreckage was being removed by Roger's Towing, and the vehicles were to be loaded, and the road cleared, by 5:15 p.m. or so. At that point, one lane on Belle Terre south reopened, because transmission fluid had leaked on the inside lane, and needed more time to be cleared. All lanes were reopened at 5:42 p.m.
At 10:15 this morning, a pick-up truck overturned on State Road 100 west of Bunnell, crushing the cab, but its occupant survived injuries.