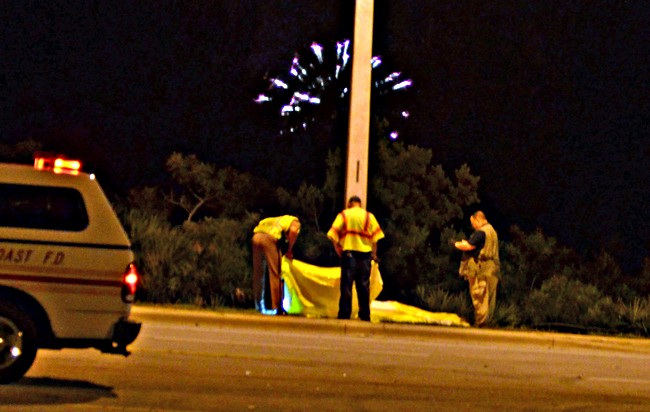 Gregory Daniel Fagas, a 40-year-old motorcyclist from Palm Coast, was killed, and Nacomi Marie Campbell, 27, was flown to a hospital in critical condition following a single-motorcycle wreck on Belle Terre Parkway, directly across from Belle Terre Elementary school, Saturday evening. Dusk was just giving way to night and neighborhood fireworks were beginning to flash in the sky near the scene of the crash.
The wreck took place in the northbound lanes of Belle Terre Parkway at 8:15 p.m., just north of Bird of Paradise Drive. Both motorcyclists were thrown from the Honda onto a sidewalk, by a light pole, about 50 feet from a ditch, where the motorcycle, tumbling north, ended up, out of view of the roadway. An FHP investigator at the scene said the reason the motorcycle lost control and drifter northeast is unknown for now.
The motorcycle appears to have struck the curb, throwing its occupants. Fagas occupant then struck a metal school crossing sign, shearing it off from the base, the FHP investigator said, before striking the concrete utility pole. He was killed at the scene.
Trauma One out of Jacksonville, the emergency helicopter usually stationed in St. Augustine, was called in and flew off from the scene at around 8:45 p.m. Campbell was flown to Halifax hospital in Daytona Beach, the FHP investigator said.
"We did not find any helmets," the investigator said.
There was no debris in the road or any visible signs of a wreck. Belle Terre Parkway's northbound lanes were shut down at Bird of Paradise. Roads are normally closed when a fatality takes place as FHP investigators work the scene.
The Palm Coast Fire Department, Flagler County Fire Rescue and the Palm Coast Fire Police responded. The deceased was removed by the medical examiner at 10 p.m. The road remained closed until about 11:30 p.m., by which time Saxon's wrecking from Bunnell had removed the motorcycle.