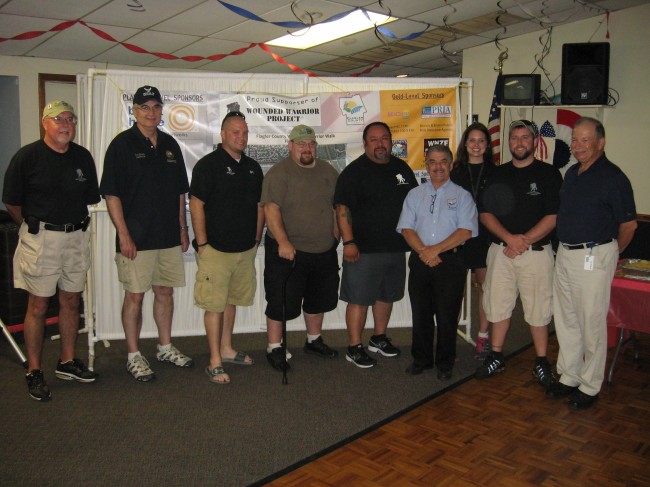 Flagler County presented a check for $17,573.66 to the Wounded Warrior Project at the June 18 County Commission meeting.
The Wounded Warrior Project's Valery Burnham accepted the check. "I can't thank you enough," she told the sponsor and volunteers being honored at the meeting. "I am so blessed in my job to rely on the kindness of strangers." She called those who took part in the fundraising effort heroes.
The effort was led by County Commissioner George Hanns, a veteran who lost his brother, a Vietnam veteran, to illness–and the ravages of Agent Orange–just this last Christmas.
The check was the result of a fundraising effort by Hanns for for the organization that assists returning veterans from Iraq and Afghanistan.
The 5.5 mile walk and luncheon on May 19 at Palm Coast's Town Center had 175 participants and many local sponsors. Bright House Networks, Palm Coast Ford, The Bailey Group and the Crowne Group/ Carehere Inc. all donated more than $1,000 each. Brown & Brown Public Risk Insurance Agency and Captains Bait and Tackle were gold sponsors donating more than $500 dollars. There were 47 additional sponsors.
County Tax Collector Suzanne Johnston, a fund-raising juggernaut, raised $3,400 in donations as well.
"It was certainly an honor to work on this project," Hanns said. "I give my heartfelt thanks to the Board of County Commissioners and the staff to allow me to head up this project. We are also grateful to every one of our sponsors and walkers." Hanns, to draw more attention to the Wounded Warrior project (and, not incidentally, to his re-election bid) jumped from 6,000 feet above the Flagler County Airport at last March's Wings Over Flagler fly-in. With a parachute, of course.
Johnston, who's making a habit of collecting fund-raising trophies or plaques (though she surrendered the Feed Flagler trophy to the sheriff last year), was given a plaque for her efforts as were sponsors who provided up to $1,000 each. "It was such a good project," Johnston said. "I am proud to have been a part of it."
The effort was put together by a committee of county employees led by Community Services Director Joe Mayer. Veteran Andrew Coughlan from Jacksonville, who was helped by the Wounded Warrior Project and now works for the organization, spoke at the lunch following the walk along with local veterans Mick Lum and Ron Stark. More information about the Wounded Warrior Project is available here.

A Floridian Wounded Warrior's Testimony: Tom Marcum
Technical Sergeant Tom Marcum pondered how to reply to the interviewer's question: What is something most people don't know about you?
As Tom surveyed his memories, searching for an appropriate response, he sorted through his childhood growing up in Astatula, Florida…his days at Tavares High School…his decision to join the Air Force in 1996…his training as a weapons expert…his seven deployments…his assignment to guard the bodies of Saddam Hussein's sons…the day he saved Vice President Dick Cheney's life…and the four explosions that almost took his own.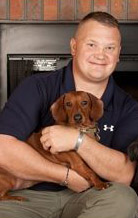 And then this "gunsmith on steroids," as he jokingly calls himself, answered with a spirit of honesty and utter humility: "I am a weak and feeble person."
Not the words you'd expect to hear from a trained sniper.
"I am a weak and feeble man because God gives me the strength every day to get up, breathe, and do everything I need to do," Tom went on to explain. "Without God's strength, I am nothing."
In addition to acknowledging the source of his strength, Tom gives credit to his wife April, calling her his lifeline. They were high school sweethearts, married shortly thereafter, and had known each other since the third grade.
"She's been my greatest support through my recovery."
As the result of experiencing four separate mortar explosion incidents in less than 24 months, Tom suffered traumatic brain injury (TBI) and struggles with the effects of post-traumatic stress disorder (PTSD).
"I also have a lot of secondary issues, such as hearing loss, an orbital wall blow-out fracture, vestibular issues, vision problems, a shoulder injury, and cognitive-processing issues."
In retrospect, Tom says he didn't initially receive the medical care he needed because, as he puts it, "I looked okay, but I felt like my world was rocked." He compares the experiences of surviving four separate blasts to a person being cut by a knife over and over again.
"The injury just keeps getting deeper and deeper. By the last one – which slammed me up against an armory and knocked me out – my head had simply had enough."
Surgeons removed shrapnel from Tom's right shoulder, but after being medically retired in 2010, Tom says he lapsed into a deep depression. TBI and PTSD were simply too much to endure.
That's when his wife April called Wounded Warrior Project. She attended a caregiver retreat, and Tom says, "The rest is history. Now every time Wounded Warrior Project has anything going on, I'm the first to sign up."
Tom is optimistic about his recovery, saying he takes it one day at a time. But he says his passion for building custom weapons has subsided, and nowadays he'd much rather spend time with his wife and their two sons.
His new passion is meeting and helping other warriors who also struggle with recovery.
"My message is don't give up. Three strikes in life doesn't mean you're out. There's always one more thing you can do. Give it time and you can finish your journey. I want to show other warriors they can make it like I did."
–From the Wounded Warrior Project