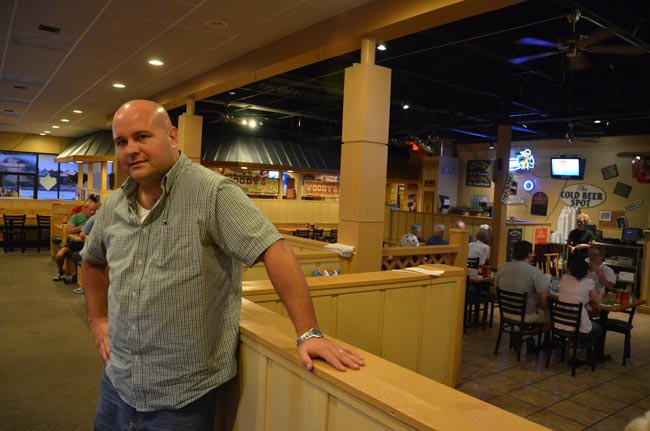 Word has it that nine out of 10 restaurants fail in the first year. That myth, dating back to an American Express commercial from 2003, has been disproved. The actual figure is closer to 60 percent—still an intimidating rate for new businesses: witness the failure rate of restaurants on Palm Coast Parkway, where Chinese, Mediterranean and Italian restaurants have all staggered and closed in the last few years. Even chain restaurants are in trouble: Perkins just filed for bankruptcy, closing 58 of its 600 restaurants almost immediately and sending worry beads across the foreheads of local employees at Perkins's Palm Coast Parkway establishment.
So Woody's Restaurant is celebrating its anniversary as well as its endurance come Wednesday evening (July 27), when the barbecue eatery at Flagler Plaza, along State Road 100, will mark its 13th birthday with its usual Wednesday fare (the vintage car show, all-you-can-eat ribs and dollar-draft beers) with a few extra specials, a DJ and a few giveaways.
For the owners–Flagler County natives Matt Crews and Joe Rizzo, along with Matt's father Scott, who knows the original Woody (Woody Mills of Jacksonville) and set up the business in 1998–weathering the last few years' downturn is what they may be celebrating most. For a time the group, along with Matt's late brother Josh, owned a second Woody's in St. Augustine. That ended last September: the business didn't quite thrive. (There are some 40 Woody's restaurants, most of them in Florida. More recently, Mills has been expanding to Canada, Arizona and South Carolina.)
It's different in Palm Coast, despite the difficulties and a significant drop in business since the housing crash took place three years ago. Rizzo considers the location of the restaurant to be primed for more lucrative days: Walmart may eventually build around the corner, Florida Hospital Flagler keeps expanding, and the location, at a busy crossroads (Old Kings Road, SR100, I-95) is a river of traffic.
"If you look at it as a whole for the last 13 years, it's provided a great living for us, a great lifestyle, all that kind of stuff," Rizzo says. "The last three years have been real difficult, and the problem with being a small business entrepreneur, when times get hard, most people fold up. It doesn't matter how good it was seven years ago, right now you're teetering on the edge of how are we going to make payroll, how are we going to keep the doors open, what are we going to do to save money and make money and that kind of stuff. That's the number one downfall of this business, it's the pressure that comes with keeping the doors open. But as far as owning this business and the 30 or 40 people that work for us, it's probably one of the more rewarding things. When I was young I always thought we've got to do stuff, we've got to make money, we've got to do this, we've got to do that. Having an effect on people is the best part of this restaurant. Getting the chance to help people make life decisions."
Some 300 people have made it through Woody's payroll through the years.
"I realize that in the whole scheme of things it's not a whole lot," Rizzo says, "but it outweighs the fact that it's so stressful to keep the doors open."
Rizzo, a board member of the Flagler County Education Association–the non-profit fund-raising arm of the Flagler County School Board–also notes the restaurant's involvement in various civic and community initiatives. And he adds: "We're not going anywhere."