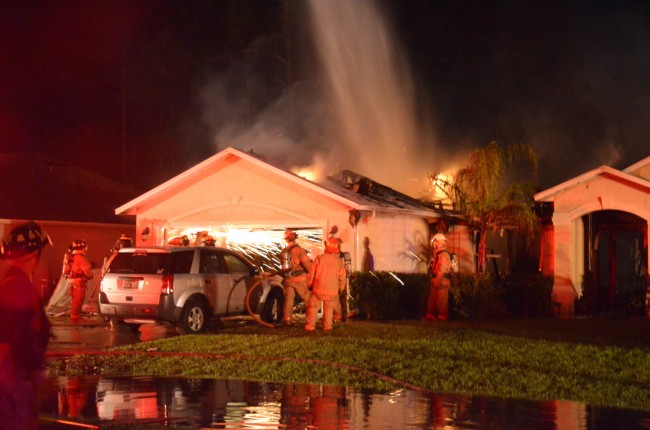 The blaze that gutted the house at 20 Woodstone Lane late Tuesday night may have been a calamity waiting to happen.
"It's definitely suspicious, absolutely," Palm Coast Fire Chief Mike Beadle said as he stood on the street across from the house, water pouring down on its roof from a ladder truck, flames still blurting from various points of the roof's mid-section. "You get a fire going like that, that intense, yeah, it's definitely suspicious. That's why we're calling the fire marshal. Luckily no one was hurt."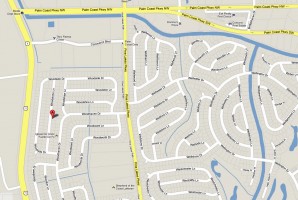 The fire in Palm Coast's sinewy and heavily residential W Section, between U.S. 1 and Pine Lakes Parkway, started at about 11 p.m. Tuesday "right in the middle of the house," Beadle said. "By the time they got here it was about dead center of the house, all the way to the roof, so it's a good indication it started in the middle of the house."
Police had been at the house several times in the last few weeks. They knew there was a couple living there: Harold and Karen Pizzetta, in their mid-50s. The fire, a neighbor said, "started out of nowhere." But it was a few minutes before firefighters navigated their way into the labyrinthine neighborhood.
"I heard somebody yelling and honking a horn, saying hey, is anybody in there, is anybody in there," Derek Brockdorff, who lives across the street from the Pizzetta's house, said. "I looked, the house is in flames. Called 911, got off the phone with them and ran out here with the guy, I guess his neighbor on the back side of the house, had come over. The two of us went around both sides of the house, almost went overt the back fence, were yelling and hollering, is anybody in there. Dead silence. Went up to the doors. The main windows were already completely gone, inside completely in flames, but no noise, no nothing but the fire, so if he was out there the whole time, I don't know. It's very odd."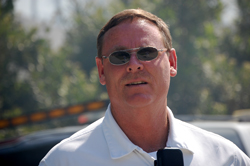 This is what the firefighters found odd, too: as soon as they arrived, they went as far as they could into and around the house to search for occupants. "The little dog was in the back yard," Beadle said, referring to Beau, a 16-year-old miniature pincher, and a diabetic, one of the couple's two dogs. "We were trying to catch the dog while we were working the fire. One of the guys walked around, and I guess the male of the house was sitting in a lawn chair in the backyard, in the dark. He wasn't there the first time we made a check around the house. But he was a there. So we don't know whether he was hiding in the house," Beadle continued, or whether he was in the pool area.
He was taken to an ambulance. He did not talk to the firemen. He remained at the scene in an ambulance for a long time, and was later transported to Florida Hospital Flagler with minor burn injuries. He claimed to authorities that someone had broken in, set the fire and fled. It's not clear why he did not alert neighbors or call 911, as he had in the past in incidents at his home.
"The two of us were out here yelling for a solid five minutes," Brockdorff said, before the firefighters arrived. But there was a reason they did not get a response: Harold is deaf in both ears, unless he wears his hearing aid. And Karen was out of state. Flagler County Sheriff's deputies were able to confirm that when they spoke with her. Deputies evacuated seven or eight houses as a precaution, the houses being in very close proximity to each other. Also, a stash of ammunition kept popping off from the house as it burned, from a back bedroom.
The deputies are familiar with the history of the Pizzettas—and not just because the couple bought the 1,700-square foot house almost two years ago from Paul Bovino, commander of the sheriff's office's SWAT team. (The Pizzettas had previously lived at 14 Weber Lane for about seven years).
Six weeks ago, Harold—retired owner of a company called Pizzetta Bridge, Inc.–called 911 to report that Karen had fired a gun and driven off, and to be on the look-out for a tan Toyota. The car was found, so was Karen, who told a cop she didn't mean to shoot the gun, that it had just gone off, according to a police report filed at the time.
But she was trying to shoot herself in the head. Karen Pizzetta, 53, who was still involved in a romantic relationship with her ex-husband (they'd divorced in 1987) and lived on Woodstone Lane, was Baker-acted—that is, taken to Halifax hospital's psychiatric ward against her will, for observation. She was soon released.
A week later, Harold again called the cops. He told them his ex-wife had tried to kill him and he was in fear for his life. Harold, who's 54, is completely deaf without his hearing aid, did not hear his wife trying to shoot him, but saw the results: a bullet went through a lamp post on his side of the bed and into the wall at an angle, shredding some sheet rock on the floor.
It's not clear when that shooting had occurred. Karen was not home when Harold called the cops on Sept. 25. She was visiting her father in Mobile in late September, and also visiting Harold's sister, Tonya Cumba, with whom she's remained close. Cumba, too, lives in Mobile. It was Harold's sister who'd called him and told him to look at the wall in his bedroom, and made him realize what may have taken place.
Harold told a deputy that his gun, a .38 special revolver, was usually kept on top of a nightstand on Karen's side of the bed. He told the cop that he believed Karen may have tried to kill him while he was asleep, when he doesn't wear his hearing aid and takes sleeping pills. He didn't recall hearing anything, and couldn't tell when the incident may have happened, and his sister did not tell him when the shooting took place—only to look near his bed at the wall.
Karen was due back home on Sept. 29.
Neighbors noticed her packing her bags and leaving again a couple of weeks ago, after yet another argument that had summoned cops to the house. "There was like, what, eight, ten cop cars lined up down the road," a neighbor recalled.
"I know, it was a week and a half, two weeks ago, they had some issues, I think it was a domestic," Brockdorff said, "because after the cops left, she packed a bag and hauled ass. Other than that, we've been here about a year and nothing. Waves when he walks by with the dog. That's about it."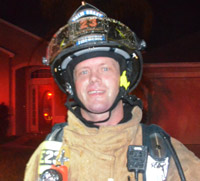 "We haven't seen her since," Colleen Hess, Brockdorff's companion, said as she held Beau, the small dog. The other dog was fine: Karen had taken it when she'd left. Harold walked the dogs every day. "One day I came out and I said, is he friendly? You know, because our dog is big," Hess said. "And he said, No. And I said, all right. And that's it. That's the only conversation I've ever had with him."
"This thing is a total loss," Beadle said. "It's gutted. I mean gutted. Ninety percent of the roof is gone." The Palm Coast Fire Department's Engines 21 and 23 and Ladder 25 responded, as did the volunteer fire crews' Engines 232 and 242, and Flagler County Fire Rescue, the Palm Coast Fire Police and the sheriff's office, whom Beadle credited for getting residents evacuated swiftly—the result, he said, from the practice the sheriff's office got during the wildfires.