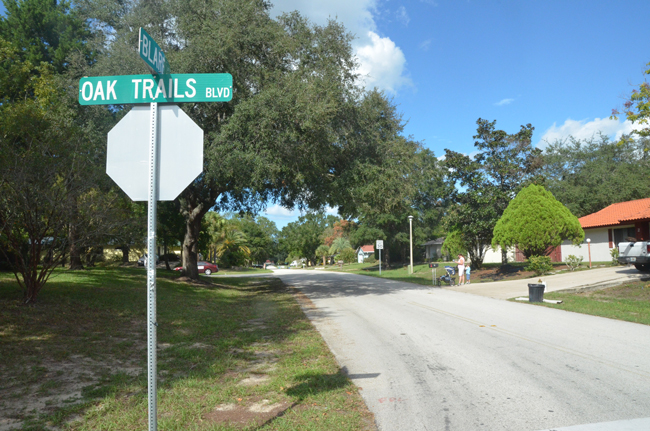 The Woodlands is one of those older Palm Coast neighborhoods Palm Coast residents like to refer to as quiet, safe, uneventful. Unlike the R or P Sections of town, increasingly associated with crime a grade or two above petty, the Woodlands doesn't often make the news. The last time it did with any significance was on May 14, when a man who'd barricaded himself in a house he lived in on Blythe Place had the SWAT team in a stand-off for three hours before giving himself up peacefully.
So residents had reason, as Craig Cooper did—he's  lived at a house at the corner of Blaine  and Blare drives for a dozen years—to call Tuesday evening's incident in that very area "insane" and "crazy."
Aaron Kinney, a 32-year-old resident of Blythe Place (a few doors down from May's stand-off house) was walking on Oak Trails Boulevard toward Old Kings Road a little before 7 p.m. Tuesday when what he described as a dark blue, older model Chevrolet S-10 (from the mid-1990s) drove past him, also going west. The truck drove on, stopped, then turned around. It pulled over next to Kinney, who was near where Oak Trails intersects with Blare Drive.
According to a Flagler County Sheriff's Office report, there were two black men in the car, both of them in their early to mid-20s. The passenger asked Kinney if he could "bum a cigarette." Kinney obliged. As Kinney was reaching for a cigarette in a side pocket, the man grabbed him by the front of his shirt and pushed him face first on the ground.
"Get down and stay down. Don't look at me," the man ordered Kenny, who did notice a silver revolver being pointed at him. The driver stayed in the truck as that was going on. The other man then searched Kinney's pockets, and took his light brown cowhide leather wallet with black trim, his pack of 305 cigarettes and a generic lighter. There was netween $120 to $130 in the wallet, along with a Florida fishing license and a driver's license. He then got back into the S-10 and the truck drove back toward Old Kings Road. Kinney ran home and dialed 911.
Several Flagler County Sheriff's Office units searched the surrounding area without results.
The suspected driver is described as 6'1'', 230 pounds, short black hair, wearing a red shirt and black short. He had two gold teeth. The passenger was described as 5'6'' to 5'8'', 190 to 200 pounds, with dreadlocks falling just below the ears, wearing a black shirt and black jeans. His right ear is pierced with a small diamond.
The suspects' truck also had silver lower trim, an extended cab and a Reese trailer hitch.
Melanie Coleman, who's lived at the house at the very corner of Blare and Oak Trails for the last couple of years, was out this afternoon walking with her two young children, one of them in a stroller, as she does frequently in the neighborhood. She was unaware of the robbery, and was away from home when it happened, picking up her husband. She has two German shepherds in the house. They're alert to anything outside the door.
"It's a pretty quiet neighborhood," Coleman said. "About six months ago we had the gas stolen out of our car, but that's about it." As she learned of the robbery, she spoke by phone with Cooper, her neighbor, and summoned him. Cooper mentioned minor issues around the neighborhood, like a vehicle that once swiped a stop sign and the house across the street that was vandalized a couple of years ago—spray-paint and such—but nothing much else. He was in disbelief, as was Coleman, particularly over the fact that a firearm was involved.
"I'll definitely keep my eyes peeled," Coleman said.
Anyone with information on the incident or the suspects is asked to contact the Flagler County Sheriff's Office at (386) 313-4911.