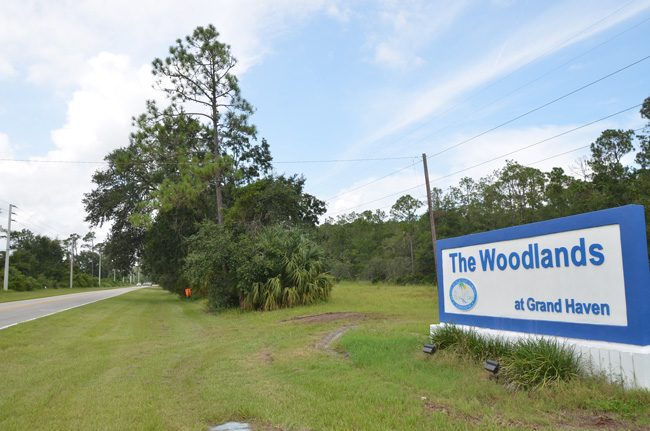 Last Updated: 7:58 p.m.
The Palm Coast City Council this evening approved a zoning change off Old Kings Road to accommodate a $10.5 million, 74-unit apartment complex between Utility Drive and Oak Trails Boulevard, just west of the Woodlands. It was a 4-0 vote.
The apartments are designed to offer a somewhat affordable option to local residents at a time when affordable rents are a rarity. The complex will be split between one- and two-bedroom units priced at $663 for one-bedroom units and and $796 for two-bedroom units. The maximum building height currently is 50 feet, it would rise to 60 feet under the new zoning. The complex would have a community center, a pool, a business lab, a multipurpose room with kitchenette, fitness center and a laundry. The site plan for the project has not been developed, as that stage, ahead of the zoning change, is premature.
But the complex is generating opposition from neighbors, particularly from residents in the Woodlands subdivision to the north. It is the sort of opposition that has become routine from Palm Coast residents no matter what the project, no matter where it's placed: residents, basing their opposition mostly on assumptions and prejudice rather than evidence, don't want to see apartment complexes near them, assuming, against evidence, that complexes bring crime or what residents variously euphemized as "undesirables," euphemisms that tend to mask references to blacks or other minorities.
Palm Coast government hosted an informational meeting about the project on July 9 at the Palm Coast Community Center, drawing 75 people and much opposition. The Palm Coast Planning Board, which has become inured to the routine of opposition, recommended the project at its August 15 meeting in a 5-1 vote, again to much opposition.
Prefacing her remarks by saying that she has nothing against apartment complexes, one resident of the Woodlands, a realtor, said the complex would create problems by over-burdening the sewer system in place there, and add more traffic into Oak Trails. A Woodlands resident who bought a house there three years ago said the temporary jobs created by the project would be "nice," but there would be no long-term job creation of note. Further, as she twice referred to the project as "a giant building," she said once the property is rezoned, it could become a "Section 8 property," a reference to federally subsidized housing that opponents of apartment complexes often associate with "undesirables." (In fact, the proposed complex off Old Kings could qualify for state subsidies, according to its developers.)
"It's nothing against the 55 and older community, it's simply a concern, once we've rezoned, it opens the doors for so many things that we are just not open to, as homeowners," the Woodlands resident said, drawing applause." And so it went.
The opposition before the planning board mirrored the opposition the board and the city council heard only a few months ago when hearing the proposal to rezone another section of Old Kings Road, further to the south, near State Road 100, to multi-family zoning: there, the opposition came almost exclusively from Hidden Lakes, the 300-home development north of Town Center Boulevard off Old Kings Road. That opposition, too, recurringly focused on fears of added traffic, proposed sending any apartment complexes to Town Center, and called the proposal a "slippery slope." The planning board and the council ratified the zoning change.
The project is the work of the Richmond Group, the 7th-largest apartment-complex owner in the country, with 1,500 properties and 115,000 units nationwide since 1987, investing some $20 billion along the way.
"We develop, own and manage these projects for the life of the project," The Richmond Group's Mac Ross told the planning board in August. "So what you're getting, and what that means to you, is you're going to get a member of the community, you're not going to get somebody that's here to develop something cheaply and flip it. We have an in-house management company that's based out of Tampa, they manager all of our projects throughout the nation, so when you walk into a leasing office at one of pour multi-family development, you're speaking with a Richmond Group employee, OK? You're going to get somebody that's in this community and that's going to take pride in this development."
The Richmond Group of Florida is interested in the area because of its ready access to central areas of the city and to I-95.
Ross said the developer "is not in the business of building things cheaply" or creating unsafe communities, a recurring concern. "You have to have an income, you have to meet a strict background check," Ross said. "It doesn't make sense for the Richmond Group to build something that's not going to be leasable, that's not going to be safe and not going to be quality, because we're owning it for the life of the project."
He described potential residents as "people leaving the workforce, working part-time, maybe not taking in an income that they used to take in when they were working full-time, maybe they're on social security, so it's a real benefit to people that are leaving the workforce. It provides an affordable option for those people."
Higher residential density will bring benefits such as more economic development and an increased tax base, he said. "Spending creates spending," Ross said.
The project would generate 300 temporary construction jobs and four permanent positions, generating just over $200,000 in property taxes in its first year of operation, plus $172,000 in parks and road impact fees, $174,000 and $193,000 in water and sewer impact fees, and $7,700 in meter fees, plus some $90,000 in permitting fees.
Board Member Sybil Dodson-Lucas raised a concern about traffic on Old Kings Road. "My only reason about not worrying about it too much is because we're in the process of four-laning that road," Planning Board Chairman James Jones said. (The city plans to four-lane it, but its current capital-improvement plan includes no money for such four-laning in the next few years.) While no traffic study has been conducted ahead of the project, the zoning change is actually lowering the potential traffic on Old Kings Road, not raising it. In other words, the current commercial zoning designation, if maintained, could draw a strip mall that would generate more traffic than would an apartment complex.
Ray Tyner, the city's planning manager, said that while traffic is a potential concern, numerous commercial developers could apply for a development and never appear before the planning board. What concerns may be raised about traffic would be dealt with at the site-planning process. "That's when you get into the details," he said.