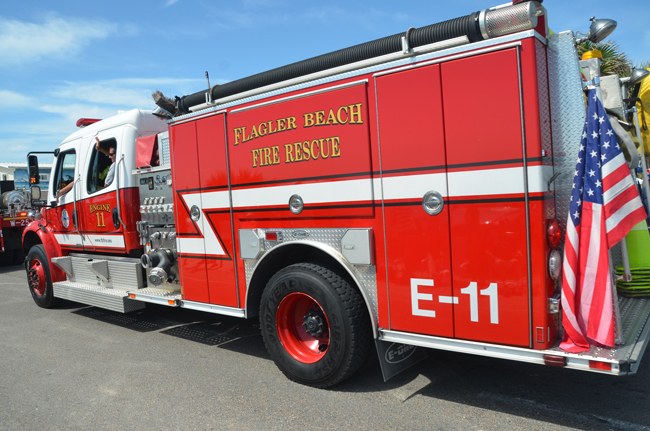 Two firefighters Flagler Beach City Manager Bruce Campbell fired in February for storing homemade alcohol in a fire department fridge overnight, were filing a wrongful termination lawsuit against the city Tuesday morning. They are seeking more than $15,000 in damages, among others.
The lawsuit, filed in Flagler County Circuit Court, is not a surprise: both firefighters– Shane Wood and Jacob Bissonnette—have been contesting their firing since it took place, quickly hiring Flagler Beach attorney Dennis Bayer. But it adds to the city's continuously mounting issues relating to the Flagler Beach Fire Department, which is currently without a chief, acting or otherwise, and has had to rely on volunteer firefighters to fill in for its decimated paid ranks. Since last summer, not many weeks have gone by without turmoil of one sort or another connected to the fire department, and by extension, to the city.
According to the complaint, Wood and Bissonnette charge that the city retaliated against them after they both cooperated with a Flagler County Probation Department's request to provide information about another firefighter, Bobby Pace, alleged to have falsified the records of a probationer logging community service hours at the fire department. It was Pace who accused Bissonnette and Wood of storing alcohol on fire department premises. Pace also accused then-Fire Chief Martin Roberts of drinking alcohol at a department Christmas party, then answering a fire call and commanding that response while still under the influence of alcohol, a violation of city policy.
Campbell fired Wood, Bissonnette and Martin after hiring an attorney to conduct an investigation of the allegations. Campbell installed Pace—who was fined $500 and had his license revoked for drunk driving in 1994—the acting fire chief. In April, following a Flagler Beach police investigation, Pace himself was charged with falsifying records and obstructing justice in the probationer's case. (The probationer was imprisoned subsequent to the falsified documents.) The State Attorney's office formalized one of the two charges—obstruction, a first-degree misdemeanor—in late July.
Campbell had placed Wood, Bissonnette and Martin on administrative leave immediately after being told of the alleged policy violation against them. In Pace's case, Campbell kept him on the job until the State Attorney formalized the charge against him, a difference in approach Campbell has not explained, but that helped propel the lawsuit against the city forward.
The lawsuit notes that it was as  a result of Wood's and Bissonnette's "investigations" that charges were filed against Pace—and that at the time Campbell was fully aware of the investigation, and its results, when he fired Wood and Bissonnette.
Wood had joined the fire department as a volunteer in 1991, and as a full-timer in 1997. He was second in command when he was fired. Bissonnette joined the department full time in December 2006. The lawsuit calls for the pair to be reinstated to their former positions, to reclaim their full fringe benefits and seniority, back pay and other lost remuneration, and "injunctive relief to prevent further retaliatory conduct upon employment."
(Note: a previous version of this story incorrectly reported that Bissonnette had no blemishes on his record. In fact, he was suspended two days without pay in 2009 for making disparaging comments about fire-department related issues on a Flagler Beach community website. He was also verbally warned in January 2012 for turning in his time sheet late on several occasions.)
The lawsuit makes a further charge against the city: violation of confidentiality.
The lawsuit charges that as part of its retaliatory moves against Wood and Bissonette, the city "repeatedly" released confidential information to the press and members of the public about Wood and Bissonnette.
The lawsuit does not specify what information was released. In one such release late last month, when he announced the formal charge against Pace, City Manager Bruce Campbell distributed his memos and the original charging affidavit against Pace to city commissioners. The document included, in the charging affidavit, the home address and cell phone number of Bissonnette. That information is protected against public release by Florida law. The information, however, was very likely released inadvertently, not maliciously, and was subsequently redacted. But it had happened at least once before, when some information relating to Wood was also similarly released.
The lawsuit claims Wood and Bissonnette were "damaged" by the release of the information.