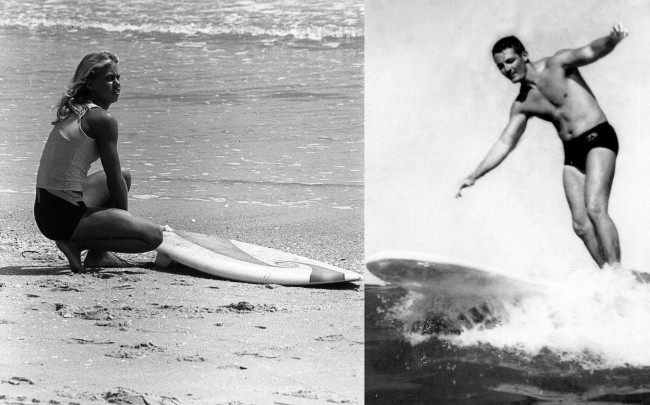 Riding ocean waves on a platform of some sort has been a sport for hundreds, possibly thousands, of years. Men have dominated the sport. That dominance is on the wane as women and girls all over the globe, and along the shores of Flagler, are riding the waves on their on terms. In 2007, The Times reported that while the total number of surfers in the United States has held steady at around 2.3 million (from 2001 to 2005), "the proportion of women jumped from 19 percent to 33 percent, according to Board-Trac, a leading board-sports market research company."
Women's surfing got its first big star when Flagler Beach's own Freida Zamba won four world championships (1984-86 and 1988), and again when Lisa Andersen of Ormond Beach won the first of four straight championships in 1994. (Actually she ran away from home, telling her parents at 16 that she was off to California to become world champion, and keeping her word.) Andersen was sponsored by Roxy, which created the world's first girls' surf brand–and grew from a $20 million business in 1996 to a $650 million business in 2006. Quicksilver, its parent company and maker of men's apparel, was a $750 million business that year.
These days, women's surfing has its biggest voice in local government in Milissa Holland, a county commissioner who still surfs–and pines for the waves when she's anywhere near the beach without her gear. Sisco Deen, the archive curator for the Flagler county Historical Society, remembers staying with his uncle and aunt at their Flagler Beach house in 1948. "The first surfing I remember in Flagler Beach," he says, "consisted of taking a pillow case, wetting it in the ocean, letting the breeze fill it, then tie the ends and use it as a float to catch the waves." It progressed to a 1 x 10 pine board, about 3 foot long.
"John Rice Hardware Store in Bunnell would cut these boards for us, round and shape the nose – don't think they charged more than a buck. These were the ancestors to the modern-day 'boogie board.'"
Deen moved to Ormond Beach in 1952 and did not get back into surfing until 1956 when he signed on to the Ormond Beach Volunteer Life Saving Corps. The corps used rescue boards that doubled up as surfing boards, made of thin plywood stretched over struts like the wing of an aircraft.
Deen recalls being in the lifeguard station in Ormond in1956 when a gentleman from the Velzy Surf Board Company in California came by and told him and his colleagues that they should get some of the "new" California surf boards to use for both rescue and surfing. "The boards were made of polyurethane foam covered by fiberglass, were about 10.5 feet in length and weighed a bit less than 50 pounds," Deen said. The age of modern surfing was dawning.
Flagler Beach was put on the world surfing map when Zamba won all those world surfing championships. The Flagler Pier was her classroom, where mostly male surfers were riding waves. Zamba crossed the gender and performance gap by regularly out surfing male competitors. She is regarded by many as the greatest female surfer ever.
With the increase in women's surfing, girls' surf camps are popping up all over the world. Flagler's North Beach Surf Camp–at the Si Como No Inn just north of the Flagler Beach pier–hosts at girls' surf and science camp for the "Girls Get IT" foundation every year. "This year we are definitely growing," says Jimmy Blumenfeld, owner of North Beach Surf Camp. "We are building a compound where kids can come and have memories last a lifetime." Blumenfeld said the girls are just as determined as the boys to learn how to surf, and get training identical to the boys'. "A lot more girls are surfing these days which is awesome."
Blumenfeld started the surfcamp in 2005 out of his house with two students. Last summer, he says Surf and Science camp drew hundreds of students.
In January 2010, Jordan Kahn, the News-Journal's intrepid outdoors writer, wrote a comprehensive history of surfing and has since maintained a still-growing "Massive Surfing Link List," including everything you always wanted to know about legendary names, boards, styles, regional histories and so on.
Charlotte Marten reports:
---
[media id=208 width=500 height=400]