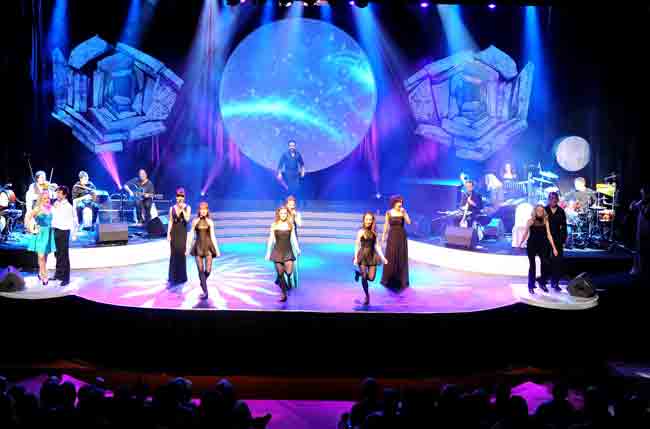 The Irish are a paradoxical people. Their country is rooted in orthodox religion, yet they have an equally strong tradition of folklore. That is, they are as likely to believe that St. Patrick banished all the snakes from the North West Continental, green island as they are to believe in leprechauns and banshees, the female fairies who wail to herald the death of someone near. With that, one thing Jesuits and mystic-searching hippies are likely to agree on is the fact that the Irish produce good music.
Another is that they also produce strong women, which brings us to the Women of Ireland, at the Flagler Auditorium Sunday.
"The common theme inherent in all performances is the presentation of the most revered qualities of Ireland's ethnic music which will be transported from the Irish fireside to the international concert hall platform," the group tells us on its website. "Special significance is placed on depicting the pure qualities of Irish music in a contemporary setting."
And that's all true, says Kelly McDonnell, 30, the show's lead dancer. There are some very different styles of music in the performance, including traditional Irish music—pipes, drums, flutes—contemporary and some Latin American music. Why Latin American? "Just to show our range," McDonnell says. "I don't think there was any reason beyond that."
The show's been running three years now, "so it's fresh." It's naturally changed some since it began, as Eric Cunningham, the creator and producer, rotates out performers from time to time. "Each dancer brings their own style and individuality to the show. No one tries to copy anyone else."
McDonnell's style? "I don't want to use the word sexy, but I don't know what else I'd call it. Exciting. Fiery. Fun. So Eric changes the lineup to keep the show fresh each year they come to America. It's more about the show than any one person."
More than the show, it's about the women. "We want to represent strong women. Ireland's known for that. That's why we have all these strong women on stage at once. There's an awful lot of talent there also," McDonnell says. Though the show isn't completely devoid of testosterone. There is one male dancer in the troupe—a talented one at that—Anthony Fallon, 29, former lead dancer of the hit show River Dance "At the end of the day, audiences always want to see a male dancer when they watch Irish music performed," McDonnell says.
Beyond being strong and talented, of course, there's an extra ingredient needed. "As we say in Ireland, we're all easy on the eyes," she says.
While the dancers represent the passion and fire of Irish music, the singers embody more of the somber element of the tradition. "We're a little bit more demure," says Fiona O'Neill, who, along with her two sisters, do the singing.
She remembers first seeing the show as a spectator and being captivated because it stood out among all the other renowned traveling Irish shows, particularly in how it represented the island to America, she says. "This one was more traditional—that was a big drawing point—but it showed all three aspects of traditional Irish music, instead of just one, like many of the other shows like Celtic Women, or River Dance. It combined singing, dancing, and music in equal measure," she says, giving credit to Niamh Gallagher, the show's passionate violinist. "I was just so taken with how genuine it was, that I contacted Eric and he took my sisters and I on board."
Cunningham was more than receptive. After they joined the troupe, he allowed O'Neill to introduce two songs from her and her sisters' own album into the show, integrating the traditional with the contemporary vision. The first song, traditional, is an old Irish ballad that was taught to O'Neill by her grandmother, while she grew up in Kerry. It's called. "She Moves Through the Fair."
"It's a haunting song about a couple who were to be married, but the female fiancé dies before she gets the chance."
The next song, contemporary, is the 70s American folk song called, "One Tin Soldier." "It's contemporary, but it's played and sung with all the traditional pipes and flutes backing it up," Cunningham, says.
O'Neill agrees that it's important that Irish women set an example. One strong Irish woman who was inspirational to her and the other women, "looking back at old times," she says, was the red-headed Irish actress Maureen O' Hara, known for playing fiercely passionate heroines, with a career stretching from 1938 to 2000. "Growing up in Ireland, all of us who wanted to be stars, to sing or to dance, looked to Hollywood, to L.A., at the women there. O'Hara was up there with the top legends. She represented Ireland across the world."
"Actually, Kelly even got to dance for a recent O'Hara birthday." That whole strong woman thing seems to have paid off for her, as the actress is now 92.
Unlike many of the other female stars at the time—who weren't Irish—O'Hara, who often starred alongside John Wayne, was no wallflower, O'Neill says. "You could see from her movies that she wasn't meek. She taught us to say what we think. Irish women have no problem asking for what we want." And that's proven by how O'Neill nestled her way into the show.
In addition to America, the Women of Ireland will tour in Japan and China later this year. The group took part in a 10-week concert hall tour of the United States from January 2009 with the Dublin Philharmonic Orchestra.