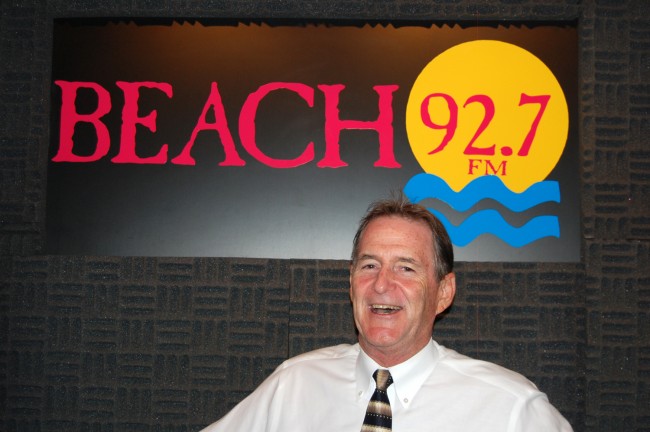 It's the end of "Open Lines" on WNZF.
For more than two years, four days a week, from 9 to 10 a.m., David Ayres, the general manager at WNZF and Beach-FM, hosted Flagler County's most eclectic local talk show. His guests were as varied as local politicians, paranormal buffs (if not paranormal guests), cultural, education, civic and business leaders, and even the occasional liberal. Ayres' style–more Carson than confrontation, more common sense than conservative–was insistently optimistic and always ready to be awed, putting guests at ease rather than on edge. And now Ayres is ending Open Lines.
"It was taking its toll," Ayres said on Friday as he described a long list of duties he had (and still has) to manage. He won;t be off the air entirely: A version of "Open Lines" will continue as "Around Town," a half-hour show every Saturday, from noon to 12:30, bringing in community newsmakers, event planners and the like. "we're still going to get all the community things on that we need to," Ayers said. "I just can't do it every day." Unlike "Open Lines," that show will be taped.
The change, effective Monday (Jan. 17), is part of a larger move at WNZF: Rush Limbaugh is finally coming to the station's airwaves. "It took us a while to get up some steam and muscle to be able to bring him on," Ayers said of the nation's most popular radio shock-chat host, who signed a $400 million, eight-year contract with Premiere Radio Networks, his national syndicator. He is heard on some 600 stations, though not at the same time, and in many cases not for all three hours of his daily show. Many stations carry two hours. WNZF will carry all three, live. His syndicator said in 2009 that he got about 3.59 million listeners in a typical quarter hour. The number he'd het, accumulated over a day or a week, would be considerably larger. He is, in sum, a draw. "Obviously we're after the biggest audience we can get," Ayers says.
"Ever since we came on the air in the fall of 2008, people wanted to know why we didn't have Rush Limbaugh on the air. We are very happy it could finally be worked out, Ayres said."
Limbaugh will be heard live from noon to 3 p.m. That means Glenn Beck, who filled that spot previously on WNZF, will move to 9 a.m. through noon (thus bumping off "Open Lines," among other programs). That move was also beneficial to WNZF and its listeners, in the sense that previously, Beck was heard on tape. Now he'll be heard live, eliminating the occasional problem of Beck chatting up one issue or another that, in subsequent hours, would have changed complexion.
Here's the new line-up on WNZF, which is heard locally at 106.3 FM, 1550 AM and streaming live on the Internet:
Flagler Morning News, 7 to 9 a.m.
Glenn Beck, 9 a.m. to noon
Rush Limbaugh, noon to 3 p.m.
Sean Hannity, 3 to 6 p.m.
Mark Levin, 6 to 8 p.m.
Laura Ingraham, 8 to 10 p.m.
Fox Sports wrap up with Tony Bruno, 10 p.m. to 1 a.m.
Overnight: "Coast To Coast," a national call in show.
Ingraham's show will not be live. Patrick Kelly's "Free For All Friday," the local public affairs show, will still be heard at its regular time, from 9 to 10 a.m. Fridays.
WNZF will have one final addition to its line-up. To Balance Limbaugh's 15 hours of weekly commentary and the 50-odd hours of other conservative chatter, Ayers has invited FlaglerLive Editor Pierre Tristam to provide brief weekly commentaries on Friday mornings. Those commentaries will presumably provide a slightly more liberal perspective than that of Limbaugh and friends on WNZF.