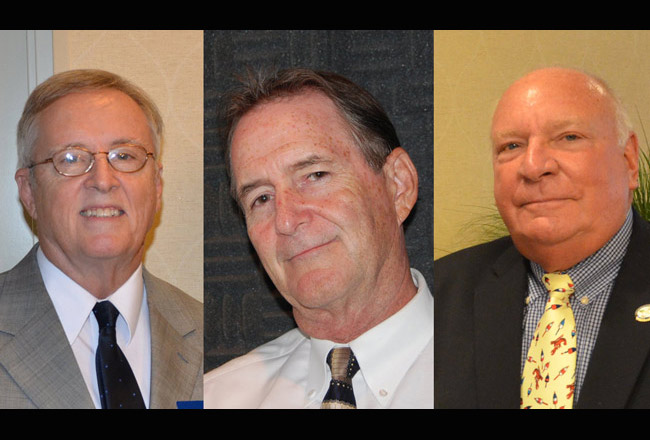 During the opening segment of Free For All Friday on WNZF on Sept. 14, host David Ayres, who's also the general manager of the station, raised questions about Palm Coast's decision this month to prohibit the sale of synthetic marijuana in local shops, even though the products are legal.
Here's the city of Palm Coast, Ayers said on the air as he spoke with the Palm Coast Observer's Brian McMillan about the week's top news, trying to project a pro-business image, yet "overreaching" into people's lives.
Ayers went on: "I mean everybody, from a federal level, everybody complains about, you know, telling us what to do and what we can buy and what we can't buy, and where we go and all that reaching into it, but does it bode bad for the city of Palm Coast, image-wise, to be saying, all right, well, we don't want these casino halls here that are technically legal, paying rent, you know, which we have property owners here that are legally just renting them out, they're losing tenants by putting a ban on it, and now saying there's other things that aren't illegal but we're not allowing you to have it or do it. Does it propel that anti-business perception that a lot of people have and doing any more damage than any good, really."
Raising Questions
---
David Ayres and Brian McMillan on Synthetic Marijuana, Free for All Friday, Sept. 14 (Edited)[media id=293 width=250 height=250]
Ayres had done little more than raise questions that have been raised repeatedly about Palm Coast's increasingly activist government—from installing dozens of red-light spy cameras to regulating garage sales and internet cafes, banning innocuous home-based businesses like cup-cake bakeries or taking on truckers using big parking lots as rest areas. The difference with synthetic marijuana is that the federal government and Florida have banned some of its component parts, making it a law enforcement matter, if local law enforcement were to see it that way (the Putnam County Sheriff's Office has raided shops for the stuff). The Palm Coast City Council is going an extra step, and granting its code enforcement department policing powers. City code enforcers may visit local shops and slap $300-a-day fines on shop owners who refuse to remove the synthetic pot from their shelves.
But that's not what bothered Palm Coast City Council member Bill McGuire. When McMillan read Ayers parts of a story that described some of the alleged effects of synthetic marijuana (the descriptions were based on anecdotal, not documented, evidence), Ayers cast doubt on the veracity of the dangers. "If it did all that, Nobody would do it. I mean, I don't know of any teen-ager or anybody that wants to do something so they can throw up. Well, it's a whole different category for a different show, for bulimics."
It was not the most graceful thing to say on radio. Little is on talk radio. But Ayers's flippancy upset McGuire. He said he wouldn't have had issues with Ayers the tone of his voice and manner of his delivery not made the issue seem "frivolous."
Bill McGuire and Mayor Netts Convene, Outside a Meeting
Four days after Ayers' comments had aired, McGuire and Mayor Jon Netts had a conversation about the issue. The conversation took place after their council  meeting had adjourned. It was directly related to the synthetic marijuana issue—an issue still before the council.
Elected officials are prohibited from talking about a pending issue outside of their meetings. Doing so is a sunshine law violation. The issue is as current as it gets: the council is scheduled to conclusively adopt that ordinance next Tuesday, on second reading. But Netts and McGuire talked about it, and for no other reason than to influence one of the most influential voices in the community, on an issue the council is still discussing, and presumably hearing public comments about.
"I told him I was thinking about writing a letter to the press," McGuire said in an interview today. "He told me he'd written the letter, he showed me the letter he'd written and said he was either going to mail it to David Ayres or deliver it in person."
The council had never discussed either writing a letter or the contents of the letter, or making an issue of the comments on WNZF. In an interview last Sunday, Netts said he hadn't written the letter for public airing. But he acknowledged that "I am the mayor and I wrote it as the mayor," making it official business. But he spoke of it as his opinion, not the council's. Clearly, though, he'd written it with McGuire in mind: McGuire said he'd been thinking of writing a letter to the press about Ayers's comments. The mayor's approach eventually satisfied him.
"I am personally and professionally affronted by your recent characterization of the Palm Coast City Council as 'over-reaching' in its attempts to protect the youth of our community from the ill effects of synthetic marijuana," the mayor wrote Ayres.
It was not an exact characterization of Ayres's comments. Ayers had never questioned the city's attempt to "protect the youth" of the city, only raising issues with the city's contradictory message about business.
Palm Coast's $7,800 Relationship With WNZF
Netts devoted his page-long letter to a description of synthetic marijuana and an excoriation of Ayers's  questions, but without addressing Ayers' central point about the city's anti-business image. "For you to contend that these products are perfectly legal," Netts wrote, "is to participate in the 'wink-wink' charade that they are legal simply because they are marked 'not for human consumption,' when, in fact that is exactly the purpose for which they are purchased and sold."
"Frankly," the mayor concluded, "I am disappointed that WNZF, which has participated in so many programs to help our community, would not be supportive of our efforts." (See the full letter here.)
The final line could have been a veiled threat: the City of Palm Coast is one of WNZF's reliable customers, spending $7,800 on advertising on the radio network's stations in the past two years, and maintaining a partnership with the station through numerous festivals and special events. Jim Landon, the city manager, pivots easily against those he perceives as unfriendly to the city.
Netts, in a subsequent interview, said there was no connection between the letter and the city's business relationship with the station, nor had he heard of any such issues from the administration. "I don't think it was flexing muscle at all. It was expressing an opinion," Netts said of the letter. "I wanted to make him aware of how strongly the city council feels about this issue."
Ayers Backpedals
Last Friday, Ayers went on the air again and delivered a one-minute statement: What McGuire and Netts had talked about outside of a public meeting had become a public matter, though no one among the public knew how it did so, or why. All listeners heard was what sounded like backpedaling.
---
David Ayres's On-Air Statement on Sept. 21[media id=294 width=250 height=250]
"Last week at this time on Free for All Friday I questioned if the Palm Coast City Council was overreaching its authority by banning legal products on the shelves of local businesses," Ayers said, going on to summarize some of the points he'd made a week earlier and explaining what he'd learned in the meantime, but also making statements as speculative and unproven as the city's (such as the claim that synthetic marijuana is primarily used by teens), and the incorrect statement that "no other federal or state authority has addressed the sale of these new, intentionally mislabeled and misleading products." President Obama signed a bill into law this summer banning synthetic marijuana, as did Gov. Rick Scott earlier this year, thus giving federal, state and local policing authorities the ability to raid stores—but also the requirement that the seized material tests positive for any of the many chemicals federal and state authorities have banned.  It's an expensive process that cities are circumventing by doing what Palm Coast did.
"Last week," Ayers concluded, "I offended the mayor and other councilmen when I questioned if the city was overreaching their authority on this particular issue. With everything just said I truly do believe the city council is acting in the best interest and welfare of all of us in the Palm Coast community. That's their job, and for that, we should all be grateful."
Case closed.
"Thank You for Your Action"
City council members barely hid their gloating at the end of their meeting, with McGuire calling the statement a "major retraction," Jason DeLorenzo calling it "very close to an apology," and Netts declaring that "when provided with appropriate information, people will reconsider. We learn. Part of the learning process."
Ayers said it was neither a retraction nor an apology. "I don't think it was a retraction. It was a different perspective after I read the mayor's letter, and had a better understanding of it," Ayers said. "But I wouldn't say it was a retraction. There was nothing to retract."
"It seems to me they were upset and now they seem satisfied," Ayers said. "They did what they thought was right, so I can't be critical of them for doing what they thought was right."
Asked about the city's financial relationship with the station, Ayers said: "That has nothing to do with it. It's totally unrelated."
At the end of that council meeting last Tuesday, McGuire told the mayor: "Thank you for your action to make that happen."
McGuire said he didn't think a sunshine violation had taken place, "because it wasn't something that was going to come up for vote. We had already taken action on it." The council had, but only on first reading.
Myths, Hysteria and Paxil
The whole issue of synthetic marijuana in Palm Coast illustrates overreactions, misinterpretations and mischaracterizations of the issue by most involved, including the council, which took presentations about the dangers of synthetic marijuana at face value—never questioning the source of the conclusions presented to the council (the sources were absent) nor asking for documentation about the claims.
Newspapers repeated the claims of synthetic marijuana's dangers also at face value, even though, for example, the most incendiary claim (that synthetic marijuana could be 800 times more potent than regular marijuana) was traced back to a medical journal article referring to a particular compound that was tested on lab animals once in 1991, that had posited a statistically untenable range of potency (of between 100 to 800 times), and that is illegal.
Had council members looked more critically at the alleged side effects of synthetic marijuana—which, they were told in a presentation by a sheriff's deputy, includes "vomiting, agitation, fast heart beat, elevated blood pressure, seizures, hallucinations, [and] psychotic episodes," they might have noticed the dearth of side effects, compared with commonly prescribed medicines with far lengthier and documented histories of dangerous and at times lethal results.
Here, for example, are the potential side-effects of Paxil, a common anti-depressant, as listed by its maker: severe allergic reactions, tightness in the chest, swelling of the mouth, face, lips, or tongue, bizarre behavior, black or bloody stools, chest pain, fainting, fast or irregular heartbeat, fever, chills, hallucinations, memory loss, new or worsening mental or mood changes including agitation, panic attacks, aggressiveness, impulsiveness, irritability, hostility, exaggerated feeling of well-being, restlessness, or inability to sit still, persistent, painful erections,  red, swollen, blistered, or peeling skin, seizures, severe anxiety, significant weight loss, stomach pain, suicidal thoughts, suicidal attempts, tremors, unusual bone pain, unusual bruising or bleeding, unusual weakness, vision changes and worsening of depression.
Yet Paxil is routinely prescribed to children, adolescents, train conductors, police officers and city council members, among others.
The council meets to, among other things, take its final vote on its synthetic marijuana ban on Tuesday, Oct. 2, at 6:30 p.m. at the Palm Coast Community Center.