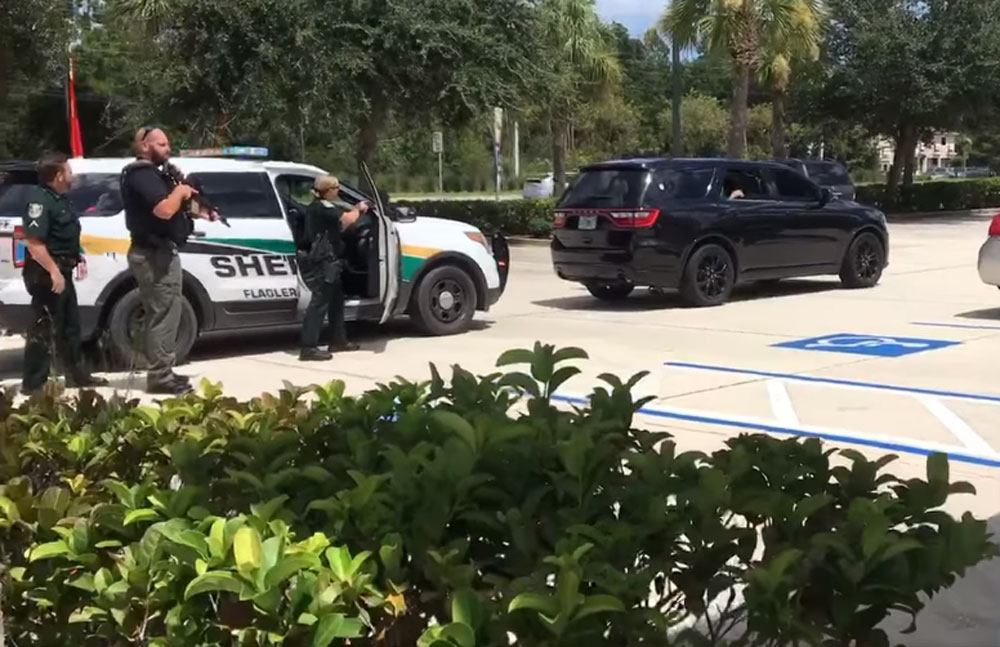 A minor bit of news unfolded in WNZF Newsradio's parking lot Tuesday afternoon as Flagler County Sheriff's deputies, guns drawn, pulled over the occupants of a black Dodge Durango vehicle registered to a person with a felony warrant: Michael Xavier, a convicted felon, was wanted for a "violent felony offense with a weapon," according to a sheriff's report.
Within hours of the incident the Sheriff's Office initially reported–as did FlaglerLive–that the traffic stop resulted in no arrests. In fact, one of the four occupants of the Dodge–but not the wanted man, who was not in the car–was arrested on drug charges.
Deputies got a license plate reader's "hit" on the vehicle around 1 p.m., indicating that the owner had a felony warrant out of Lake County. Due to the nature of the warrant, deputies had to approach the vehicle with caution–and guns–as about half a dozen sheriff's units and a unit from the Bunnell Police Department lined up behind the suspect vehicle.




"Once they got everyone out of the car it was found the owner of the vehicle was not in the vehicle," a sheriff's spokesperson said. The vehicle itself was not a stolen car.
"Each occupant of the vehicle was instructed to exit the vehicle one at a time and they were secured in handcuffs," a sheriff's report notes. "The vehicle was then cleared to check for any additional subjects that may be concealing themselves inside the vehicle. While doing such a strong odor of burnt cannabis was smelled emitting from within the vehicle. Additionally, cannabis residue was observed scattered throughout the vehicle."
Brandy Moss, the occupant who was arrested, said she and her boyfriend, who was also in the car, are homeless and had been picked up by the two other occupants of the car, including the driver, somewhere in Tavares. She said she didn't know the other two. She said the two asked her and her boyfriend if they wanted to make money by "picking up some phones," according to the report. She wasn't sure how. A lock box she was carrying allegedly contained small amounts of fentanyl, methamphetamines, used syringes, pot and Narcan–in case of overdose: an addict's oddly complete kit. Moss was arrested on possession charges regarding those drugs and booked at the county jail.
The site of the felony stop is within a few steps of Flagler Broadcasting's WNZF studios, including the main studio where the station's local programming–such as Free For All Fridays–originates.
WNZF's video of the felony stop is available here.
This article was updated Wednesday at 7:45 a.m.