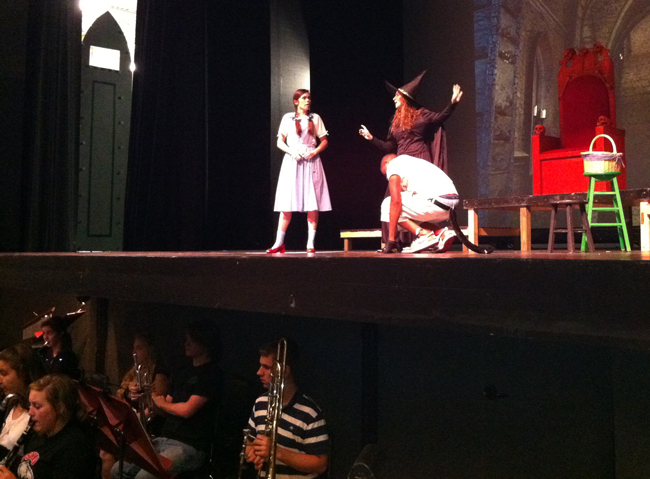 Last winter Mary Beale left a revolution in Egypt only to step into one, on stage and off, at Flagler Palm Coast High School: the drama teacher at the school, Ed Koczergo, walked out on March 7, just days after directing a triumphal student production of "To Kill a Mockingbird." He was leaving behind six classes, 150 students and two remaining productions, including "The Wizard of Oz."
---
Showtimes:
"The Wizard of Oz," produced by the Flagler Palm Coast High School Drama Club, is scheduled for four performances this weekend at the Flagler Auditorium:
Thursday, May 12, at 7 p.m.
Friday, May 13, 7 p.m.
Saturday, May 14, 2 p.m. and 7 p.m.
Tickets: $12 for adults, $8 for students, but half-price tickets are available for the Saturday matinee performance for anyone who prints this flyer and presents it at the box office.
Call the Auditorium Box Office, 386/437-7547, for ticket information.
---
---
Students were crushed. They'd loved him. They'd also thrived on their achievement—struggling through the district's clumsy cancellation of "Mockingbird" in November, seizing on the opportunity to make it work again once the play was reinstated, and showing, with remarkable success, that their work as actors and performers rose above the high school model to quality theater in its own right.
The school administration, too, was crushed, mostly from an academic standpoint: There was the matter of those six classes.  It's not easy finding a replacement for six drama classes with 10 weeks left in the year.
Lucky for Jacob Oliva, the principal at FPC, Egypt was in shambles, too. That's where Beale, who'd taught drama and English at FPC for 23 years before retiring last June, had gone—to teach at the American school Bill Delbrugge, the former school superintendent here, was heading. The Egyptian revolution on one hand and rather difficult Egyptian students on the other proved too much of a one-two punch for Beale, who at 68 could be excused for wanting a few less insurgencies in her life.
She managed to get on one of the evacuation flights organized by the American Embassy in Egypt. But she wasn't done with insurgencies. She walked into Oliva's office to see if there was something she could do at the school at the very moment when he was preparing to dial her number to ask her to replace Koczergo. And there it was. "The idea was to get me in here immediately so that the kids wouldn't be so stressed" by the change-over, Beale said—and to enable a resumption of classes and theater productions, which are very important to the performers.
"They were worried. They were upset about Mr. Koczergo leaving," Beale said. "He and I talked a little bit, and the big thing was we wanted to try to do the productions, and he had set two. We ended up putting one off to next year, '13 Past Midnight.' But everybody wanted to do this one"—that is, "The Wizard of Oz"—"because we had the choral people and our own band people."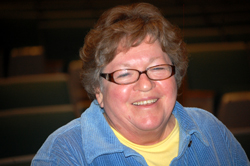 Not only is the show going on (starting Thursday evening for a four-performance, three day run through that weekend). It's turned into the biggest show the school has ever produced, with live music provided by some 25 musicians from the school's band, under the direction of John Seth, with Amy Fulmer, the choral director, sharing the podium pit and providing cues between performers and musicians. Several of her Formality Singers, including seniors Caitlin Hanan in the title role of Dorothy and Eddie Green, who was Atticus in "Mockingbird," are among the leading actors in "Wizard." Green is the Scarecrow. Nick O'Connor is Tinman, and Chris Skraba is Lion.
In all, some 75 performers, musicians and crew members, including young performers from Phoenix Academy, are involved in the production.
"I can definitely vouch for that," Green said, referring to the breadth of the show, "because today we saw the set pieces and they're huge. This is definitely a show where opening night we'll still be working stuff put, paint will be drying on the set, and hopefully when the audience walks out they don't really realize all the technical issues we're having and they'll have seen a great show. But obviously it won't have the same impact that Mockingbird had, just because Mockingbird had a very important message to send to everybody and it was a message that was definitely needed, because it's still around today. The wizard of oz, the message is there's no place like home, but I don't think that has the same urgency as Mockingbird had. This is just more of a carefree show." The target audience, Beale tells the cast, is children.
"It is a full production, and the thing is that the lead kids that are in it are absolutely sterling. They are marvelous," Beale said, citing the leads in the cast. "So they have worked so hard, and they wanted it so badly. It was charming, because I'd never done this show before. All the years I directed, I never did Wizard of Oz, and it was just a charming, charming thing when we started doing the read-through and sing through. It was like, oh, this is like children again, how fun this is, and they were so delighted, a number of them said this is my favorite story when I was growing up, my favorite play."
Leana Gardella, a junior in her 7th production (she played Miss Maudie in "Mockingbird"), sums up the difficulties of the transition from Koczergo to Beale: "For me it was really hard because I was so attached to Mr. K," she said, referring to Koczergo the only way his closest students referred to him. "I was in so many prod with him, but she really stepped in when we needed someone, so I'm thankful to her. but I really, really miss Mr. K." The differences between the two directors? "Mr. K had things more thought out before hand, but in her defense she had to assume this play and start right away because she didn't have much time. But she seems to have a more spontaneous kind of directing. He seemed more planned."
Beale doesn't disagree about the timing issue. "As far as the production is concerned, usually when I did a musical I would use a 12 week prop period. We've had six weeks on this show, so it has been very compacted, and the kids have been wonderful."
"It's pretty tough for everyone getting the play together in six weeks considering it's half the amount of time we usually have," Hannan said Monday evening, after hours of rehearsals. "We were all incredibly heart-broken that Mr. K decided to leave, but were so grateful that Mrs Beale would step in and take over for him on such short notice." Hannan is approaching performer pro status: she's been on stage since the second grade, playing leads in numerous plays (including Sandra Dee in "Grease" and Becky Thatcher in Tom Sawyer). She's worked with several directors along the way, likely making the latest transition somewhat less shattering than it's been for others in the cast.
Green, too, took more of a veteran's approach to the transition: he'd worked with Beale in his freshman year, so the switch wasn't as much of a shock, but he points out signal differences: Koczergo had a more "modern" approach to directing, diminishing the line between director and actors, interacting with them more freely, though he had something the actors recognize Beale did not: time. The abbreviation of rehearsals and other preparations for "Wizard" has made for more tension and somewhat less fun, though the fun is still there, Green said.
"She has a lot of experience," Patrick Farris, who plays the King of the Flying Monkeys in "Wizard" (he played the role of Tom Robinson, the man accused of rape, in "Mockingbird"), said of Beale, "but it's hard to cope with somebody new when you've worked with somebody for a couple of years. I just took it day by day. In my mind I'm a little stubborn because I can't get used to it. With me I have to have a connection with my director, but she's so new, so we really don't have that bond."
Ironically, "Oz" is about running away, about the conquest of all sorts of fears and the discovery of brains, heart and courage. No doubt Beale going in knew that she would have to convince cast and crew that she was not the Wicked Witch of the Middle East, though the Flagler Auditorium stage has been no Emerald City, either.
Beale details her own transition: "I had a few incidences in the first day or two where kids said well it's never going to be the same, you know, and I said, no, you're right, it's not, and I'm sorry that this has happened but I said I am here, I am fully qualified, and I am more than happy to work with you. So I've gone in a different direction with the kids than he had gone. They now all have done performances in front of an audience of another class, which they hadn't done, and that kind of thing. I explained to them we're two different people, it's two different approaches. As far as the teaching and that part of it is concerned, he did a lot of improve with the kids all the way through, and I have worked with scripts, had them write their own, had them work with published scripts and that kind of thing, so they actually had to memorize, go beyond the improve level to actual performance."
Actors candidly speak about the shortcomings they'll be working through even as the performances are staged, though they expect a good show all the same.  "Because this is a musical, and a very big musical and we were very stressed for time," Gardella said, "it isn't going to be as polished. We're going to be basically working out kinks every night. It's going to be fantastic because we've got great talent, but it's a lot of stuff that we're working out still."
As for Beale, her future at FPC is uncertain. She'd love to return next year. She calls being able to work with students here again "a gift." But the school is laying teachers off, and for all her history there. Beale is starting off as a new teacher. Egypt, at any rate, is out. "My grown children would lock me in the closet rather than let me go back," Beale said.