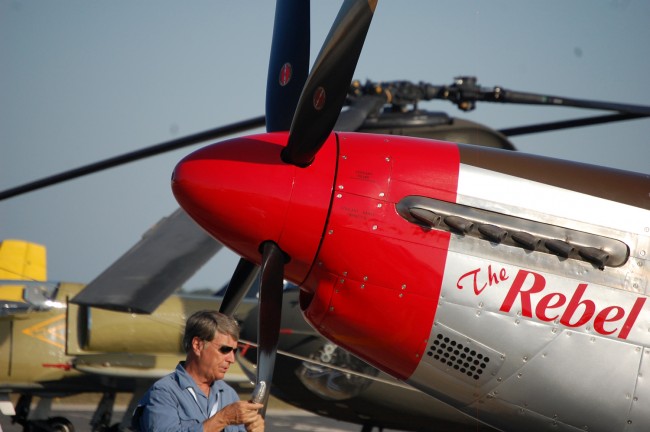 [Photo gallery at the bottom of the article]
They started arriving Friday afternoon, dozens of warbirds—the term usually applied to vintage military planes—including a few jets and a few helicopters, landing at the Flagler County Airport for the second annual Wings Over Flagler Airshow.  Aircraft enthusiasts, start your fantasies. There's plenty there to admire, pilots from all over the country to talk to, history and old enmities to touch: several planes are imports from the old Soviet Bloc and from China's air force.
You'll get to see a Blackhawk helicopter, a CH-47 Chinook, all sorts of civilian aircraft—T-34, T-28, T-6, P-51 Mustang, C-47, among others. There's an autograph tent, many vendors of all sorts (including food), and several air shows to watch, including displays by aerobatic champion Kevin "Soups Campbell, Sean Carroll and the Blue Sky Yakrobatics.
The show was conceived by Bill Mills of Blue Sky Yakrobatics, who convinces pilots to be part of the show by underwriting their fuel costs (both ways), lodging them locally and ensuring their board for the two days. Beyond that, none is paid to be here.
Those fuel costs can be vey high: Bob "Headhunter" Davis had just flown in Friday afternoon from new Hampshire in his Czechoslovakian-built L39 ZA (Russian engine), a guzzler he fetched from Romania in 2002 that burned some 600 gallons to make the trip, at close to $6 a gallon, or more than $3,000 one way. And that's an efficient jet engine: a T-33, Davis says, burns jet fuel at about twice that rate. He owns one of those, too. Fueling, Davis says with a smile, is "something that my wife and I don't talk about much."
Then again, flying is no poor man's hobby. The pilots in this show are like most pilots everywhere: the sort of people who love their hobby as much as they can afford it, too. Davis, for example, owns The Davis Companies, a national staffing company that manages large corporations' contract labor. And like most pilots, flying seems to approach something mystical, something Mary Novak immediately recognized as she stood by Davis and his jet, listening to him speak about his flying—and once zipping around in one of those Soviet MiG-29s, an experience he described as "spectacular."
"I lived it, I lived it, and I know what it's like," Novak, a Flagler Beach resident, says: she was a flight attendant with Delta and Air Florida, and her father, the late Lem Harsh, was a pilot for Delta for 37 years.
For originality though, it's hard to beat Joy Hampp and her experimental AirCam, a sleek, twin-engine, 100-horespower (times two) whisk of a thing originally designed by Phil Lockwood of Sebring for National Geographic's Congo wildlife surveys. The two-seater is designed to enable perfect filming and photography from the air (the seats are uncovered). Magazine readers loved the plane so much that others wanted to fly it. Some 160 were built. This one is local. It's part of the Marineland Right Whale Survey Project (on whose web page you can see a picture of the plane in flight). The plane has been used for local surveys the past 10- years to survey right whale migrations in winter, flying "low and slow," as Hampp describes it (and cold, too, for pilot and passenger, especially in winter) at about 60 miles per hour: "The wing is set so far back, there's nothing in the way of good photography."
The show started this morning. It runs until 3 p.m. Sunday (for the very reasonable $7 entry fee for adults and $5 for teens, at the gate. Children 12 and under get in free.)

Wings Over Flagler Gallery
[nggallery id=54]