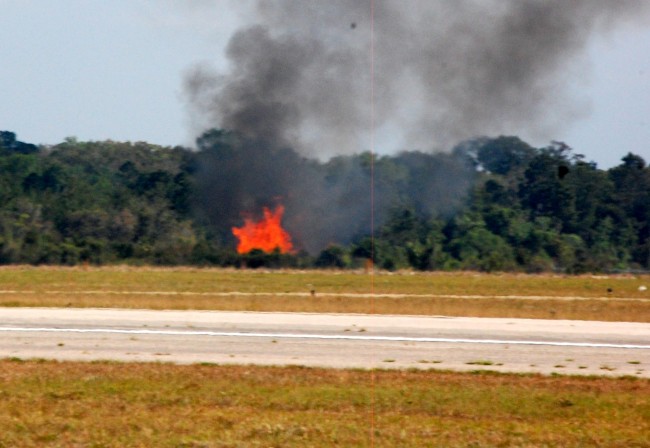 Last Updated: Sunday, 4:07 p.m.
PALM COAST, Fla.–A single-engine Yak 52 plane, part of a four-plane aerobatic team that had taken off a few minutes earlier, crashed at 4:27 p.m. today in the woodline just beyond the runways of the Flagler County Airport as the late-afternoon crowd watched, agape. One pilot is dead. (Video of the crash scene here. Sunday's tributes here.)
The Pilot, Bill Walker, 58, known as "Wild Bill" in flying circles, was from Cookeville, Tenn. "Air shows are all about smoke and noise," he'd once said. He was part of the Red Thunder Air Show team, which was on its way to Lakeland's fly-in after the Flagler show. The Red Thunder team is made up of six members from South Carolina, Alabama, Georgia, Tennessee and Louisiana. "We all meet in a little place down here in northern Alabama called Courtland," Walker told an interviewer 18 months ago, "and we have a box there that we practice in, and we fly air shows mostly in the eastern half of the United States."
Moments earlier, the plane had been performing a maneuver with another, "doing a heart," as one teen-age witness described it, the second or third that the quartet of planes had performed after taking off only a few minutes earlier.
"The one plane was doing a loop and the other one was going straight down. He just fell out of the sky, straight down." Matt Barron, who'd been watching the maneuvers, said.
"The two planes were doing the same thing, they were doing a maneuver," said Jay Gardner, the Flagler County property appraiser, who was relaxing at the show and saw the crash. "They were trying to pull up, he flew straight into the ground."
An hour later, firefighters were at the scene containing a brush fire that had erupted as a consequences of the crash.
---
Wings Over Flagler Organizer Bill Mills Talks About the Crash[media id=172 width=250 height=100]
"Obviously a tragedy on an absolutely fabulous day here," Bill Mills, the organizer of the second annual Wings Over Flagler fly-in, said a little after 5:30, moments before he was to speak for the first time since the crash to a gathering of the show's pilots in a VIP tent. "One of the premier events for Flagler has unfortunately been tainted by a tragedy, and we're all extremely sad for our pilot friend, and may God rest his soul."
Mills himself had been up performing in his plane earlier in the day, and had spoken to Walker. "His pilot buddies have been communicating with his family," Mills said. "He had a great southern drawl to his voice, just a wonderful gentleman, a real southern gentleman. I had lunch with him today. It was like every other day at the air show. Can't wait to go flying again. He flew that routine three times today, and they all looked the same until the last one."
Walker, a developer, was the father of three grown children–two sons, recently graduated from college, and a daughter attending the University of Chicago. He'd been flying for 30 years, having logged some 4,000 flight hours. He'd been a sport and commercial pilot.
"Thank you everyone for your thoughts and prayers," Daniel Walker, one of Bill's sons, wrote on the Red Thunder Team's Facebook page Sunday afternoon. "We all lost a great friend, Father, and co pilot. Dad was so happy in life and loved flying more than any thing in the whole world. Life is full of risks but it wouldn't be a fully lived life without taking a few to do what you love, I know he believed that too."
Mills was aware of what was going through pilots' minds before he spoke to other pilots about the accident. This is the fourth air show at which he has witnessed the death of a pilot, he said.
"We just lost one of our own," Mills said. "We know the risks of what we do. We weigh those risks, and for the love of flying, we accept those risks. Unfortunately, sometimes this happens." Mills added: "We love what we do, and we will do it again, and my guess is these pilots are going to celebrate his life and make this show go on, unless somebody tells us otherwise. As far as I'm concerned, the show is on."
The show was halted soon after 4:30 p.m. Saturday. It was scheduled to run until 5 p.m. Deputy County Administrator Sally Sherman said the show will go on, as scheduled, on Sunday, from 9 a.m. to 3 p.m., but without aerobatics.
After 11:30 a.m. Sunday, after a mass pilot briefing at 10:30, every plane in the show, and others that may be flying in, will take to the air in a memorial to Walker. In a ritual familiar to pilots after one of their own has died, the planes will all fly in formation, then one plane, while releasing ceremonial smoke, will veer off on its own, symbolizing the lost pilot.
Mills insisted that every pilot at the show, "to a man," wanted the show to go on. He spoke again with FlaglerLive late Saturday night, while a VIP party was going on under a tent on the airfield for all the pilots and the show's sponsors. The party had been scheduled ahead of time. It turned into something of a party-memorial in Walker's honor. "Those guys are in there celebrating right now," Mills said. "They're celebrating a wonderful person, a wonderful man, and a great stick. He was just a wonderful person, and we're in there celebrating his life as pilots do, because this is what we do for our guys."
Leaving the party at around 9 p.m., County Commission Chairman Alan Peterson described it as "subdued," with a crowd of about 60 to 70 people and a vocalist. Beyond the tent in the dark, the flashing lights of emergency vehicles could still be seen at the crash site, which will be turned over to the NTSB for investigation. (One county commissioner, Nate McLaughlin, was at the air show at the time of the crash. Another, Milissa Holland, had left shortly before.)
Walker's teammates were not at the party. They had been sequestered by the NTSB for interviews. They were not going to participate in the show on Sunday but fly back to their respective homes–not in their own planes. The planes are either being left behind for now, or will be flow home by others.
Mills said the Red Thunder team has been performing at air shows for years without problems.
The last fatal airplane crash in Flagler County occurred on Aug. 25, 2006, when Ward and Barbara Walter, flying from Michigan to the Bahamas in a Mitsubishi MU-2, a turboprop, crashed in bad weather west of Bunnell. In May 2000, Daniel Heligoin and his wife Montaine Mallet, both flying Cap-10 aerobatic planes as part of the "French Connection Aerial Ballet," were killed while training for a show at the Flagler County Airport. Heliogin's plane collided with Mallet, causing both to crash in what the National Transportation Safety Board subsequently said was caused by pilot error on Heliogin's part.
On May 13 last year, Ormond Beach residents Leslie and John Nixon experienced mechanical difficulties on their way to Georgia, while flying over Flagler County. Leslie managed to land the plane on State Road 100, not far from the county airport. Neither was hurt. And in January 2010 and student pilot and his instructor made an emergency landing with their Piper Cherokee two miles east of Crescent Lake and three miles south of State Road 100.
Jack Howell, a pilot and the president of Teens-In-Flight, which trains young pilots out of the Flagler County Airport, was at the show all day. "My big concern now is the pundits," Howell said. "There's always critics out there hooting and hollering about air shows." But, he added, "this is what we do. This is our passion, this is our life. We know what we're doing. And sometimes bad things happen."
About an hour after the crash, smoke from the crash site had been reduced to wisps, though firefighters were still at the scene of the crash in force. The medical examiner arrived after 6 p.m. The county's top administrative staff, which had not been there at the time of the crash, had arrived and tried its best to look useful. Emergency crews, including the Flagler County Fire Department, were in control of the situation.
By early evening, the Red Thunder Facebook page was accumulating tributes to Wild Bill. "It was a pleasure and honor getting to see 'Wild Bill' and the Red Thunder team perform at Wings Over Flagler today," Doug Mercer wrote. "We are truly saddened by his loss and send our thoughts and prayers to his family, friends, teammates, and the aviation community he represented so well." On Sunday, Kathy England wrote: "Bill will truly be missed. He gave his heart to everyone who knew him. I had the pleasure of knowing him and he was a wonderful man. He took my grandsons flying with him and that is something they will never forget. God bless him family and my prayers are with you all. He was doing what he truly loved . Rest in peace Bill you will nev…er be forgotten."
In a longer interview in late evening, Mills described in detail what had taken place at the pilot meeting he led after the crash. "I'll just fill you in on my speech to the guys," he said. "Basically it went something like this: In the air show circuit, we fly these planes because we have the passion for aviation that we have. We understand the risks. We accept those risks. And we do this because what we do is in our hearts and in our souls and it honors the memory of those that flew these before us, and that's a big deal to us. A bunch of us have been at air shows before where such a tragedy has happened. I've been to four, and this, very similar to those, it's amazing the resiliency of our comrades, of our fellow pilots. We all have that shock that we initially feel, the oh my god, and all that, but then when we sit down as a team, and we are a team, and we sit down, we kind of think through what happened, and talk amongst ourselves, get it out, and to a man, 100 percent, we all said–and I hate the cliche the air show must go on, or the show must go on–but the reality is, we have to do this for Bill, because he was our friend, he was our colleague, he was a professional just like us, and if he was sitting here, he'd be saying the same thing about the other person.
"This show," Mills went on, "is going on tomorrow, it's going to be bigger than it was today, and we're adding a special tribute that everybody wants to see. A little bit after 12 o'clock, or probably eleven thirtyish or so, every airplane that's available to fly is going to be flying. We're going to put up 30 airplanes maybe at the same piece of sky. We're going to rendez-vous at some point, and expect to see a mass formation even bigger than the one on Friday afternoon, overhead. Then we will be breaking up into multiple four-man formations to do what we do in this community to respect our fallen, and that is what we call the Missing Man Formation. And that's where one of our members in formation, smoke on, pulls away from the rest of the group, and heads west. That's the ultimate tribute that we can give for our friend. And we do this because we're passionate about what we do, and it doesn't stop us from doing what we do."

"Wild Bill" Walker in an interview featured at the Red Thunder website: