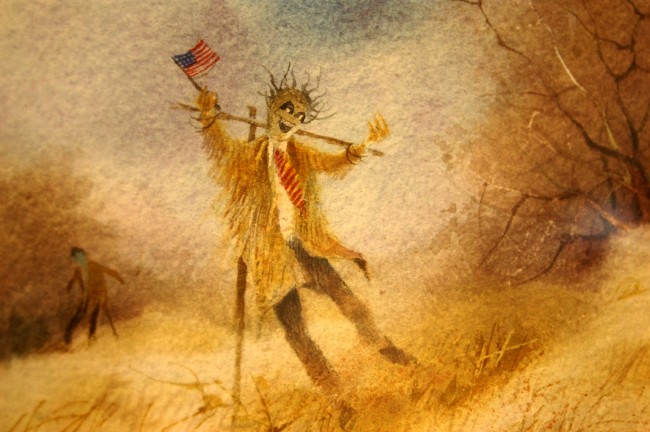 It's never too late for good art. Look at Win Jones. He was born the year Franklin Roosevelt was first elected and he's still at it, a self-taught watercolorist churning out paintings that combine wit, whimsy and social commentary with the deceptive simplicity of a 79-year-old wunderkind. The child-like is never far off in Jones's work, whether he's painting mountains of garbage to describe (and decry) our throw-away culture or his recurring ghostly ladies from the 19th century, dropped into late-20th and early 21st century scenes like emissaries from a more graceful past. The childlike is a helpful counterpoint to the other themes that are never far off: the unsettled (or unsettling), the sinister, the ghostly, sometimes against his will.
Have a look at the image atop this article, a detail from one of his "Patriot Scarecrow Series." He painted it in mid-2001. It was meant to be a scarecrow. Maybe a slightly impish one, but a scarecrow nonetheless, and not much more. Jones added the flag just for color. He hadn't meant anything by it, particularly. Two months later 9/11 happened.
"I was listening to this guy talk, a young man, college age, he was telling me, look, they're all dressed up, fit to kill," Jones said of his scarecrow, brandishing what by then, in late 2011, was draped over every window and rising on every pole. "Oh, my God, am I thinking that? I don't think that I am, but subconsciously like a lot of these, like the mountains of garbage, come up in front of me, and somehow, for some reason, you react to them. But that's where I am at now with the scarecrows, and all these ghosts that are coming in and out of space, you're not too sure where you are."
It's never too late: a Win Jones retrospective has been at the Flagler County Art League gallery since mid-February (at City Market Place in Palm Coast). It'll be there for the rest of this week only, before it gives way to the next show (Alms for the Paw, a fund-raiser focused on pets).
The works are arranged chronologically to reflect Jones's evolution from his "American Yard" period of the 1960s, when he was focused on the nation's materialism, to the less easily descriptive works of the last 10 years. The "Yard" painting sums it up his mood of the day: A house sits on a hill behind a copse of denuded trees, from where the land slops down not with grass or brush or a rustic little stream, but with garbage. And not just any garbage. There's an image of JFK thrown about, a reflection of his assassination, the casket of Medgar Evers, a symbol of the oil industry in front of an old Model T card. It's history as junk. "The American yard summed up a lot of things that happened in our country during its growth," Jones says. "The planned obsolescence of things."
Social commentary gives way to mood pieces in the 1970s and 80s—city scenes in the subway, under the rain, in forests that seem to disappear behind fog or light. His human silhouettes float through space in his "Rain Figures" series with newspapers draped tent-like over their heads. The figures barely touch the ground, like the Statues Jones includes in most of the paintings from that period. The statues aren't actually anchored on their pedestals. They, too, float, "and more often than not the statues become the moving images while their counterparts become statues," he explains. "Empty park chairs add a sense of desolation to the scenes."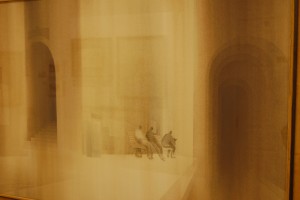 All this from the son of an electrical engineer. "And I had trouble turning on light-bulbs," Jones says. "For some reason I got involved in high school arts and went on to become an art history major in college. I always thought that was the best part of my learning situation as far as learning how to paint because I wasn't influenced by anybody else, as opposed to having lessons in this and that, so I was developing my own things. I look back on it, and that was the hard way to do it, but probably better for me that way." Yet he taught art at Northern Illinois University for 20 years, retiring in 1995. He spends winters in St. Augustine and summers at his home on Washington Island, Wis., still teaching watercolor workshops from time to time.
More recently he got interested in the interplay between illusion and reality in everyday scenes such as airport terminals, train stations, malls. "I took a slide at an O'Hare Airport terminal, looking through a sliding glass door, it had red lines on it, and I thought how neat: I took a picture through that glass door but it didn't show the framework of the door, so you see all these people moving back and forth and around you, and then the red line that's there may tell people, look, you see these things every day of your life but you're not conscious that you see them."
That blend of the elusive and the ghostly is especially pronounced in a painting of his grandparents on their wedding day, as if stepping out of a picture frame in their late 19th-century garbs—onto a cemetery at dusk or dawn, the sun barely visible behind a dark-brown haze, the dark woods on either side of the couple looming over them without a single leaf on a tree. Jones says he made the cemetery too obvious by including a cross on a headstone. "If it was going to be a cemetery, I wanted you to make it into that," he says. He doesn't like the obvious.
These days Jones's eyes are not what they used to be, so he doesn't paint as much as he used to. But he still does. Ideas keep him busy. Listening to him speak of his paintings, it's as if he takes as much pleasure trying to figure them out, even now, years after they've been done, as anyone else would on seeing them for the first time. There's no tyranny in Jones's art: his meanings are open to interpretation. He invites you, as he does the subjects of his paintings, to step in and out of the frames, to become part of the paintings, to converse, if not with him, then with his subjects. They're as witty and elusive as he is, and just as fun to spend the portion of a day with.