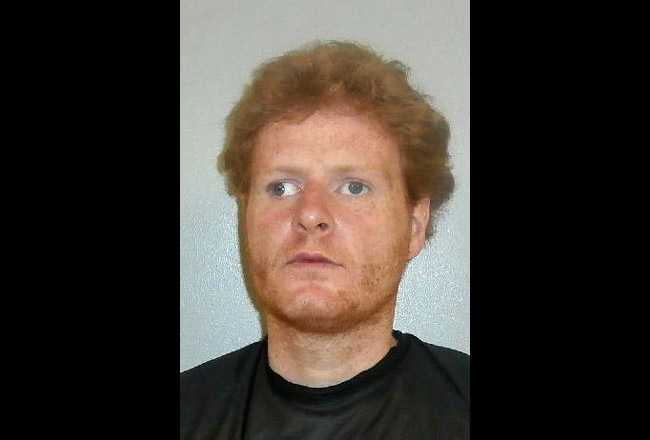 William Sitton has a long history of trouble—criminal and psychological—in Flagler County, much of it involving aggravated battery charges and convictions, including battery on a cop five years ago, and probation violations that have landed him at the county jail nine times since 2008. But his run-ins with the law have never escalated so much to warrant more than jail time: The 35-year-old has never been to state prison.
Sitton lives on County Road 330 with his brother Gary, 39, who is blind. The residence is on a road just south of Seminole Woods in Palm Coast, though geographically it's considered Bunnell.
The younger Sitton was back in jail early this morning (he was booked in at 4 a.m.) after a four-hour, sometimes grisly stand-off with Flagler County sheriff's deputies, including the SWAT team, that ended when deputies incapacitated Sitton with bean bag rounds and pepper spray, even as they feared he might be armed: there were live ammunition rounds scattered in the house when a deputy first arrived at the scene. At one point Sitton made various statements about Satan and made hand gestures daring deputies to shoot him in the head.
"This was a dangerous situation which was skillfully defused by the deputies who were on scene. The house already was known to us as being problematic," Flagler County Sheriff Jim Manfre said. "We are fortunate that these deputies were able to make this arrest using a non-lethal method." Manfre, in office since early January, was noting the non-lethal resolution of the confrontation for a reason: in mid-December, deputies shot and killed a 32-year-old man in a close-quarter confrontation with him in his garage, on Brownstone Lane, as the man brandished a machete. The man's family severely criticized the sheriff's office for ending the confrontation by killing the man, who had a history of psychological issues.
Sitton, too, has had a troubled history: the sheriff's office says it has responded to the Sitton property 84 times since 2008, over weapons and narcotics complaints, and suicide attempts by Sitton.
It all began on Thursday with a call from the house to 911. Gary Sitton told deputy Benjamin Jurec that he'd dialed 911 by mistake. But on the way there, Jurec had also learned that there was a warrant out for William, for a felony violation of probation. As soon as Jurec knocked on the door, William, who was seen through the kitchen window sitting at the kitchen table, got up and ran to the back of the house. Gary let Jurec in. Live ammunition was on the floor along with pieces of a gun. William wouldn't respond to orders to come out. Gary was removed from the house as Jurec waited for back-up.
When other cops arrived, they could see William in his bedroom, through a window, with a knife, trying to cut himself, according to police reports filed after the incident. He then stood by the door taunting deputies to come in the room, telling them he had a firearm, and that he'd use it. Gary confirmed to the deputies that there was a gun in the house, but he didn't know where it was. It wasn't clear if it was the only gun—and if the pieces of the firearm the deputy had seen on the floor at first were the weapon in question.
The ordeal began a little before 10 p.m.
William Sitton then laid on his floor, covering his body with a blanket. His knife disappeared. He wouldn't listen to deputies. That lasted four hours.
"We continued to verbally engage him and instructed him to exit the residence," Lt. Paul Bovino, who heads the SWAT unit, wrote in his report. "At one point he stated that he would not take the blanket off because he did not want to be Tased. He was attempting to defeat our less lethal capabilities by shielding his body with a heavy blanket."
Sitton then got up, still covered with the blanket, and went to the bathroom, shutting the door. A few minutes later he came out and raised his arms toward the deputies at the window. Deputy Jason Neat used a spade shovel with a wooden handle to break the window, giving clear access to the 40mm sponge impact rounds (known as bean bag rounds) that deputy Paul DeSousa then fired. DeSousa fired four such rounds. Bovino followed with made to Sitton's face.
"He eventually stood up and began to comply with my commands," Bovino wrote. Sitton was handcuffed, examined by paramedics at the scene, and taken to the county jail, where he remains Friday afternoon.