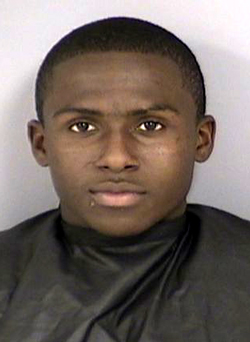 Between car crashes and head-banging petty criminals, one could begin suspecting that there's something in Palm Coast's water, or in the air, that's not sitting quite right with certain human organisms. A few days ago it was James Linskey's thing for serially invented robberies, all so he could take the $35 he'd made in pizza deliveries and buy himself gas and cigarettes. Sunday (Dec. 5) it was the story of Robert Combs, who had to bike down the street from his home to plug in his cell phone in another guy's electric outlets, only to find himself knocked out the moment he was found out.
Now comes William Phillips, an 18-year-old Palm Coast resident of Brice Lane.
An 18-year-old Palm Coast man was arrested Monday evening for grand theft after he stole a vehicle from a Palm Coast drive and crashed it into a garage several miles away.
According to a Flagler County Sheriff's Office account, Phillips noticed an idling (but running) vehicle parked on Post Tree Lane at 6:16 p.m. Monday. Phillips jumped in the vehicle and took off. The 23-year-old vehicle owner immediately reported it as stolen. Deputies located the vehicle as Phillips was driving it southbound on Belle Terre Parkway.
Deputies said Phillips turned onto Zebu Place, lost control, and crashed into a garage of a home at 12 Zebu Place. He then fled the scene. This being Cinderella season, he left behind his black slippers. Deputies set up a search area. They sent up Flagler County's Fireflight (the county's helicopter). They set loose a couple of K-9 units (the dogs were Cain and Blu, if you're scoring at home). And they located Phillips on Zeda Place, inside a fenced yard.
Somewhere along the way Phillips got a sprained finger. He was taken to Florida Hospital Flagler, treated and released to the custody of the deputies, who jailed him on a grand theft charge, leaving the scene of an accident, no valid driver's license, criminal mischief and resisting arrest without violence. Bond on those charges was set at $9,000. He is also being held without bond in connection with an outstanding Georgia warrant for failure to appear for an armed robbery charge.
"This was a crime of opportunity. He found an unlocked, unoccupied, running car," said Flagler County Sheriff Don Fleming. "We are fortunate no one was seriously injured. Motorists need to remember to secure their vehicles, even if they are going to be out for only a minute."