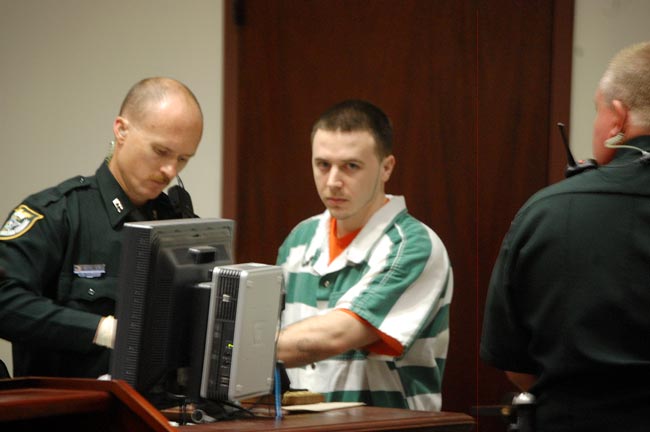 DAYTONA BEACH–Volusia County Circuit Judge William A. Parsons this morning–at 10:17 a.m.– sentenced William Gregory to death for the double-murder of his ex-girlfriend and her boyfriend near Flagler Beach in August 2007.
Gregory murdered Skyler Meekins, 17, and Daniel Dyer, 22, by shooting them in the head with a 12-gauge shotgun as they slept together in Meekins's grandparents' house on John Anderson Highway south of Flagler Beach on Aug. 21, 2007. He shot them as his 1-year-old daughter Kyla, whom he'd had with Skyler, slept in another room.
"William Arthur Gregory," the judge intoned at the end of a 10-page order he read from the bench, "under the laws of the state of Florida, you have not only forfeited your right to live among us, you have forfeited your right to live at all."
Gregory, now 28, in a green and white striped jail suit and his legs shackled, had sat almost motionless throughout the judge's reading of the order, flanked by a bailiff to his right and another behind him. Gregory's attorney, Gary Wood, sat to Gregory's left.
When the judge was ready to pronounce the sentence, after reading the long order, he asked Gregory to approach the bench. Gregory stood at the dais, a few feet from the judge. A deputy stood behind him, another stood to his right, a third stood to his left, next to Wood. Gregory appeared to whiten, and his eyes to redden, after the order. He was then fingerprinted and taken away. The courtroom quickly emptied of the 25 or so people who'd sat through the sentencing.
On March 9, a split jury recommended, in two 7-5 votes (one for each murder), that Gregory be put to death. In the phase of the trial where guilt is determined, the jury must be unanimous for a guilty verdict. Sentencing recommendations do not require a unanimous vote, nor is the judge bound by the recommendation, although if six or more people vote against the death penalty, it's considered a recommendation for life. The recommendation for Gregory's death sentence obtained through the bare majority of seven votes.
Parsons weighed a series of four aggravating factors against a longer set of mitigating factors, analyzing each in turn to conclude that "aggravating circumstances in this case far outweigh the mitigating circumstances. This court agrees with the jury's recommendation that in weighing the aggravating circumstances against the mitigating circumstances, the scales of life and death tilt unquestioningly to the side of death."
Mitigating factors included Gregory's behavior "under the influence of extreme mental or emotional" stress, his impaired capacity to gauge the severity of his actions, his long-standing drug addiction, being raised by a single mother, being forced to watch his 6-year-old sister raped at knifepoint by a 14 year old when he was 8, and having had a generally dysfunctional childhood. Parsons, without diminishing the effects of the facts laid out, and conceding that "there is no question that he"–Gregory–"had a difficult childhood devoid of much positive guidance," nevertheless gave each of these mitigating factors "slight weight."
The night of the murders, Gregory consumed alcohol, marijuana, cocaine and "pills" but appeared to be functional "based on a series of calls that took place between 10:09 p.m. and 11:27 p.m. which were apparently made from his home," the judge said. "The murders appear to have occurred at or around 1:30 a.m. the next morning."
After the murders, Gregory took a swim, in his clothes, including his wallet and shoes, "in an apparent attempt to purge himself of shotgun residue," the judge said. He then called 911, at 4:17 a.m., to report that he wanted to turn himself in for drug use, "a transparent attempt to create an alibi for the murders."
Parsons systematically laid out the aggravating factors of the case to weigh them against–and outweigh–the mitigating facts. Those factors included Gregory's prior felony conviction on a cocaine charge (attempted possession), though that factor was given only moderate weight; the heavier factor was the murders themselves, the burglary committed before the murder (the weapon Gregory used was in the house), and the "cold, calculated and premeditated" nature of the murders.
The judge summed up the various times Gregory, months before the murders, had threatened to "blow he head off" if his ex-girlfriend cheated on him, and that he'd kill whatever boyfriend she might have at the time as well. He then put his plan in action once he learned that Skyler Meekins was seeing Daniel Dyer.
"Once at the residence," the judge read from the bench, "he entered the house surreptitiously, located the 12-gauge shotgun in a closet, located the shotgun shells on a shelf in the closet and loaded just two shells into the shotgun which was described as a weapon that was difficult to load. Mr. Gregory, at this point fully armed with a loaded weapon, passed by the separate rooms of Skyler Meekins' grandmother and grandfather and went to the sleeping room which Skyler Meekins occupied where she and Daniel Dyer were cuddling while sleeping. It has been clearly established, without refutation, that he placed the loaded weapon at point blank range and aimed at the heads of the respective victims where he killed each of them in execution style with devastating shots to the heads of both victims in an act that was totally consistent with his earlier announced plan."
At the end of his order, the judge wrote, in capital letters, "MAY GOD HAVE MERCY ON YOUR SOUL."
A brief, errant sob was heard in the courtroom, which was otherwise quiet.
"What happens now," Wood, Gregory's attorney, said after the sentencing, "by law there's an automatic, direct appeal to the Florida Supreme Court. Normally in a non-death sentencing it would go to the Fifth Circuit Court of Appeals here in Deltona. But that now is bypassed by law. So the entire file, the entire transcripts of every hearing, every part of the trial, every phase of the case will be reviewed by the Florida Supreme Court, and they'll be looking at any alleged errors that were made in the case to see if those errors were prejudicial enough so that Mr. Gregory can get a new trial. And if they feel that way, then they'll mandate a return back to this court or to Flagler court for a new trial. That's what we're going to be asking at the next level." That'll happen within the next week or so.
The hearing had begun with the judge revealing that Gregory had sent him a letter alleging that Wood had been an ineffective attorney in the case, but Gregory wasn't looking to dismiss him since the trial was essentially over. The judge made the allegations part of the record but recommended—and Gregory agreed—to have them heard in the appeal.
Gregory has been in jail since 2007–mostly in the Flagler County jail, but briefly in jail in St. Johns and in Volusia County, where his trial was moved. Today, he will be taken back to the Flagler County jail. Flagler County will then be responsible for transporting him to death row at the Florida State Prison in Starke or at the Union Correctional Institution in Raiford, where he will live the remaining of his days in a 6 by 9 by 9.5-foot cell. He's likely to be there many years. The average life span of an inmate on death row, since the death penalty was reinstated in Florida in 1979, is close to 13 years. In 2000, the Palm Beach Post calculated that, at the time, each death row inmate who was eventually executed had cost the state $24 million between sentencing and execution, about double the cost of a prison sentence for life.
Gregory is joining 392 inmates on death row. There have been no executions in Florida this year. There was one last year, two in 2009, two in 2008, none in 2007 and four in 2006. There's been a total of 69 executions since 1979.
The last person sentenced to death for a murder committed in Flagler County is Cornelius Baker, who murdered Elizabeth Uptagrafft, a 56-year-old grandmother from Daytona Beach, in the woods west of Bunnell on Jan. 7, 2007. Baker and his girlfriend, Patricia Roosa–he was 20, she was 19 at the time of the murder–had invaded Uptagrafft's home, held her elderly mother and son captive, beaten them, then taken Uptagrafft in her car to Flagler County, where they robbed her of $500 from her bank account, at an ATM. She was set free on Black Point Road, only for Baker to shoot her twice. Roosa was sentenced to life in prison in June 2009.
Flalger Beach's last murderer, Michael Robert Everett, was sentenced to life without parole in April 2008 for the 2007 killing of his ex-girlfriend, Lindsay Brown, 39, at the time of the murder. Brown, a native of Scotland, was killed at her apartment at 211 S. Third St the day before Uptagrafft was killed in the western part of the county.