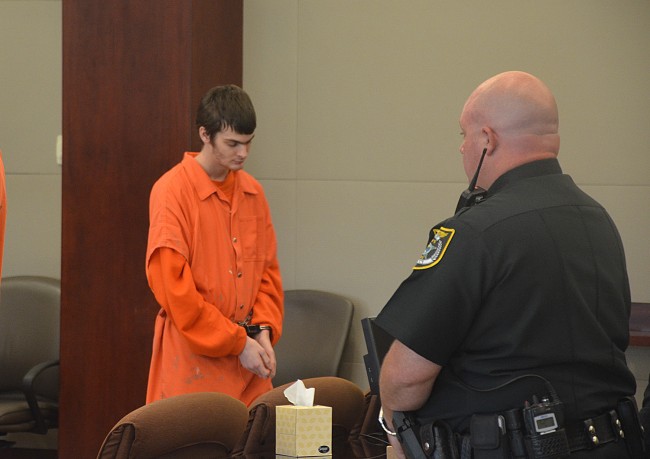 Will Gerald Hofer, the 20-year-old who led police on a daylong chase in December over fears that he might attack a local school, was sentenced to three years' probation this morning (May 20), with possibility of early probation termination if he fulfills the terms of the sentence. Hofer was freed later in the day. He'd been at the Flagler County jail since Dec. 12 on $101,500 bond.
That day, Hofer, a 20-year-old former honor student at Flagler Palm Coast High School and resident of Zaun Trail who was attending Daytona State College, led police on a frenetic chase when authorities were alerted to a threatening Facebook message they'd connected to him. Authorities feared that Hofer, mourning the recent shooting death of a friend, was planning an attack on a school campus. Hofer was feared to have been in possession of weapons.
The county's two high schools were locked down. So was the Palm Coast campus of Daytona State.
For six hours, deputies, including the SWAT team and Flagler County Fire Flight, the emergency helicopter, raced around the county, chasing down leads as they searched for Hofer. He was found at or near a house on South Anderson Highway at around 2:30 p.m. and charged with making written threats to kill, as well as a probation violation. (In April 2012 he got probation for possession of a small amount of marijuana.)
Police had been alerted to an Instagram posting attributed to Hofer, under the name of "willhofer1017." The posting referred to Rick Harper, killed on Dec. 9 during a home invasion. "R.I.P. My brother and best friend I've ever had," the posting said.
No weapons were found in Hofer's possession, Hofer's attorney, Michael Lambert, said. And regarding the posting on the Internet, "there is no way to prove who put the statement on there," Lambert said, nor was a phone found that would tie Hofer to the posting. Additionally, the law under which he was charged requires that threats be made directly against a person. The threats cannot be generic or general and lead to charges.
Based on those findings, the State Attorney's office agreed to a plea. The charged against Hofer was changed to one count of "Offense against computer users," and sentenced to three years' probation.
Hofer said he had never been treated for mental health issues, nor was he on any medication.
Under the terms of probation, Hofer must undergo a mental health evaluation and follow any recommended treatment, including counseling. If he does so, his probation may be ended early, Flagler County Circuit Judge J. David Walsh said.