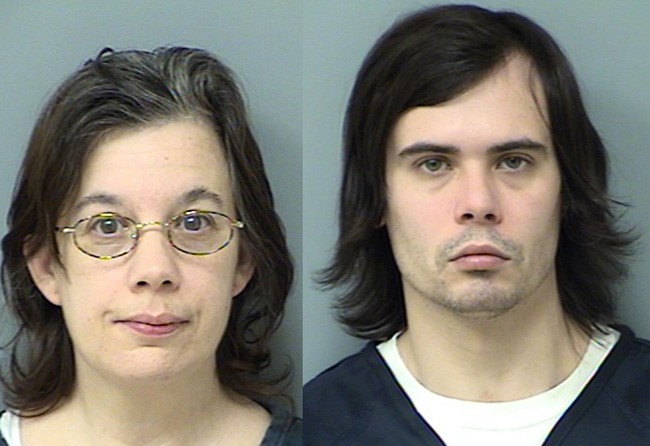 Rhonda Wilkerson, a 50-year-old resident of Flagler Beach accused of raping her own daughter and participating in her boyfriend's multiple rapes of her daughter over months in late 2013 and early 2014, on Monday pleaded guilty to one count of rape on a child between 12 and 18 years old and one count of principal to rape by threat. The first-degree felonies expose Wilkerson to between 25 and 50 years in prison when she is sentenced on May 6, according to State Attorney's Office spokesman Spencer Hathaway.
Wilkerson is expected to testify against her former boyfriend, William Clarence Dillow, 28, when he goes on trial on April 20. Dillow faces two capital felony counts of raping a child younger than 12, a count of rape by threat, and a count of lewd and lascivious molestation of a child older than 12. If convicted, he faces life in prison.
Wilkerson and Dillow are being held without bond at the St. Johns County jail, and are going through circuit court in St. Johns—before Judge Michael Traynor—as the alleged attacks took place in St. Augustine. Wilkerson and her children lived on South Daytona Avenue in Flagler Beach, and the children attended an elementary school in the Flagler district, where they reported the alleged attacks on Feb. 24, the last of which allegedly had taken place that very morning, according to Dillow's arrest report.
After the children reported the alleged attacks, Wilkerson was informed, and she went to the Flagler Beach Police Department, where she provided a statement outlining what had taken place since the previous summer. A controlled phone call was set up between Wilkerson and Dillow in which Dillow admitted to certain acts, but also implicated Wilkerson. When, during the call, she told him that they would stop having sex with one of the children, his reply was, "I will if you will." Wilkerson told police she also had recordings of the alleged acts.
Combined with an outline of the interviews with the children a member of the Child Protection Team conducted, the allegation tell an account of two young girls in the grips of harrowing brutality, torture, sadism, lies and threats allegedly at the hands of Dillow, but often aided by a complicit Wilkerson. She told authorities that Dillow had forced her to participate.
Though the charges make a distinction in the age of the victims, and therefore the category of the charges the suspects face, the two suspects' arrest reports list both victims as being younger than 12. The rapes took place "multiple times over a period of several months" at 3710 Pacetti Road in St. Augustine, mostly in an RV on the property, according to details not disclosed at the time of the arrests.
Wilkerson had begun seeing Dillow in September 2013. As the relationship wore on, Dillow, according to Wilkerson, began accusing her of cheating, then accusing her of sexually abusing one of her daughters—what turned out to be a ploy to begin what Wilkerson described as his abuse of the girls. Dillow told her that he'd "researched signs of sexual abuse," the arrest report states, and ordered Wilkerson to take pictures of her daughter's  genital areas and email them to him. (Wilkerson's Flagler Beach home was 49 miles from Dillow's.) The girl recalled the incident in her interview with the Child Protection Team case coordinator, remembering that her mother had taken her into a bathroom at her grandmother's house and told her that the pictures were to be sent off to a doctor to check if she had cancer.
The alleged abuse then soon escalated, with Dillow claiming to the child that he had to examine her. The girl protested, telling him, "I am too young to see this," and telling either Dillow or the interviewer that she neither understood why they had to be naked nor wanted to see Dillow naked. Before long, Dillow was telling her that he'd be showing her "how a boy gets you pregnant," and telling her that "a girl your age, your hormones are going to start kicking in and you are going to want to do it." The victim protested, refused and told him off. But the victim told the interviewer that if she didn't perform form him, he'd get angry and would hurt her, her sister or her mother.
The first rape allegedly took place in January 2014 in the RV, as Dillow's grandfather lived in the nearby trailer on the property. Wilkerson describes her daughter vomiting from fear, and multiple instances occurring after that, with Wilkerson's participation despite the girls' protests as Dillow would force himself on one of the girls orally and vaginally. One of the girl would not be present during the attacks, her sister told an interviewer, because "apparently it is too gruesome for [her] to be there," the arrest report quotes her as saying, though the younger girl described him repeatedly attacking her as well. When a girl refused to participate, Dillow threatened, "you want to see the effect if you don't do it?" then proceeded to punch Wilkerson on the head and punch her again in the neck.
Dillow allegedly threatened to kill either girl or their mother if anyone told on him, and said that even if he were to go to jail, he would have them killed anyway.
The brutality included an occasion, just two days before the girls reported the alleged assaults, when Dillow bought a BB gun at a flea market and shot one of the girls to "see how it felt." He then shot the dog with the gun and wanted to continue doing so, but one of the girls got between Dillow and the dog. Dillow threatened to shoot the girl in the face, according to his arrest report, because she was crying. The same day, the report describes Dillow's alleged attempt to suffocate one of the girls, pinching her nose and covering her mouth so she could not breathe. The girl would "struggle to get out of Williams' grip but William would not let go," the report states, noting that the girl had witnessed him doing the same to her sister. She said her mother would "go with the flow."
In the protective team's interview with the younger child, the child described Dillow as "mean, stupid and an ass," and that Dillow "freaks her out." She said he also "puts her head in trash cans," and she described him shooting her with a BB gun.
Dillow and Wilkerson were arrested on Feb. 25, 2014, three days after the BB gun incident, and a day after Dillow allegedly last attacked one of the girls. The children were remanded to the custody of the Department of Children and Families at the time of the arrests.