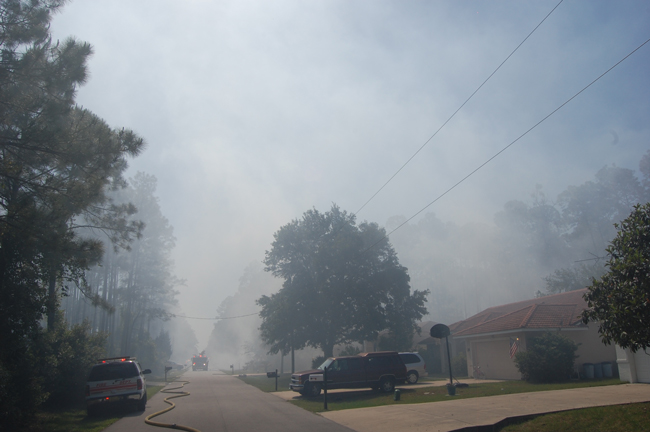 A wildfire broke out under a Florida Power and Light power line easement at about 1:30 p.m. behind Esperanto Drive in Palm Coast on Sunday, triggering an evacuation of 10 to 12 families and the convergence of some 25 firefighters and other emergency personnel to battle the flames.
White smoke billowed and shrouded the Esperanto Drive neighborhood, but no one was injured, and no homes were damaged from the 8-acre fire.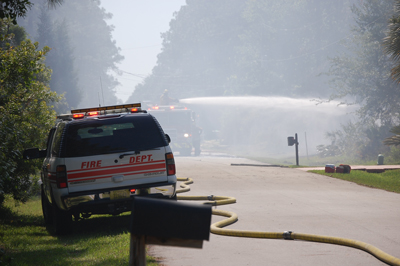 Vehicles and personnel and equipment from Palm Coast, Flagler County and the Bunnell Fire Departments, the Flagler County Sheriff's Office and the state Division of Forestry had responded, with the Flagler Beach Department on standby. The fire was contained by 4 p.m. with no loss of electricity in the neighborhood.
The fire traveled across five lots. "It was running real good," Palm Coast Fire Chief Mike Beadle said, "but we didn't lose any structures, so we're happy." There was some light damage to a shed and a fence, and the front yard of at least one home on Esperanto was visibly charred. But houses themselves were not damaged. Beadle warned that smoke will persist for a day or two even though the fire itself is out.
The fire, Beadle said, is "definitely under investigation." (See more pictures below)
Monday morning update from Marsha Lidskin, Palm Coast spokeswoman: "Firefighters and crews from Palm Coast and Flagler County worked into the night and will do so again this morning to mop and monitor the eight acres that burned yesterday afternoon on Esperanto Drive in the Cypress Knoll section of Palm Coast. May 9th's wildfire broke out at around 1:30 p.m., with approximately ten homes being evacuated." She added that "smoke will remain in the area today, May 10th, and will continue for several days. The cause of the fire is still under investigation."
---
Palm Coast Fire Chief Mike Beadle on the Esperanto Dr. Wildfire[media id=22 width=250 height=100]