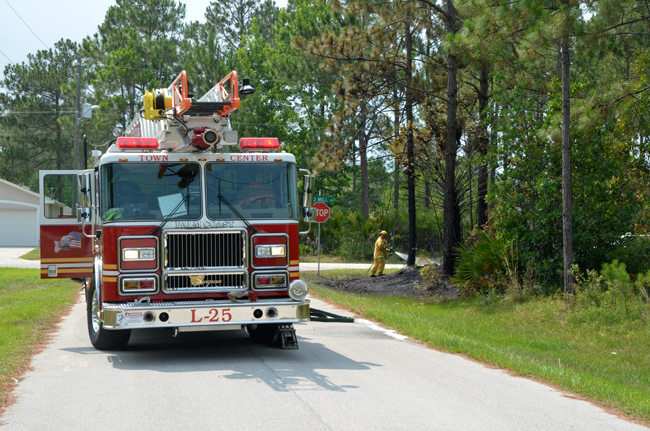 A small brush fire broke out at 3:30 this afternoon on an empty corner lot in Palm Coast's R section, with flames leaping up one or more trees, as the caller to 911 described it. The Palm Coast Fire Department was on the fire within minutes, as was a county task force from the Emergency Operations Center. The fire was very quickly out.
The fire broke out at the northeast corner of Red Mill and Red Barn Drive, not far from Rymfire Elementary School, in the R section (and not far from U.S. 1 in the western direction).
The Palm Coast Fire Department's Ladder 25, engine 21 and the task force were at the scene, though the task force left when it was apparent that the fire was quickly controlled. It was a 15 by 15 foot fire. It had charred a spot of grass and weeds on the ground, blackened the trunks of three trees and browned the trees' pined needles.
The Red Barn wildfire is the first in Palm Coast, outside of the large, 135-acre Seminole Woods fire and its 2-acre Slippery Rock neighbor-fire (which broke out on June 15 but was also readily put out). The Seminole Woods fire is almost entirely contained.
"I'm hoping it's the last," Palm Coast Fire Chief Mike Beadle said. He credited residents for being vigilant and aware of conditions–as they were in that corner of the R section. The woman who alerted 911 was at the scene as firemen were dousing the lot in water, bringing them a half dozen bottles of water herself.
"Everybody is doing their part," Beadle said.