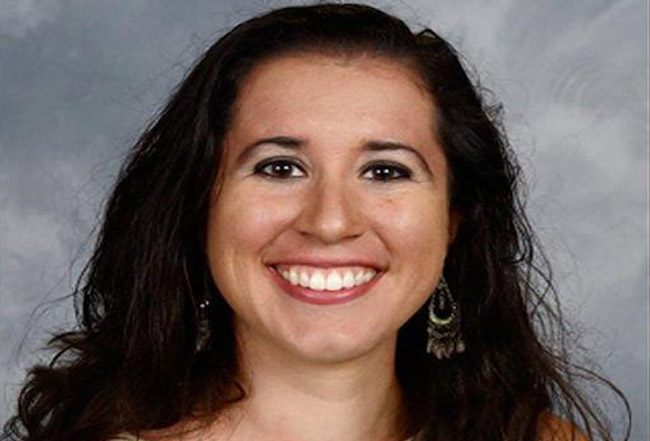 By Nancy Smith
What will Citrus County school authorities do about white supremacist teacher Dayanna Volitich? I hope, the right thing.
Volitich can't be allowed to return to her social studies classroom at Crystal River Middle School. Even, at best, if she's found not to have brought her views to school and shared them with her students.
It's too late for that. Even if she keeps her mouth shut from here to Doomsday, for many in Citrus County, she will always wear a racist label.
Her conduct, as news outlets all over the country and beyond, including Sunshine State News have reported — using social media to host a white nationalist podcast called "Unapologetic" — may go beyond Freedom of Speech protections.
To help teachers navigate treacherous waters, in 2015 the American Civil Liberties Union (ACLU) issued an updated version on the free speech rights of teachers for Washington state.
The ACLU warns, if school officials can show political expression outside the classroom "could adversely affect school functions or your effectiveness as a teacher, the First Amendment may not protect you." They offer similar advice for the use of social media, an area where "law is continuing to evolve."
According to the ACLU, "if you use social media in your private capacity to express your beliefs on a matter of public concern, you may be protected. However, if you use social media to comment about students, school or other work-related matters, or you use it to engage in what might be considered conduct impairing your functioning as a teacher, the First Amendment may not protect you."
Dayanna Volitich did indeed "use social media to comment about students, school or other work-related matters …" etc., according to the investigative reporting of the Huffington Post, first to release this story.
Despite her insistence that spoken content on her show was not reflective of anything she taught in the classroom, as the Huffington Post discovered, the teacher actually spoke at length about the subversive ways she would see that her worldview would find its way into her teaching.
First Amendment aside, this story reaches my heart.
And, frankly, I think if nothing else, it should reach the Citrus County school system's sense of decency, fair play and responsibility to the whole community it serves. Think about it: Volitich is molding young minds in a public school — a PUBLIC school. Or, at least she was until Citrus County removed her until the investigation is finished.
Try to imagine you're a non-white student in Volitich's social studies class. What do you do with this new information about your teacher's "white superiority"? She's already stipulated on "Unapologetic" that science has proven "certain races are smarter than others." You have to wonder if your other white teachers share her views. You have to ask yourself what chance do you have in this classroom, at this school, in your future. That's what hurts my heart.
And over the years, I've talked to other minorities in this state who experienced Volitich-like prejudices in the classroom, some of it that affected their self-worth, and worse.
Citrus is a small, predominantly white county. Minority students are few and far between. With 768 students, Crystal River Middle is 86 percent white — which compares to 40 percent of white students in the average Florida school with the same 16:1 student-teacher ratio. I can only imagine how isolated minority students in Volitich's class must feel.
Recent studies have found more and more black families are homeschooling their children because of the racism students are taught and experience in school systems. This is for good reason: Studies have closely linked racism and depression in black and Latino children.
A spokesperson in School Superintendent Sandra "Sam" Himmel's office would not settle whether Volitich had been suspended with or without pay, nor would she answer other questions about the classroom or school "until the investigation is over." She said Friday she was referring all callers to "our statement on the District website."
One piece of hopeful news in Citrus: In October, Volitich tweeted under her social-media pseudonym, Tiana Dalichov, that her school was making her learn about the effects of white privilege and systemic racism (though, sadly, she added, "Systemic racism and white privilege aren't real").
What I'd like to see is Florida turn the Dayanna Volitich story into something positive.
I'd like to see it be the beginning of a conversation started by the state's dominant party, the GOP — in my opinion, wrongly identified as the party that doesn't give a hoot whether Florida minorities are fairly treated.
Who better than, say, influential Sen. Wilton Simpson, R-Spring Hill, who represents Citrus County, to seek a Blue Ribbon committee on building racial equality in Florida schools, bringing in Education Commissioner Pam Stewart, other educators, administrators and lawmakers — but most important, minorities who can talk from experience and help guide the process to something meaningful.
Such an effort would need to grow into more than talk. Florida, one of the three most racially diverse states, could lead the nation not only in keeping classrooms safe, but in keeping them fair.


Nancy Smith is the editor of Sunshine State News. She started her career at the Daily Mirror and The Observer in London before spending 28 years at The Stuart News/Port St. Lucie News as managing editor and associate editor. She was president of the Florida Society of Newspaper Editors in the mid-1990s. Reach her by email here, or follow her on twitter at @NancyLBSmith.