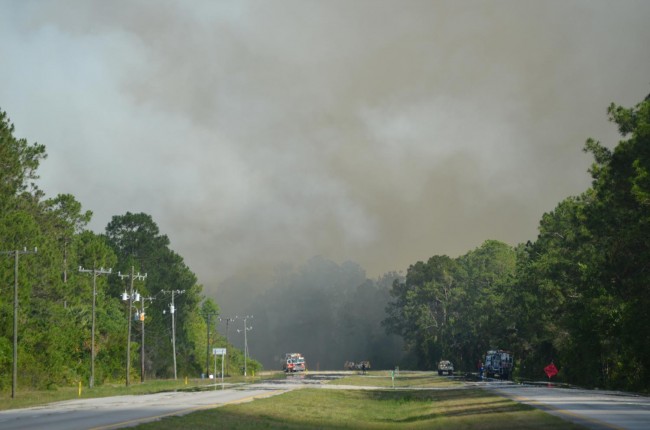 Last Updated: 3:30 p.m.
A wildfire broke out behind the White Eagle Saloon Monday at around 2:30 p.m., scrambling fire units from around the county and reviving fears of a repeat of last year's wildfires, which consumed large swaths of the Seminole Woods area east of the White Eagle.
But by 2:50 p.m., the fire was under control and firefighters were into the mop-up phase, cancelling most support units and telling the Division of Forestry that its presence there was unnecessary, unless it was looking to investigate the source of the blaze. The fire was measured at about 30 by 30 feet. Witnesses reporting to the Emergency Operations Center had alternately spoken of a small fire or a fire with flames as high as 20 feet in the air.
The fire was completely out by 3:10 p.m. But at 3:29 p.m., reports of a possible brushfire at 1944 South Daytona Avenue in Flagler Beach went out to emergency personnel. A power reportedly line went down in a vacant street, lighting a tree on fire. That fire was put out within minutes (no lines had actually gone down, but trees were swaying against live wires.)
Last year in May and June, the White Eagle fire burned upwards of 120 acres and flared up repeatedly, but destroyed no homes, though it came close. The fire today is the latest in a string of small brush fires the Palm Coast and Flagler County Fire Rescue departments, along with Bunnell and Flagler Beach, have been battling for the past two months, the most serious having blazed up in the middle of the night in the heart of Palm Coast in a homeless camp in the woods south of Cypress Point Parkway in mid-April. None of the fires have damaged any homes.
The fires are the result of high fire-danger conditions as a drought persists despite spots of rain. The drought index in Flagler County is 561 on a scale of 800, with the higher numbers signaling more severe fire dangers. Flagler County Fire Chief Don Petito declared a countywide burn ban in mid-April. That burn ban is still in effect, until further notice.