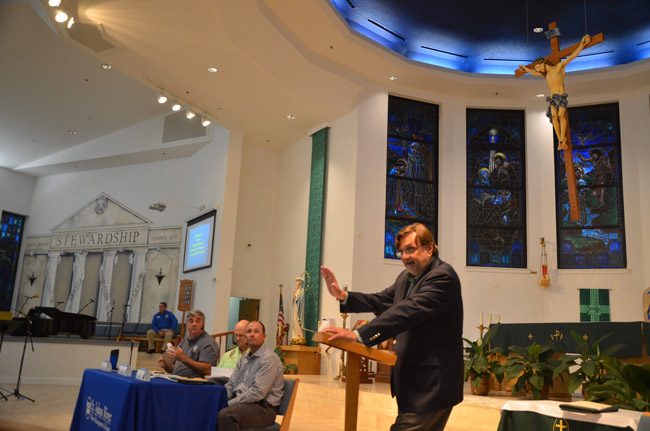 Last Updated: Friday, 11:51 a.m.
As it sees it, the St. Johns River Water Management District is trying hard to work with Flagler Beach residents and win them over to a planned $516,000 project to "restore" more than 110 acres of Intracoastal Waterway marshes at the south end of town to pre-1960s conditions. But it's not working. Opposition to the project remains rife and at times bitter: "If it goes through, I hate you all," one homeowner told district and project officials at a public meeting organized to win over residents Wednesday evening in Flagler Beach.
The restoration on public lands entails demolishing spoil piles and filling ditches that the U.S. Army Corps of Engineers and mosquito officials built decades ago, demolishing wetlands in what proved to be a catastrophic approach to mosquito control. As with much similar re-engineering of nature, it took years for officials to concede that they'd erred. The error led to a progressive erosion of wetlands and a subversion of coastal species, to the detriment of native vegetation and fish.
The water management district is now proposing to again re-engineer nature, if only to bring it back to its original state, or something like it. It would be re-demolishing what was once demolished and rebuilt. That's making residents nervous. The theoretical data behind the plan is limpid as crystalline waters: district officials say that's the way to restore wetlands, make them more sustainable in the long run and more effective buffers against erosion and storms. The factual data, however, is scant, and the anecdotal data, judging from claims by Flagler Beach residents and fishermen, contradicts rosy projections by district and fish and wildlife officials.
The district wasn't going to do any outreach to what it calls "stakeholders" in the project. Its administration was forced to hold two public meetings to hear residents' concerns only after those opponents flooded a district meeting's chambers on Sept. 11, halting the district board from taking a final vote that would have kicked the project forward. The board did vote to proceed, but with caveats that left final approval of the contract conditional on the outcome of public meetings.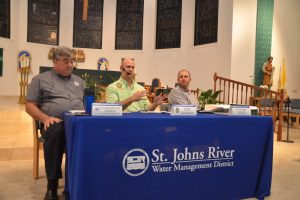 Now the board must contend with the fact that the district's brief attempt at outreach hasn't mollified the opposition. Residents are not biting. Three district board members were present to see the opposition for themselves Wednesday night at Santa Maria del Mar church in Flagler Beach: Board Chairman John Miklos, Alan Roberts and Chuck Drake. Roberts had been the board's most skeptical, questioning member at the Sept. 11 meeting.
They did not hear anything too different than what they heard at that district board meeting, though the district made two significant adjustments to the project: it would move its boundary a greater distance from residents' properties, and it would ensure that certain fishing zones and lanes are untouched.
The board also brought back its trio of project point men–the same trio that had presented the project to the Flagler County Commission on Sept. 17–to patiently answer written questions for 90 minutes: Erich Marzolf, the St. Johns Water Management District's division of water and land resources, Jeff Beal of the Marine/Estuarine Subsection of the Florida Fish and Wildlife Commission, and Chris Schlageter, an ecologist and president of Old Florida Conservation, Ecological project manager. They did so with environmental attorney Clay Henderson, the meeting's moderator, standing beneath a looming, crucified Christ in front of the sanctuary. (The church offered its venue when Flagler Beach City Hall proved too small after the first public meeting on Oct. 4. "Personally I'm grateful that the roof hasn't fallen in," Henderson said at the beginning of the meeting in a nod to the crucified. "This is a new experience for me." Henderson is the director of the Institute for Water and Environmental Resilience at Stetson University.)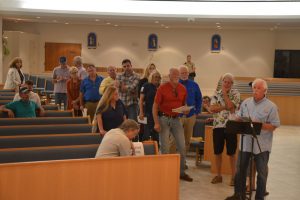 The trio spoke of planned monitoring of water turbidity and quality during construction with a massive excavator, but Marzolf also conceded that monitoring for species regeneration takes "years if not decade." Beal spoke of the loss of wetlands around the world and the urgency of repairing them. Schlageter spoke of the necessity of toppling mangroves and other vegetation, some of it non-native, on the way to regenerating the acreage, promising "we'll actually have a net gain" in species as a result. They all spoke in terms of "recolonization, said there's been no evidence of DDT in the soil–though a test was done only this week, and results won't be ready until later this month. And when questioned why there's been no environmental impact statement, Marzolf said it wasn't necessary: permitting was thorough enough.
That did not sit well with members of the audience, some of whom later lambasted that approach.
The 90 minutes of answers did not sway opinions, which nevertheless seemed hardened regardless, the texts of opponents' speeches already drafted and ready to be read from their iPhones or printouts.
They see the two public meetings the district set up to hear input and win over public support as belated and insufficiently responsive to their questions. The first such meeting didn't even include a question and answer period. It was more of a town hall-like meeting where people could speak with district and other officials individually.
At the end of Wednesday's second public meeting, which had both a Q&A and a public-input period, opinions among the more than a dozen people who spoke was near-unanimous: residents don't want the project. Fishermen don't want the project. Neither group is finding the district or Florida Fish and Wildlife Conservation Commission explanations satisfactory enough, even though they're the same explanations that have undergirded the restoration of upwards of 600 such acres along the coast.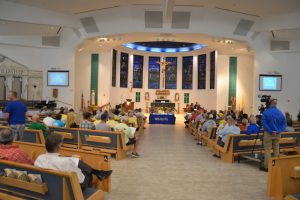 "We have asked. How's the fishing, how's the habitat?" Matt Hathaway, who has led opposition to the project with his wife Elizabeth, told district officials Wednesday evening, referring to queries to people in other regions that have gone through such restorations. "Did it recover the way they said? What's going on? And I'm looking for honest answers, and we're getting negative responses, negative responses. The fishing is destroyed, habitat is destroyed, didn't come back, water quality is gone bad. So our fear is based on others' experience. That's why we're here."
Hathaway then asked for the more than 100 people gathered at Santa Maria del Mar Catholic Church for those opposed to the project to raise their hand. Most did. "And that's it. I mean, the stakeholders are speaking, the stakeholders are here, the community has spoken." He said the community should want to embrace the project. But "nobody in Flagler Beach wants it. As simple as that." He may have been overplaying the case somewhat: the Flagler Beach City Commission twice discussed the matter then declined to take a position. The land in question is not in the city limits, and though it did not say so explicitly, the city, like the county, may not have wanted to antagonize the district, whose grants it seeks annually.
And while opponents Wednesday were significantly more numerous than advocates of the project (officials aside), advocates were not silent, either. (An earlier version of this story failed to more accurately reflect those voices.)
Paul Haydt, president of the Friends of Gamble Rogers State Park, who formerly worked with the management district, referred to wetlands restoration projects in Volusia County, one of them starting 30 years ago, that have since benefited from the expertise of bird, fish and other species specialists to refine the restoration method. "It worked well, good for habitat, good for water quality," he said. "We need more salt marshes."
Lynn Flannery, a Flagler County resident who described herself as an "environmental professional," also lent her voice in support of the project, crediting the scientists involved in the project with the wherewithal to ensure that "everything comes out correctly." She added: "Every day when I drive around and I see the continued construction, it concerns me. Each acre that becomes a home means more herbicide, more pesticide, maybe another septic tank, and we keep causing more harm to mother nature, and I know we can't stop the development. But this is our opportunity to do something in the right direction, giving back to mother nature."
Bill Praus, who lives near the restoration project and says he's fished the affected waters for six decades, added his voice in support of the project, questioning critics "voicing their concerns about the project where they have ulterior motives, like they're thinking of just themselves or how this is going to impact their property values. You've got to look beyond that, folks. You just got to. You've got to look at this planet as being our only planet, and we've got to protect it."
Opposition of course persists. "After last night's meeting, our concerns are still as strong as ever," Elizabeth Hathaway wrote in an email Thursday. "We are not accepting the scripted, copy and paste answers to our valid questions and concerns." Hathaway attached the six single-spaced pages of questions she says have yet to be answered.
The questions suggest that district and residents are on separate planes, with a fundamental distrust among residents undermining the district's most earnest approach.
So when the district's board meets again to hear an update on Dec. 11, it may have to decide, with no further public meetings planned, whether go ahead with the project–an approach opposing residents would see as ramming it through against a tide of opposition–or to forego it, which would also entail foregoing a substantial portion of the federal and state money at stake.

The full meeting video, produced by the water management district, is available below. Note: the cuts in the video are the district's own. It is also available at this link.