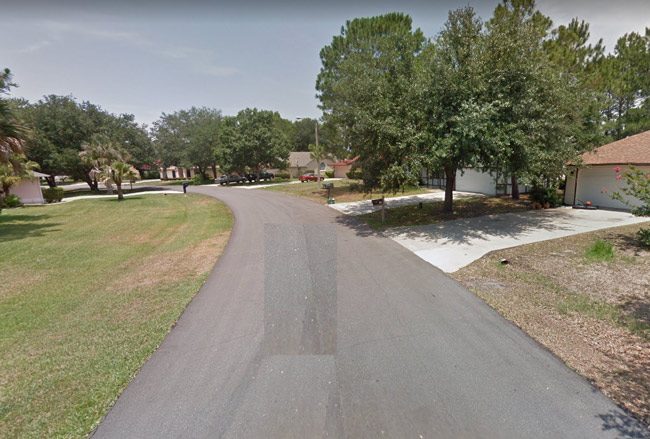 Four witnesses reported to authorities that their neighbor on Westlee Lane in Palm Coast had exposed himself in his garage, stared at some of them and masturbated. The 77-year-old resident of 50 Westlee Lane is facing a charge of exhibitionism following an investigation that had started with allegations of lewd and lascivious exhibitionism.
The lone resident of the house on Westlee has owned the property for less than two years. A complaint originated from a house on Westland Place, which intersects with Westlee. Two residents on May 3 told a Flagler County Sheriff's deputy that they were outside on their lawn when they witnessed the 77 year old in his garage, in his solitary act, but looking at them. He did so on and off for 30 minutes, they said.
As the sheriff was speaking with the two witnesses, two more walked over and describe closely similar scenes, although one woman described the man as running off and hiding behind his car as she turned onto Westland Place.
One of the witnesses took a picture of the man in the act and emailed it to the deputy. "In the photo," the deputy reported, "you are able to see a white male nude, standing next to a silver in color Chevy car. As he was standing next to his vehicle, it appeared as though his hands were covering his penis."
When two deputies visited the elderly man on Westlee and read him his Miranda rights, he consented to speaking with them, but the second time the deputies read him his rights–he was somewhat hard of hearing and had asked for his rights to be read again–he "stated that he didn't know what we were trying to pull, but he was not guilty of anything," the deputies reported.
When told that four of his neighbors had reported seeing him naked and touching himself while staring at them, the man denied it, said he'd been wearing swimming trunks–something he said he did all the time–and that he'd been working on his car in his garage. He then ended the interview, again saying he was innocent and "didn't want any part of this."
Deputies concluded, based on the evidence, that the man had exposed himself and charged him with indecent exposure–a first-degree misdemeanor. Had the charge involved lewd and lascivious exhibitionism, it would have been a felony. The man was not arrested. charges were forwarded to the State Attorney's Office.