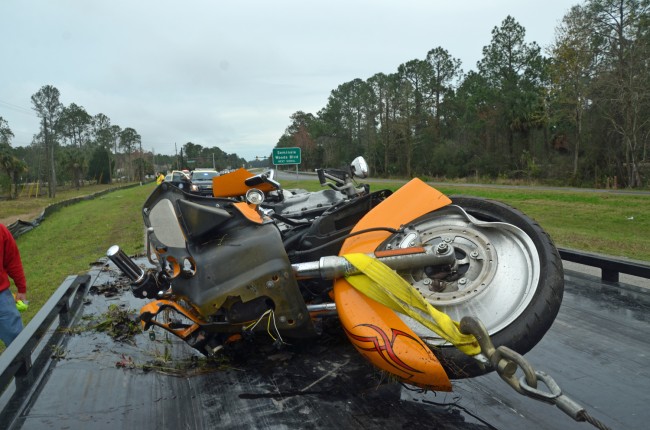 Peter Lonchar Jr., a 66-year-old motorcyclist traveling north on U.S. 1 early this morning, was killed when he drifted off the highway, struck a concrete culvert and jumped a silt construction fence, ending up near a waterlogged ditch.
Lonchar's body was not discovered until after noon. Authorities believe the wreck took place at dawn or earlier. The silt barrier blocked the view of where Lonchar and his bright-yellow motorcycle ended up until a passing pedestrian saw the wreck and notified authorities.
Lonchar, whose identity was released in mid-evening, is from Weirton, in the northern panhandle of West Virginia.
Lonchar was riding a 1995 Harley Davidson. He kept going straight just north of U.S. 1's intersection with Seminole Woods Boulevard, where U.S. 1 curves to the west. Lonchar appears to have traveled upright on the bike on the grass until the bike struck an elevated, square concrete culvert, where a deep gash and the absence of subsequent marks in the grass suggest he may have gone airborne, striking the silt barrier a few dozen feet further north and tumbling into the ditch.
Lonchar was wearing a helmet.
The wreck closed one lane of U.S. 1 north between 12:30 and 3:30 p.m. The Palm Coast Fire Police regulated traffic. Roger's Towing removed the bike. It is unclear whether the biker was in the area for Bike Week, which begins Friday in Daytona Beach.