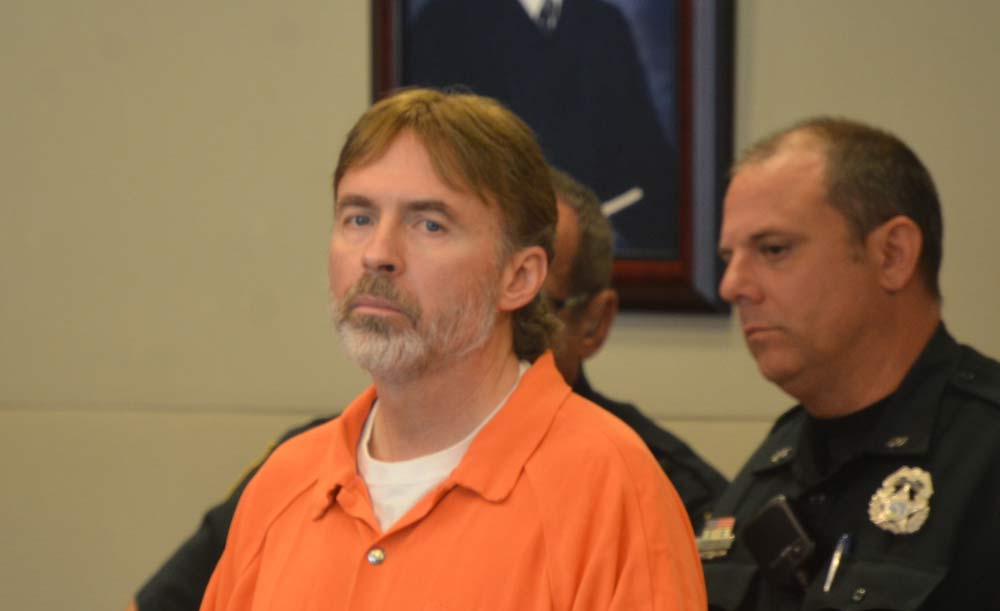 Six years ago Wesley Brown, a former pastor at Flagler Beach's Calvary Chapel church, was sentenced to prison on 15 felony convictions for fraud, theft and swindles of church members. He got out of prison on June 3 to start a 22-year probation sentence. Now, Brown doesn't want to pay restitution to one of his victims.
The court disagreed: Brown is beginning his probation with an additional $100,000 to repay, in addition to the $15,500 he has been ordered to repay previously.




David Lamos, Brown's attorney, argued before Circuit Judge Terence Perkins this morning that when Brown was sentenced, only two restitution orders were signed–one for $10,000, one for $5,500. Brown is not disputing those. He is objecting to a third victim demanding restitution. He was not in court today.
Circuit Judge Dennis Craig had been the sentencing judge in 2017. "I will reserve restitution on the three other victims that require restitution," Craig had said at the time, leaving it to the prosecution and the defense to determine amounts. Absent agreement, Craig said at the time, a hearing would be held. That's the hearing that was held today.
Brown's attorney was now arguing that Craig's statement was "vague," and that it did not "satisfy the requirement to enter an order of restitution at sentencing or within sixty (60) days thereafter," he wrote in a motion opposing this morning's hearing.
Lamos also argued that Craig's order had specified that restitution would be paid in accordance with the orders attached to the sentencing order in 2017. "This Court is now without jurisdiction to determine restitution for any other person in this case. To do so would be an illegal modification of the defendant's sentence," Lamos argued.
"There's no 60-day limit anywhere that I could find in the statutes," Perkins told Lamos. "Ther's no magic 60 days."




Assistant State Attorney Jason Lewis, who had prosecuted the case in 2017, went further. He cited a Third District Court of Appeal case–from a district that has no jurisdiction over Flagler, Lamos objected–to say that the amount did not have to be specified at the time of sentencing. "because he is placed on probation, it is a condition of probation and the court has jurisdiction to at any time while that probation is ongoing to determine that amount," Lewis said.
It would have been different had Brown been sentenced to prison without a term of probation following it. But probation gives the court jurisdiction on the terms of that probation for its entire duration. The judge could modify the terms of probation (if either side motioned to that effect), just as restitution terms may be modified, Perkins said.
"We do have a victim in this case who's out a substantial amount of money," Lewis said. "It should have been addressed back then. It wasn't. Judge Craig was moving through a lot of stuff. And they were going to address it in another time and it didn't get brought up."
The victim was at the hearing by zoom. Lewis flashed pictures of the checks she'd written Brown back when he'd convinced her he'd invest the money in precious metals: one for $150,000, another for $50,000. "It's great to know that you have entered this new year with a very valuable foundation for protection in the event of the currency crisis as well as a pick-up in the economy due to your favorable investments of precious metals and necessary commodities," Brown had written the woman and her husband in January 2011.
"We met him at Life Coast Community Church right there on Matanzas, at church," the woman testified today. "He was kind of like a cell leader at our church, kind of like, helped with off groups of the church have meetings and Bible studies at their house."
She then described the way he groomed church members: "At first he was helping us to learn how to shoot guns, taking us to Palatka to go to the shooting range," she said. "So we would go out to eat with him. So he befriended us first. And then he started talking about investing with him." She added: "I trusted him. He was in our church and he just gained my trust. And I went in blindly, I guess."




The jury had in fact reached a finding of fact with regards to that particular victim, and that she had been victimized between $20,000 and $100,000. The prosecution could not ask for more than that. Lewis asked for $100,000.
A deflated Lamos could not object. "The jury has spoken, the case was fully litigated and appealed," he said. "I don't really have any defenses of fact that I could interpose to a restitution order other than those that I've already raised."
The judge reasserted his jurisdiction to impose restitution orders for victims who had not been compensated at the time of sentencing, and ordered Brown to pay the $100,000 during his probationary term, what would equate to $4,545 a year, or $379 a month.