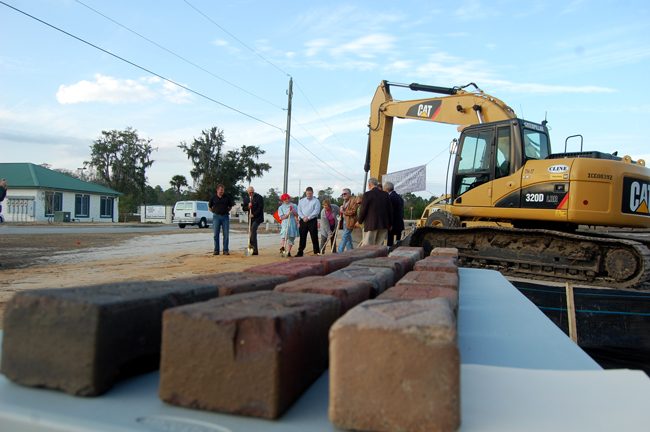 Ceremonial groundbreakings can be dull or silly. Not this one—the one that took place earlier today at the intersection of State Road 100 and Commerce Parkway, the road that dead-ends at Bunnell's First Baptist Church.
Considering how long Flagler Central Commerce Park has been in the works (almost seven years), considering the still-dour economy all around, considering Bunnell's labors to try to get something—anything—going in town, and considering what the very first business is going to be at the new park (Wendy's), Thursday's groundbreaking had the feel of a triple-decker triumph.
And why not? As Richard Quello, the manager for Oare Associates, the park's developer, put it to a crescent of 32 people gathered for the occasion, "this is a triple celebration. It's a celebration for Wendy's. It's a celebration for Flagler Central Commerce Park. And it's a celebration for the city of Bunnell. And that is terrific." The applause was sincere. "We have tried to get the shovel in the ground for six and half years, and I've got to be very clear, it was not the city of Bunnell that stopped us from getting the shovel in the ground. The city of Bunnell, the mayor, the vice mayor, the commissioners, Armando, Mick, all the people that are with the city have done a wonderful job and are wonderful to work with, and we appreciate all of their efforts. It wasn't the city that stopped the progress, it was a few states and federal regulations and permits that we needed." (Armando Martinez is the Bunnell city manager. He's been ill and couldn't attend. Mick Cuthbertson is the city's development director.)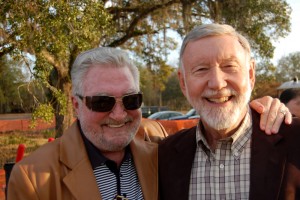 Flagler Central Commerce Park is planned as a 1 million square foot development of commercial, industrial and some residential properties. The development would progress in three phases, from north to south along the eventually stretching Commerce Parkway. Oare Associates is the land developer. It's preparing the pads. It's an ambitious project that, for now, has no other taker than Wendy's, and that may not progress very far for years. It's not lost on anyone that the development is going in a brief jog away from Palm Coast's Town Center, the 1,500-acre development crying for tenants of its own.

But as Devnet Services' Art Barr, who is Oare Associates' Development manager, put it, established developers with "deep pockets" can weather economic slowdowns and other challenges. "Fortunately the developer, Oare Associates, is very substantial, and obviously this wasn't their business plan to have it take this long, but they have the staying power to do whatever it takes to ride this out. And we're prepared to do a joint venture, we're prepared to build to suit, so we have a tremendous amount of flexibility." Including, Barr said, that 50,000-square-foot building county economic development officials have been harping about as a necessity for the county, if it's to attract new industry. Of course, there'd have to be a tenant for the building.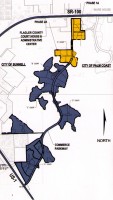 Thursday, the only tenant ready to move in was Wendy's, whose restaurant at that location would open in mid-April, according to Chris Zwirn, although the building permit for the new restaurant has not yet been pulled. Zwirn is a district manager for the company. He oversees Wendy's two other locations in the county. The restaurant will initially hire a total of 45 to 50 employees, Zwirn said. That's total number of employees, part-timers included. "Of course you've got some turn-over built into that, and that just happens with the restaurant business," Zwirn said. A year down the line, "you can probably look at between 30 and 35" employees, Zwirn said, with wages starting at minimum wage and going to $8.50 to $9 an hour, depending on experience. The company's benefit package doesn't kick in until after the employee has been there for at least a year.
Despite the economic challenges, the company is going ahead with a new store. "Our trends over the last two years have been really good. We've not really experienced any sales loss," Zwirn said. Stores opened a year or more saw sales increase 3.1 percent in the fourth quarter, compared to the same time the previous year. That's company-wide. Wendy's doesn't release individual store figures.
Wendy's/Arby's Group Inc. has 10,200 stores in the United States, making it the third biggest restaurant chain in the country. Some 6,500 of those are Wendy's stores. At the same time that the groundbreaking was taking place in Bunnell, Wendy's/Arby's Group announced that it would explore a sale of the Arby's branch, which it acquired for $2.56 billion in 2008. The company's stock has fallen 24 percent since that deal even though Standard & Poor's Supercomposite Restaurants Index rose 47 percent over the same time span. Wendy's wants to concentrate on its own brand restaurants.
Asked how the area could support a third Wendy's in the current economy, Zwirn said: "We're excited to be getting into Bunnell. The potential for growth is what we're looking at. There's not a whole lot coming in from U.S. 1 for the south side of Palm Coast until you get to whatever the Target shopping center is called." He added, "Really, it's time to let folks know that it's OK to build in Bunnell."
Catherine Robinson, Bunnell's mayor, said the city had been doing its part to get the park going for years, so "to see it come to fruition and start to move dirt is very exciting. If I had to pick a fast-food restaurant, Wendy's would be the one." Robinson said the city is "hoping this will be a beginning which will jump off to continue the development of Commerce Park."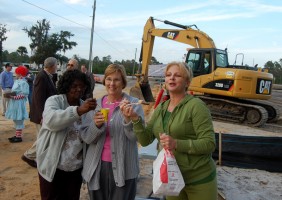 There are no solid prospects for now. "Anybody that comes through Enterprise Flagler is exposed to us," Barr said. Enterprise Flagler is the county's public-private economic development partnership. What sort of prospects have there been of late? "There's activity. It's hard to measure the quality of it," Barr said. "We feel it's a pretty level playing field that we can compete with any jurisdiction. But in any development situation these days it's just so expensive to develop that you really need to be working with our government partners in one way or another, whether it's a CDBG grant for infrastructure or a USDA grant." (CDBG is the acronym for Community Development Block Grants, administered through the federal Department of Housing and Urban Development.) "In all honesty we had contracts and then the economy went south," Barr said.
One long-term prospect that would play into partnership possibilities with government: if and when the development makes it to its southernmost phase, Barr and Quello are talking with the federal government about turning the 300-unit residential development in that section, near U.S. 1, into a veterans center—homes for veterans, disabled veterans homeless veterans.
People who attended the ground-breaking had several surprises. Jenny Crain-Brady, Bunnell's vice mayor, brought Wendy's Frosties for everyone (small ones: a store elsewhere had donated them). Barr had lined several bricks on a table for guests to take away. The bricks were authentic parts of Flagler County's Old Brick Road, which ran through the Commerce Park property. They'd been excavated when workers were digging to install utilities.
Then there was Wendy herself in her scarlet pigtails and striped knee-socks, the restaurant chain's signature… mascot? Doll? Cartoon character? None of those: make that Ashley Brown, who works at the Wendy's location on Old King's Road, and volunteered for the gig. Brown, of course, was a hit, and with those Frosties appeared to make up for the missing burgers and fries.