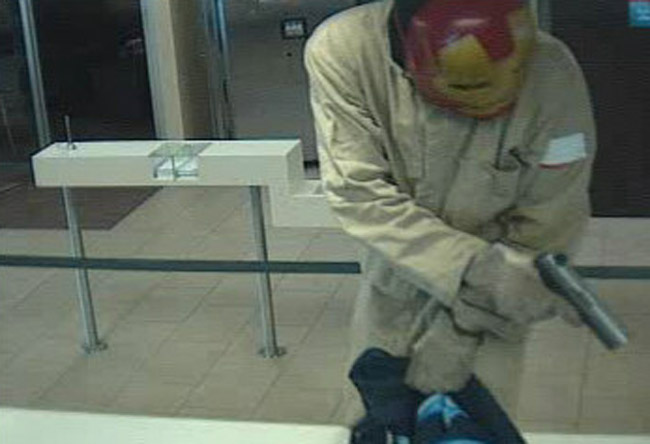 June 20–The Town Center branch of Wells Fargo Bank in Palm Coast was robbed just after 4 p.m. today (June 20). (See the Iron Man robbery video below)
The Flagler County Sheriff's Office reports that  a black male, about 5 feet, 4 inches tall, entered the bank, brandished a handgun and demanded money. He was described as wearing a tan jump suit, an Ironman Mask, tan boots, gloves and a red and black backpack.
The robber fled the scene in what is believed to have been a maroon color compact vehicle with a Florida tag. The vehicle was last seen traveling northbound on Belle Terre Parkway. It's not clear how much money the robber got away with–at least not publicly, yet.
"The perimeter is locked down, the scene is locked down, they're talking to the witnesses inside, waiting for the FBI to arrive on scene," Sheriff's Office's Spokesman Lt. Bob Weber said at 5:40 p.m. "The bank at this point is closed, we just have it cordoned off with the perimeter, the entrance and exit to the bank."
The FBI is involved and will be jointly investigating the robbery with the sheriff's office because the bank is federally insured.
A couple of vehicles were stopped leaving the scene, Weber said, a routine precaution after a robbery, but were not involved, Weber said.
Traveling north, the alleged robber may have tripped more surveillance video recordings by crossing traffic lights equipped with red-light cameras, which do shoot video, though Weber was not aware whether the video is recorded continuously or only when an infraction is recorded. The cameras are controlled by American Traffic Solutions, the private company contracted by Palm Coast to operate the system.
A sheriff's sergeant at the Palm Coast precinct, Weber said, is working with the city to obtain any potential footage.
There were reportedly seven to 10 customers in the bank at the time of the incident. There were no injuries.
Anyone with information on the incident is asked to contact the Sheriff's Office at 386/313-4911. Additional information will be released as it becomes available.
---
The Iron man Robber

[media id=329 width=500 height=400]