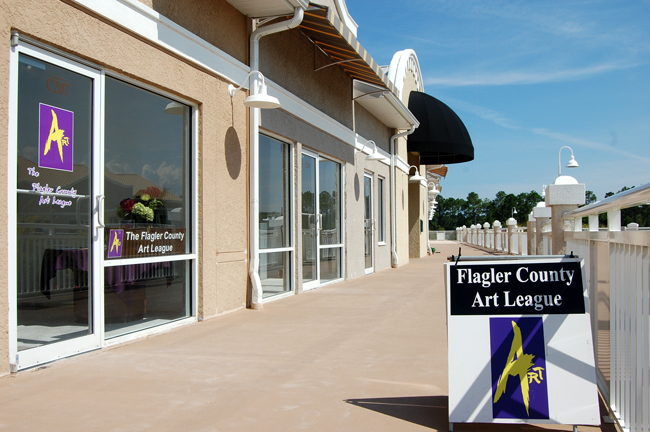 By most accounts, the Flagler County Art League's move to City Market Place (formerly City Walk) over the summer was an excellent decision. Visibility increased physically, in the media and in the number of people coming to league shows. The league picked up 30 new members, a considerable increase for an organization with just over 200 members. Leading league board members—Liz Monaco, Ann DeLucia, Bob Ammon—credit Weldon Ryan for convincing the league to move to City Market Place. Ryan also fostered links with an emerging visual and performing arts community there.
Ryan was elected president of the league just four months ago. The move to City Market Place took place on Aug. 24. On Thursday, Ryan resigned, citing resistance to change from the board, too many battles over the direction of the league, and, for him, too much time spent away from family and his own art.
"Unfortunately as a board we all have different ideas that clash and as a result whim and reality gets confused," Ryan wrote in his resignation letter. "Subsequently, implementing change can take far longer than necessary.  Example: We were still negotiating baseboard, floor paint, and track lighting 4 months after our move.  The vastly different life experience has sometimes created a tough FCAL environment and has taken far too much time from my family and my numerous art projects.   Art is being creative.  Understanding art trends and movements are significant.  I have spent far more time than I can give to this process.  I regret that I must move on.  My Family and my art are my main priorities at this time in my life."
There were management, personality and possibly generational differences between Ryan and the rest of the nine-member board, though fellow-board members say that while there were some differences, they were not more acute or unusual than the kind of differences common among any organization's members.
Floyd Short, a member of the league's board, also resigned, citing "too many emails and too many meetings." He was in charge of membership recruitment.
"I don't think people were giving him a hard time," DeLucia said of Ryan. "We have some financial responsibilities and we have a treasurer who's trying to so do some accountability, and we're trying to do a budget for next year. I just think it's a left brain right brain sort of thing," a characterization Ryan doesn't dispute: he credits the league for keeping a firm grip on the business end of things. (The league's annual budget is around $70,000.)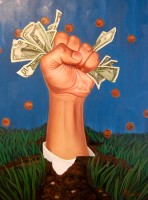 But Ryan says the creative end is suffering, as with his attempts to bring in younger artists, giving classes a more professional feel and reaching out to people outside the membership for fresh blood. It wasn't so much that the league was opposed to Ryan's ideas as it was held back by constant deliberation: making decisions—or going along with Ryan's—was not happening readily. "You just can't sit and wait for changes to happen, you have to be proactive," he said.
"If you're a leader you have to recognize people aren't bad, they're different," DeLucia said, noting that 80 percent of the board was fully behind Ryan. "He has a vision, and I think it was wonderful, but it's expensive, and I think we have to be accountable."
Monaco, who was president of the league for two years, speaks of the resistance she herself experienced, but worked through. "I think that comes with the job," she said. "Sometimes you learn to work with it." Ryan's resignation was to her as to other members of the league a complete surprise. "Maybe he felt it was insurmountable as far as what he felt he was trying to do. I don't think it was. I think there was a lot of room for what he was trying to do."
The resignation came two days before the league's third show at its new location, which opens tonight at 6: "Sunday Afternoon With the Artists" (which actually will be Saturday evening with the artists), an exhibit of 106 works that will fill the entire gallery, including its classroom space.
As with previous shows at the new location, Ryan scheduled it on the same date and time as the Hollingsworth Gallery's latest show opening. The Hollingsworth Gallery is a few doors down from the art league's gallery. Hollingsworth opens  tonight with its 2010 Artist of the Year – Affordable Art and Poetry Show, running until Jan. 7 (the opening reception is from 6 to 9 p.m.). The Artist of the Year is Edson Beckett. The show's theme is "Work Created in 15 Minutes or Less," which should lend itself to curious results and certain surprises. It includes original drawings, paintings, 3-dimentional work, photography and other mediums.
Ryan worked hard to create links between Hollingsworth and the art league despite—and because of—the the two galleries' vastly different approaches to art. Hollingsworth's focus on contemporary and experimental art contrasts with the league's more traditional, representational work. Ryan was interested in exploiting those differences to the benefit of both galleries. He also wanted a finished gallery that could present well to the public—a gallery still not completed, almost four months after the move.
His former colleagues don't necessarily disagree about the ideas, only the execution. "When the organization has overhead that is now something you need to be concerned about," Monaco said, "you always need to keep your eye on the bottom line, like any organization has to. We were struggling to get information out about the different programs we're offering, classes and shows, so we really feel as though we need to focus on building a lot of that up. I'm not sure we're falling short. I think there's a lot of creative ideas that are being considered, but you can't do it all, and you can't do it all at the same time."
"He devoted an awful lot of time to the art league, I think he just felt he couldn't do the job he wanted to do based on the time he had to do it," said Bob Ammon, the league's first vice president. "I'm really going to sorely miss him, because I love his ideas, he's very energetic, but there's only so much energy you have. I'm very—I know he'll still be around for the art league."